There is an interesting Tori interview in the June 1998 issue of The Inside Connection Magazine.

Article In The Milwaukee Journal Sentinel
An article about Tori appeared in the July 15, 1998 edition of the Milwaukee Journal Sentinel. (Articles on Tori usually appear in the cities she plans to play in concert, anywhere from a few weeks in advance, to the day of the show in this case.) Read the article in my Articles Section.

Article In The Minneapolis Star Tribune
The July 14, 1998 issue of the Minneapolis Star Tribune contains an article about Tori titled "There's a certain detachment between Amos, fans." Tori has interesting things to say about her net following and several web sites are mentioned. Read it in my Articles Section. Thanks to Richard Handal and Ally for sending this to me. (Tori performs in Minneapolis on July 17!) You can also read this article at Star Tribune Web Site

.

Fantastic Article In August 1998 Details Magazine

Ears With Feet Dink has sent me an excellent 4-page article that appears in the August 1998 issue of Details Magazine in the U.S. (Cameron Diaz is on the cover.) The article follows Tori during the closing days of her sneak preview club tour in the states, and it includes several good interview segments and a look at her fans. The article also includes photos, including a picture of Tori lying on the ground, covered in mud. If anyone has scans please send them in. The article was written by William Shaw. With so many clueless journalist out there, it is always refreshing to read an article by someone who does his research! Special thanks to TrenT for also telling me about this article.

Tori In June Issue Of Request
Lissa, Erin Dolll, Lee, Nancy, Bert, and Melissa Pierorazio all informed me that there was a Tori article in the June 1998 issue of Request Magazine (with Shirley Manson on the cover.) This magazine can be found on the newstands and for free in various Musicland, Sam Goody, and Media Play stores. The article also included some Tori wedding photos and an excellent drawing of Tori by Amy Davis. You can read this article and see the drawing in my Articles Section. (The wedding photos have already been published in other magazines and can be seen on my Tori Wedding Page.) The interview in the article is a a more complete version of an interview that appeared on the May 1998 issue of Mojo Magazine.

Tori In The Observer Newspaper (U.K.)
Peter Bevan sent me a Tori article that appeared in the May 24, 1998 edition of The Observer newspaper in the U.K. The article includes a really nice photo of Tori. See the photo and read the article in my Articles Section.

Tori On Latest Launch CD-ROM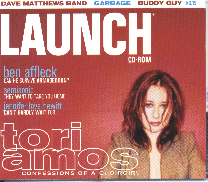 Toriphiles Kate, Steve, Melissa, Amanda and Robert Reynolds tell me that the latest issue of LAUNCH CD-ROM Magazine, Number 19, has Tori on the cover, and includes exclusive video interviews and a live performance of "Spark." You can see the cover to the right, sent to me by Kate. You can also go to the MyLAUNCH web site

, which is affiliated with the CD-ROM Magazine, and read a recent article about Tori. (The site was down when I last tried to access it.) Toriphiles Melissa and Amanda add that on this web site you can request a free copy of Launch as part of a trial subscription offer at no obligation. They are sending out the Tori issue! You can find details about the free trial offer here.


Read The Entire Article From Rolling Stone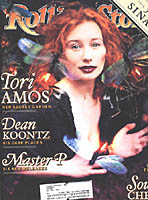 It should have happened a long time ago, but Rolling Stone magazine finally placed Tori on their cover. You can see thsi cover on the June 25, 1998 (#789) issue, which should hit be on the newstands NOW. I have just added to my Articles Section the full text of this article, which was sent to me by Matthew Skillings. However, I encourage you to go to Matthew's Tori web site, called Through The Portal

, and read it there in the Information Section. Check out the rest of his site while you are there as well. Very nicely done!

Tori In July 1998 US Magazine; See The Photos!
Tori had a fairly large article in the July 1998 issue of US Magazine. Gina Reinert and Jenny were the first to tell me about the article. I now have the entire text of the article thanks to Gina, and a scan of the main photo that is printed with the article.
Read The US Article & See The Photos.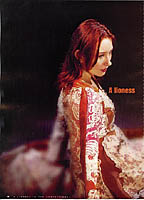 Article In British Airways Highlife Magazine

The May 1998 issue of the British Airways Highlife magazine contains a good article on Tori with some really nice photos.
Read the article and see 3 photos that were printed with the article.
Tori In July 1998 Alternative Press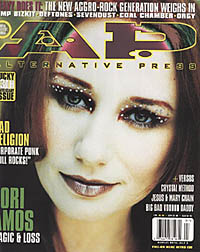 Tori appears on the cover of the July 1998 issue of Alternative Press Magazine (Issue #120, the 13th Anniversary Issue.) Her name appears near the caption "Magic and Loss." The magazine has a 4 page article with a couple full page & 1/2 page photos. It is a "must read."
Read the entire article and see all the photos!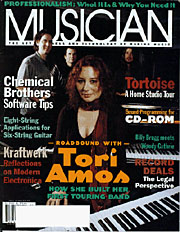 Tori On The Cover Of Musician Magazine; Read The Entire Article!
Tori is on the cover of Musician Magazine in the July 1998 issue. I have scans of all the photos and I also have the entire article online thanks to the efforts of Kim H. and Charlie Poole.
Read the entire article and see the photos.


Detroit Free Press - April 28, 1998
An article called, "This time Tori Amos is bringing a band to Detroit " appeared in the April 28, 1998 edition of the Detroit Free Press

. Read it in my Articles Section.

Attitude Magazine (U.K.) - May 1998
Toriphile Nicholas has sent me an incredible "must read" article/interview from the May 1998 issue of Attitude Magazine in the U.K. Tori says "She's Your Cocaine" is in a way a reference to her rock chick days, says that if any remixes are released for the new album, they will be remixed by her only, talks about the fame and the new album. Great Tori quote from the article, "Someone asked a friend of mine ' Hey do you and Tori wanna go see Scream 2?' and she said, 'fuck that, Tori lives this every night - she is Scream 2."
Read The Article From Attitude.

Boston Globe - April 24, 1998
Nick Raafe has sent me an article that appears in the April 24, 1998 edition of the Boston Globe newspaper. The article is called, "ONCE AGAIN, TORI AMOS FINDS HEALING THROUGH MUSIC." You can read it in my Articles Section. You can also read this article online

. The article talks about the new album and gives some background on the song "Jackie's Strength." My favorite quote: "There's a real sense of strength and sensuality and magic and passion and a love for the life force on this record."

New York Times - April 23, 1998
Many thanks to Amy Hanauer, Michael Solomon, Rebecca Aniela Siegel and Bill Williams for making me aware of the fact that there is a major article on Tori in the April 23, 1998 edition of the New York Times. The article is titled, "AT LUNCH WITH TORI AMOS: Disclosing Intimacies, Enjoying the Shock Value." Read it online at the New York Times web site

, or right here on the Dent in my Articles section.

New York Post - April 17, 1998
Many thanks to Katherine Ewald, Alex, Toripyro and Sharon Gordon for telling me about a Tori article/interview that appeared in the April 17, 1998 issue of the New York Post in the Entertainment section. The article has the title "TORI AMOS PREACHES TO GIRLS IN THE CHOIR." You can read the article in my Articles Section as well as online at the New York Post web site

.

Tori Bio At Atlantic Records - May 1998
Atlantic Records has posted a new bio on Tori at their web site

and at Tori's official web site

in the News Section. The bio talks about the new album.

Excellent Review In Rolling Stone - May 14, 1998
Many people remember the very negative review of "Boys For Pele" that Rolling Stone published in January 1996. In fact, you can still read it on the Dent. It appears things will be very different for "from the choirgirl hotel." Ears With Feet Scotch and Brian Wong have informed me that Rolling Stone has a review for this album on their web site

, and I am happy to report that they gave the album 4 stars! This redeems the magazine in my eyes. This lead review by James Hunter will appear in the May 14th issue of the printed magazine. You can also read about this review at the Atlantic web site

.
You can also read this review on the Dent.

USA Today - April 17, 1998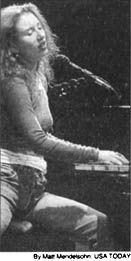 The April 17, 1998 issue of USA Today on page 7E contains a small column under the headline "BAD verse: Lame lyrics from singers who should know better." They then print the lyrics to "Cruel", which appears on the new album. They also include the photo you see here. (Many thanks to Sue for being the first to tell me and Richard Handal, for sending me the photo.) All I can do about this one is quote Richard Handal, who says, "Is there, like, a *reason* that nastiness, bad vibes, and making fun of people in general now all count as high entertainment? I, for one, am sick to death of it."

Mojo and Deluxe Magazine (U.K.) - May 1998
Toriphiles Lucy Bennett and Richard both sent me new interviews with Tori that appear in the May 1998 issue of Deluxe Magazine and Mojo Magazine in the U.K. Deluxe is a men's magazine, and the interview includes a beautiful pic of Tori wearing a shiny dark coat (I don't have it on this site yet though.) In Mojo magazine, not only is there an interview, but they have a very nice review of Tori's new album, "from the choirgirl hotel."
Read The Mojo Interview and Album Review.

Article In "The Times" (UK) - April 11, 1998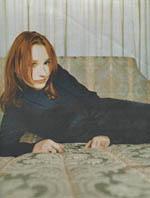 There was a major article about Tori titled "The big interview - No pain, no gain" in "The Times" (UK) newspaper on April 11, 1998. You can read this article and see some photos from it in my Articles Section. You can also read the article online at The Times web site

(Choose the Metro section), but you won't see all the photos that way. This is the first interview where Tori talks quite a bit about her marriage. She also talks about the new album and her miscarriage, "Where do you go and look for souls that are gone? I needed to communicate. I didn't think about what she needed. Then I thought that maybe she didn't choose me as a mom. Then I got pissed off and thought, 'OK, go and choose Susan down the street then, that right-wing Christian bitch'." By the time I finished reading this interview, I was in tears... I would like to thank John Hingley for the text of the article and Mike Gray for the photos.


Sonicnet's Music News Of The World - April 10, 1998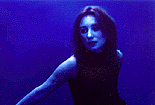 There is a really interesting article at Sonicnet's Music News Of The World

for April 10, 1998. It has the headline, "Tori Amos Straddling Sound Spectrum On Upcoming LP: Piano crooner writes tunes ranging from her classic ballads to operatic style pieces." The article takes a detailed look at the content and lyrics of her new album. Informative and interesting. Break your mouse finger getting over there to read it! Thank you Erin Dolll for telling me about this so soon. You can also read this article in my Articles Section.

Nieuwe Revu Magazine - April 8, 1998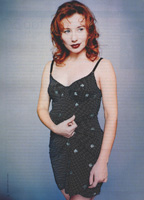 Ruud van Melick has uploaded on his wonderful site, called What Language?... No, Dutch

, a recent and important interview with Tori from the Dutch weekly magazine Nieuwe Revu that appeared in the April 8, 1998 issue (#16.) The article with the interview is titled, "Tori Amos - Out Of Her Mind." The photos that accompany the interview are striking (you can see one of them to the right. Go to the site to see it much larger, as well as others.) The article covers the new album and has some classic quotes from Tori on religion. I have another translation of this article that was kindly sent to me by Dutch Toriphile Wolf. You can read that translation in my Articles section. It is always useful to read more than one translation.


Music Week Article - April 11, 1998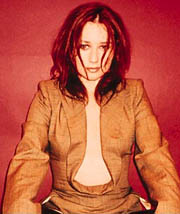 The April 11, 1998 issue of the British magazine Music Week contained an article about Tori and the new album, as well as a good review of the single "Spark." (Thanks Andy Tebbutt, Emma Taylor, Steve Edwards and Marcel Rijs.) The online version of Music Week is called Dotmusic, and I have been pointing to the online version

of the article for a while now. The review of Spark

is also available online at the Dotmusic web site. The article includes three pictures: one being a small album cover, the second is a tiny portrait photo of Tori, and the third is shown to the right. Click on the small photo to see a larger version, which shows Tori's entire body. You can also read the article and Spark review in my Articles section.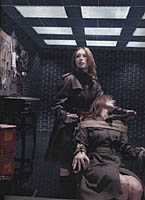 Spin Magazine - May 1998
Lizzy'In'Da'Bronx was the first to tell me that Tori appears in the May 1998 issue of Spin Magazine. This issue contains the "SPIN Top 40," a photographic portfolio of the most vital artists in music today. Tori is 17th on the list. There is a very intriguing photo of one Tori trying to free another Tori who is tied to a chair on page 96. The photo can be seen on the right and comes from Toriphile Nicole. Click on it to see a new larger version beatifully scanned by Richard Handal. Last year was #13. so she fell a few notches. There is also an important article that accompanies the photo. You can read a summary of the article now and later I will make the whole article available. Tori gives more details about her miscarriage and her upcoming new album.

Read more details about Tori's appearance in Spin.




Red Dragon Radio Interview - April 6, 1998
U.K. Ears With Feet Lucy Bennett reports that she heard an interview with Tori on Red Dragon Radio, a radio station somewhere in the U.K on April 6, 1998. The interview was recorded last week on the phone and Tori talks about the forthcoming tour, saying that she will perform a mixture of songs from all albums and bee-sides and how she felt lonely sometimes, playing by herself, and she just wanted to jam. They also played "Spark." This single is starting to be played on the radio in U.K. in other places as well.
Read a transcript of the Red Dragon Radio interview from Toriphile Lucy Bennett.


Q Magazine - May 1998
Paul Beech first reported to the Torinews mailing list that Tori is on the cover of the May 1998 issue of Q Magazine, and there is a major article about her. As you can see in the scan above (thanks Bastiaan,) she's wearing a very shocking gold bodice. There is a quote from Tori on the cover that says, "How can I be a sacred being and a hot pussy?" To see many more photos from this issue sent to me by Toriphile David (like the one above to the right,) go to my May 1998 Q Page.

You can now read the article/interview at the web site of Ears With Feet Christ.

In addition to the interview, there are some diary entries from Tori that also appeared. Mike Gray has made this part of the article available and you can read it on my May 1998 Q Page. The interview is interesting and has some good quotes. It spends too much time talking about Tori's past (childhood prodigy, YKTR, and so on,) but Tori also talks about Kate Bush ("Wow, she does things that I've never heard anybody do,") Alanis Morisette ("I like her as a person a lot,"), Prodigy ("I don't find anything cutting-edge about Smack My Bitch Up,") her miscarriage and the revelation that the baby was a girl ("That's why on Playboy Mommy, I sing, 'Don't just judge me so harsh, little girl,'") and why she changed her name to Tori ("If a guy even started to look at me and they heard my name was Myra Ellen, it just created (smiles)... a limp dick immediately..")

Atlantic Web Site Article - March 31, 1998; Tori's Official Site To Be Relaunched April 10th
On March 31st, Atlantic added a large news item to their web site that they titled, "The Definitive Tori Amos Update." (Thanks to Brian Wong and Amber for being the first to see it.) It gives a great deal of information about Tori's new album, tour, and promotional plans. While there is much there that we already knew, the article mentioned some new things as well, and also verfiied some information for us. You can read the entire article at the Alantic Records Web site.

The one item I found most interesting was the relaunch of Tori's official site at www.tori.com on April 10th:
On the internet front, every performance of Tori's "Plugged" club tour will be specially documented within Tori's official website (www.tori.com), which will feature a full report on each concert, along with still photos, live song clips, and interviews. In addition, Tori will be personally responding to video e-mail messages submitted by fans across North America via 3Com's "Big Picture" technology. A new set of Tori's e-mail responses will be posted each day.
The article covers everything from the track listing for the new album to the tour dates for the club tour. Here are some of the new tidbits from the Atlantic article:
The single "Spark" has just shipped to radio outlets nationwide in the U.S.
Club tour clearly titled "Sneak Preview '98 Plugged"
In addition to the musicians I have on my musicians page that are on the new album, Atlantic says the album also features programmer Andy Gray, pedal steel player Al Perkins, and the Sinfonia of London.
Amos's April 30th concert at the Park West in Chicago is set for a nationally syndicated live Album Network radio broadcast and a multi-tiered webcast - highlighted by a three-camera RealVideo shoot.
The "Spark" video was directed by James Brown (Finley Quaye, Apollo 440, Mansun).
Coinciding with Atlantic's re-launch of tori.com, the website will feature footage of her Letterman performance of "spark." Beginning April 10th, the refreshed website will also be the launching pad for the online promotion with Tower Records and AT&T's "a2b music," which will offer an exclusive, downloadable bonus Tori track called "Merman." (So I guess this means the track will not be available April 7th as earlier reported.)
You can get access to "Merman" by pre-ordering "from the choirgirl hotel" from Tower. Fans can pre-order the album at Tower Records retail outlets, through the Tower Records toll-free hotline (1-800-648-4844), or online via both the Tower website (www.towerrecords.com) and America Online (Keyword: Tower).

Willy Porter Article At Madison.Com
I have placed on my Sightings Page a link to an article on Willy Porter

appears on the Madison.Com web site (as in Madison, Wisconsin.) The article is a preview of an upcoming concert he was to perform there. The article mentions Tori, and you can read that on my Sightings Page. Willy says that Tori recorded 35 songs when she made her new album! (Only 12 will make it on the album.)

Billboard Magazine - April 4, 1998
Toriphile Jordy Keith has made me aware of an exciting article from Billboard Magazine that she discovered on America Online. The article appears in the April 4, 1998 issue of Billboard. The article is called "Tori Amos Isn't Alone In Her "hotel" Atlantic Album Features Full Band Sound" by Paul Verna. The version of the article in the magazine is longer than the version you can read on AOL. The article talks about Tori's new album and tour, future promotional plans and magazine appearances, and contains some interesting quotes from Tori. You can read the article in my Articles section. Below is a summary of the info in the article:
The piano is not center-stage on "from the choirgirl hotel". Tori says, "The piano's more integrated into the sound now....I'd taken the 'girl and the piano' thing as far as I could, and I really wanted to be a player with other players. It was very important for my growth as a musician to play with other musicians instead of having them play around me."
The album will be promoted with TV appearances on Letterman and Leno, "as well as cover stories in Rolling Stone (May 5) and Musician (July). Album Network will broadcast a syndicated radio program based on Amos' April 30 show at Park West in Chicago."
A clip for "Spark" was shot March 21-24 in the U.K. by video director James Brown.
Amos will be the first artist to participate in a promotion by Tower Records and AT&T whereby customers who purchase albums at the chain's stores or World Wide Web site will be able to download bonus tracks exclusive to the promotion. In Amos' case, the non-album track "Merman" will be available to Tower customers April 7.
Tori talks about the upcoming North American club tour. She says it "will be for the kids that stand in line, not for the schmooze crowd." "I'm ready to bring all the records together live and play some of the old music too, now live, in this way."
Following the club engagements, Amos will begin a two-year world tour in the U.K. that will hit various points in Europe throughout the spring. Then she will play the U.S. during the summer shed season.
Atlantic will service the first single "Spark" to alternative and triple-A radio stations in the U.S. on April 6.
"Spark" will be released as a single in Europe on April 20.

ICE Magazine - April 1998
March 26, 1998 - Ears With Feet Jeffrey tells me that the April 1998 issue of ICE Magazine contains a front page story that says the following about Tori's new album, "from the choirgirl hotel":
"A source closely involved in the project tells ICE that Amos' fourth full-length effort is 'a great departure from her last record. She's used a rock band and made a hard-hard hitting pop record. You could draw a comparison with the sound you hear on Radiohead's OK Computer-that's the sort of thing she's going for. It really pushes the boundaries of recording technique'".

Jam! Reports On The New Album and Tori's Miscarriage
March 25, 1998 - The Canadian Jam! web site once again posts vital Tori information. In a new article on their web site, called "Tori Amos talks about her miscarriage,"

, they reveal quotes from Tori from a new bio provided by Atlantic Records. Tori elaborates how the record was a direct result of her miscarriage.
"Each song would show me a certain side of herself because of what I was going through. So a song like 'Cruel' came to me out of my anger. 'She's Your Cocaine' and 'iieee' came out of a sense of loss and sacrifice. And other songs celebrated the fact that I found a new appreciation for life through this loss.

"There's a deep love on this record. This is not a victim's record. It deals with sadness but it's a passionate record -- for life, for the life force. And a respect for the miracle of life."
For more of this incredible article, go to the Jam! web site.


Rumba Magazine - March 13, 1998
March 17, 1998 - An essential article has appeared in the March 13, 1998 issue of Rumba magazine in Finland. The article's translated title is "Southern upbringing: Tori Amos' long awaited new album has a hard history" This article is essential because Tori talks a little about the new album, and she gives part of the inspiration behind it.

Jam! Web Site First To Give Us Track Listing To New Album
March 6, 1998 - The track listing to Tori's new album was first revealed by the Canadian Jam! Music web site

. They received their information from Atlantic Records Canada. John Sakamoto, who is executive producer of Jam! Music and who wrote the article that includes this track listing, was the first to notify me. The article there also tells us that the album was recorded and mixed by Mark Hawley and Marcel van Limbeek, assisted by Rob van Tuin at Martian, Tori's studio in Cornwall. It was mastered by Bob Ludwig in Maine. They were also the first to tell us that "Spark" would be the first single from "choirgirl."

Q Magazine - April 1998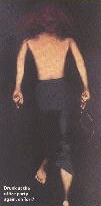 February 28, 1998 - Carl Seville and Paul Beech were the first to tell me that Q Magazine in the April 1998 issue dropped some tidbits about Tori's upcoming 1998 album and also was the first official source to confirm that Tori Amos has married her sound engineer Mark Hawley!
The photo you see here is from this issue of Q magazine, and is a preview of the artwork that appears on Tori's new album. Q magazine said that these photos of Tori were made using a photocopier (If you look closely, it does appear Tori is pressed against glass.) and is the work of photographer Katerina Jebb. (This may mean that Cindy Palmano will not be part of the new album.) I would like to thank Toriphile Lianne Macdonald for sending me this photo. If you click on the photo here, you will see a larger version of it sent to me by Toriphile Paul Beech. Go to my Articles Section to read this Q Article.

Addicted To Noise Article - February 21, 1998
February 23, 1998 - An article about Tori appeared on the Addicted To Noise News Of the World

section on February 21, 1998. It talked about Tori's new album and tour. It did not reveal any new information at the time, but it was still an interesting read.

Offbeat Magazine - December 1997 Article On George Porter Jr.
February 16, 1998 - OffBeat is New Orleans' and Louisiana's music and entertainment magazine. In the December 1997 issue, they have an interview called BackTalk with George Porter, Jr. George Porter Jr. is a bass guitarist and musician who has been a part of the New Orleans music scene for over 30 years. He is featured on Tori's Under The Pink and Boys For Pele albums. He also plays on Tori's upcoming new album. This recent interview mentions the fact that George just finished working with Tori, and he explains a little bit about what he did. You can read the Tori part of the interview in my Articles section, and you can read the entire article online at the Offbeat web site

. You can read more about George Porter on my new Musicians page, a page about the musicians helping Tori on her new album/tour.

MTV Erroneously Gave Title For New Album - February 13, 1998
February 14, 1998 - MTV News had the following news item

on their site on February 13, 1998. They were wrong about the title however! The real title is "from the choirgirl hotel". MTV later changed their news item to reflect the true title.
Tori Amos Readies Club Tour, New Album

Tori Amos will return to record racks in May, and will precede the arrival of her album with a small club tour in mid-April. Amos will launch her tour, her first-ever with a full backing band, on April 18 in Miami and will hit several big cities before winding up in Los Angeles.

She plans to follow the club tour with a larger scale tour closer to the release of her next album, "Confessionings of a Choir Girl," which arrives in May. The album will be Amos' first since 1996's "Boys For Pele."

Alternative Press Magazine - January 1998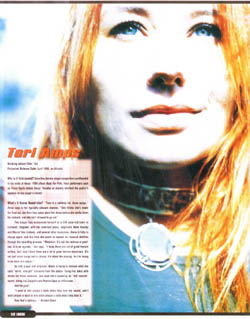 December 2, 1997 - Toriphile Dave Kauffman just sent me a small article from the January 1998 issue of Alternative Press magazine about Tori's new album in a section about the 25 MOST ANTICIPATED ALBUMS OF 1998. The article includes the fascinating photo you see to the right. This article has several interesting quotes from Tori about the new album. It does not reveal too much. Tori recorded it in a 300-year-old barn in Cornwall, England. Tori is the sole producer again. She said she wants to be a better musician and player on this record, and that she is pursuing an "old records" sound using techniques like live takes with drums. She does not give any details about the songs, only to say that they are a "ruthless lot" and adds "I want to bite people's butts when they hear my record, and I want people to want to bite other people's butts when they hear it." Read the Alternative Press article in its entirety.

Interview With Radio Station 99X - August 14, 1997
On the morning of August 14, Atlanta radio station 99X had a live interview with Tori on the phone during the Morning X program. This interview gave us our first glimpse at Tori's new album. The first reports of what she said during this interview were slightly off. You can now read a transcript of the entire interview on the Dent!
Here is a summary of the parts of the interview dealing with the new album:
Tori said she was in the tropics writing the new album. She said she would begin recording October 1st in Cornwall, England in some old stables! The only details she would give about the new album were the quotes below.
"It's a whole different work than the others I've done, and I'm working with players I've never worked with before. I'm cutting with drums from day one, which is a new one for me."
"I've really got 3 weeks to finish writing this thing, and I have 6 songs that aren't done."
One interviewer asked her if there was a man in her life inspiring the new album. She said yes, and that she was very lucky to be in her current relationship. The DJ then said, "So happy pop songs coming from Tori Amos?" and Tori simply replied, "Shock and amazement. Sit down. Nobody will be interested, but yeah, I have joy in my life."

Q Magazine - July 1997
A short interview with Tori appeared in the July 1997 issue of the British music magazine Q on page 24 in the Stories section. This issue has Beck on the cover. Tori said she was writing her new album in the tropics and also mentioned that she was in London to record a song for the Great Expectations Soundtrack due out in the fall of 1997.

Billboard Magazine - March 1997
Tori makes the following statements in an article about the rerelease of Silent All These Years that appeared in Billboard magazine, March 29, 1997. "I'm already writing the next record. I'm not going to parties where actors scantily clad are going to be. I'm with the storks in the tropics experimenting with a whole new thing. It feels like 'Earthquakes,' 'Pink,' and 'Pele' were a trilogy, and now a door has closed. A certain style ended for me. But as long as I honor wherever the music is going, whether or not radio plays it, then I think my audience will still be there. That is the most important thing to me."

Allstar Daily News & Music Central Gossip
A hint about the new album appeared in the Gossip section of the Allstar Daily News

on January 29, 1997. It said, "So, the fairy- loving Tori Amos is working on a new album, and we hear it's way more "electric" this time. Her manager, Arthur Spivak, would only say this about Tori's direction for the album: "With Tori, she knows where she wants to go; we won't know until it comes out. There's many mood shifts with her, because all she does is her art. She has the ability to change because her voice is so versatile" In an interview with Tori that appeared on the Music Central

web site in March 1997, Tori responded to the statement that her next work would be more electric, "Whatever that means ... that could mean I've wrapped myself in neon. That means many things."

Addicted To Noise Interview - January 1997
In an interview conducted by Beth Winegarner for Addicted To Noise

that took place shortly after the RAINN Benefit concert in January 1997, Tori says the following about a future album:
"I'm just allowing this next work to not be rushed. It's time. I think that people who are creative on any level--and I think most people are, even if they don't realize it--you have to know that if you're talking to somebody who is a lover of gardens, it's great when you don't feel rushed, when you're racing against the season, when you haven't missed the seeding. If you're racing because you started late, that's no fun. I think if you ask any artist, one time in their life I bet they'd say they'd love to not be rushed. Even from your own self. So that's where I am right now. I don't want to rush this work."

Ticketmaster Chat - August 1996
Tori did a chat at the Ticketmaster Web Site

on August 1, 1996, and talked a little bit about her plans for the next album. She said:
"I am developing a powerful chest voice, which I didn't have a few years ago. To be honest with you, I think my fire as a woman is helping me develop that. You heard a glimpse of that on Boys for Pele, and I think you will hear more on the next album.....I'm thinking alot about arrangements right now. I don't mean necessarily nursery arrangements for the "biscuits"...but when I think of instrumentation, I am beginning to kick around in my head a different approach to this album than to the other ones. I think I've really done the girl with a piano thing, so I think I need a new challenge now. If there's a way to use the piano without it being the center of attention, I'd like to do that. She doesn't feel shafted by that role."

Please give me feedback, comments, or suggestions about my site. Email me (Michael Whitehead) at mikewhy@iglou.com