If you look below, you will the names of some of the musicians that have helped Tori record her previous albums. with emphasis on her albums since 1998. Some of these musicians have also gone on tour with her as well. You can find details about these musicians:

Matt Chamberlain
Matt played drums on Tori's "choirgirl", "venus" and "Strange Little Girl" albums, her 2002 debut album for Epic Records, and the Plugged '98 and 5 1/2 Weeks tours. He is a member of the group Critters Buggin and plays drums for many other artists like Fiona Apple.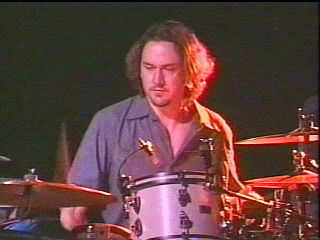 Matt playing for Tori during the 1999 Las Vegas show that was shown in February 2000 as a pay per view special.

Matt Chamberlain is the drummer of a group called Critters Buggin. At one time, Matt did some drumming for Pearl Jam. It is hard to think of Tori with any other drummer. He has the skill and compatibility to work really well with Tori.

May 2002 Update - Matt now has his own official web site at www.mattchamberlain.com. In the news section, Matt says he was in Cornwall recording with Tori in early 2002. It also says he is playing drums for Garbage during some dates on their tour, from May 28, 2002 through June 4, 2002.

October 2000 Update - Matt plays on the 2000 album from country artist Sara Evans called "Born to Fly". Thanks to Sara Gill for telling me.

March 2000 Update - Matt on tour with Fiona Apple!
I, Mikewhy, went to Cincinnati, OH on Thursday night, March 9, 2000 to see Fiona Apple in concert. I saw her at the Taft Theater, where I saw Tori perform in 1994. The show was really good, although poor Fiona was sick and coughing fairly frequently throughout the performance. Matt Chamberlain is touring with her and did an outstanding job drumming as usual. He even got a spiffy solo at one point!
I also wanted to mention that Matt added his talents to the debut album by Macy Gray.

November 1999 Update - Matt Chamberlain's Other Projects & The Latest Critters Buggin CD "Amoeba":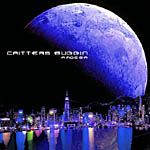 Matt not only plays drums on Fiona Apple's 1999 album, "When The Pawn ...", but he also appeared with Fiona on various TV appearances. Vik informs me that she has created the only web site devoted to Matt Chamberlain. Here you can read the latest news about him, what TV shows he will be appearing on soon with Fiona Apple, and much more. She also tells me that on October 19, 1999. Matt's Band Critters Buggin released their new album called "Amoeba". You can see the album cover to the left. Click the album cover to find out more about this album and the band from the official Critters Buggin web site. You can also order the album from that site!

Stephen J. Pielocik adds the following info about Matt:
has worked with and appeared on albums by everyone from Aaron Neville and Edie Brickell, to the 1996 releases of both Fiona Apple and the Wallflowers.
also released an album one year ago with his band (Critters Buggin) produced by none other than Eric Rosse.
also played on an album by "Gus" (1996) which Eric Rosse also produced..
DMR tells me that Matt also played for a season as the drummer with the Saturday Night Live band. He plays drums on recent albums by Chris Issack and Melissa Etheridge as well as various side projects here and there from the likes of Stevie Nicks and Aerosmith. He can also be seen playing the drums in the Pearl Jam Video for Alive.....

Links And Additional Information On Matt Chamberlain

Jon Evans
Jon played bass on the Plugged '98 and 5 1/2 Weeks tours and on the "venus" and "Strange Little Girls" albums. (He did not play on the choirgirl album.) He is a member of the band Redfish, Bluefish.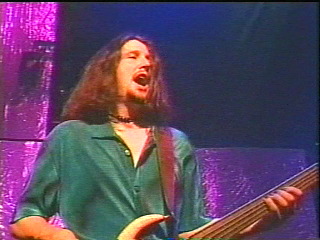 Jon playing for Tori during the 1999 Las Vegas show that was shown in February 2000 as a pay per view special.


Tori's bass player for the Plugged '98 and 1999 5 1/2 Weeks tour was the incredible Jon Evans. Jon has his own band called Redfish, Bluefish and in early 1999 they released their self-titled debut album on Racer Records, a label in San Francisco, CA. More details on this release are available at the Racer Records web site. They have a section devoted to the Redfish, Bluefish album where you can find more information, including the cover you see above and the track listing. The band is described as one that "serves up a compelling blend of soul-influenced pop and rock with hints of blues and funk." If you can't find the album in your local store you can find out how to order it at the Racer Web Site.
I went searching around the net and I found a few things under the name Jon Evans. He is a regular on the San Francisco straight ahead jazz circuit, as was a member of the funky band New Legends, which was later renamed KING KOOKER, on Fog City Records. New Legends includes a band member named Skerik, who is also a member of Critters Buggin.
I received some additional and more recent information about Jon from Geoff Pearlman:
My name is Geoff Pearlman and Jon Evans (Tori's bassist) is (along with my other roommate/bandmate) my roommate/bandmate and one of my oldest friends. I just wanted to find out how you would feel about mentioning other albums featuring Jon on the site somewhere. We have a rock band called Redfish, Bluefish in San Francisco and our first album is coming out on a small label called Racer Records. It will be availaible through their website as well as in Tower and stuff, but in addition to that, we could use all the help we can get to get it in peoples ears. It's got some pretty great bass playing on it and some good tunes. Also Jon has a jazz record called Giant Trio that features some amazing musicians as well. Both of these records were done here at our house (the Dog House) and maybe people who see Jon play with Tori this year might be interested in checking this stuff out.

Links And Additional Information On Jon Evans

Adrian Belew
Adrian Belew played guitar on "Strange Little Girls".
King Crimson frontman Adrian Belew is the guitarist on Tori's 2001 album "Strange Little Girls". Adrian is known as a singer, songwriter, guitarist, and producer.
Toriphile Queen Grimson wrote a nice piece about Adrian that I include below:
Adrian is commonly referred to as an often-heard guitarist that is not-well known. Unless you have been living under a rock in the rock/pop music listening world, you've probably heard Adrian Belew's guitar work. With over 30 years of musical experience, Adrian has worked with many legendary and well known artists including Frank Zappa, David Bowie, The Talking Heads, Paul Simon (on his Grammy winning album "Graceland"), Cyndi Lauper (on her "True Colors" album), Laurie Anderson, Crash Test Dummies, Nine Inch Nails, and has been a long-time member of King Crimson led by experimental guitarist Robert Fripp. He has appeared on nearly 20 King Crimson recordings since joining the progressive/art rock band in 1981. He is also a member of his self-formed, off-and-on band, The Bears and has recorded 14 solo albums. His debut album, "Lone Rhino" hit #55 in Billboard's top 100 album charts in 1982. He is also a producer, producing such artists as Jars of Clay and Sarah Hickman. Adrian was the number one choice in the Guitar Player Magazine's Reader's Poll as the Best Experimental Guitarist for five consecutive years. He was also the choice for Guitar Player Magazine's 1982's Best New Artist award. Adrian is placed in that magazine's "Gallery of Greats," because of these accolades.

One might view Adrian as a craftstman of the guitar sound. He has stated that he often wakes up in the morning thinking about a musical piece and it often continues through the day until the music is developed. He enjoys developing music and working through the process of making a musical arrangement sound the way he had originally thought out in his mind. (see www.launch.com article). Adrian has a knack for making mammoth-like animal sounds on the guitar. These sounds appear in such King Crimson songs as Elephant Talk (an elephant) and Dinosaur (the same). His guitar work can also be characterized as melodic and tightly arranged. He is usually referred to as an experimental guitarist. His King Crimson and David Bowie collaborations usually characterize him as a progressive/art rock musician. However, he most likely can't be characterized entirely as a progressive/art rock musician, as artists he has collaborated with outside of King Crimson, and that of his own solo career, point to more of a pop style of music. This varied style sometimes characterizes him as an enigma in the music industry (see Digital Global Mobile article http://www.discipline.co.uk/bio/belew.shtml .) Whatever way you characterize his musical styles he is usually known to be a hard working musician with a very busy schedule.

Welcome aboard Adrian to another great gig!
Here is a short bio for Adran from the All Music Guide:
Over the course of his career, Adrian Belew has lent his left of center guitar playing to the jazz-rock dementia of Frank Zappa (Sheik Yerbouti), the off-kilter funk of Remain in Light-era Talking Heads (as well as spinoff group the Tom Tom Club), the sonic explorations of David Bowie's Lodger, and the extended, guitar-dominated progressive rock of early-'80s King Crimson (i.e., Three of a Perfect Pair). As well as contributing session work to rock's avant-garde for many years, Belew has also pursued a wide-ranging solo career. His early releases tended to reflect the styles of those groups he had previously worked with. In 1987, Belew took a break from experimental rock and formed the Bears with former members of the Raisins and revealed his pop sensibilities that were obscured up to that point. Belew departed the Bears after two albums and returned to his solo career refreshed, recording several albums of XTC and Squeeze-influenced pop similar to the Bears and showing more focus than his previous solo output. Belew worked with Bowie on Young Lions prior to serving as the musical director for Bowie's Sound + Vision tour, and offered his own Beatles pastiche on Inner Revolution. In 1995, a year after guesting on Nine Inch Nails' The Downward Spiral, Belew rejoined Robert Fripp in a new edition of King Crimson for the album Thrak. Two years later, Belew returned with a pair of solo albums, The Guitar As Orchestra and Op Zop Too Wah. Coming Attractions followed in early 2000. ~ Steve Huey, All Music Guide
The July 20, 2001 edition of the Cincinnati Enquirer included an article that was in part about Adrian Belew. You can read the full article at cincinnati.com. Andrian says the following about working with Tori on SLG:
''All the songs are cover songs written by men,'' he explains. ''We did a song from Joe Jackson, one from the Stranglers (the title track), there's an 11-minute version of 'Happiness is a Warm Gun,' she does an Eminem song, Neil Young's 'Heart of Gold.' I don't know if I'm supposed to tell all this. It was excellent though, I loved it a lot. I enjoyed meeting her.''

Links And Additional Information On Adrian Belew

Justin Meldal-Johnsen
Justin Meldal-Johnsen played bass on "from the choirgirl hotel" and "Strange Little Girls".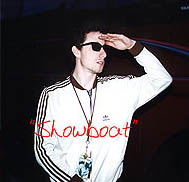 Justin is the current bass player with Beck, where he has the nickname Showboat. Toriphile Stephen J. Pielocik tells me that Justin played bass on the "Hey Jupiter" EP from 1996, and also played on Pet's debut album, Tori's side project for Igloo Records. He's also played bass for Medicine, Amnesia, The Electric Company, Elastic Purejoy, Josha Kadison, Circle of Power and he worked on music for the South Park movie soundtrack. Justin also works with Tony Hoffer, Sound Design Wizard for TV commercials and video games. Justin was unable to tour with Tori in 1998, and that led to Tori locating Jon Evans for her future tours.

Links And Additional Information On Justin Meldal-Johnsen

Steve Caton
Steve played guitar on all of Tori's albums up to "to venus and back" in 1999 and was part of the '96 Dew Drop Inn, Plugged '98, and 1999 5 1/2 Weeks tours. He is also part of his own band called Binge and a talented singer/songwriter.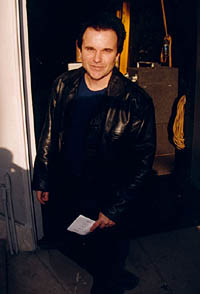 Steve Caton palyed with Tori from the Y Kant Tori Read days in the late 80's through "to venus and back" in 1999. Steve is a gifted guitar player, and he had the skill and experience to keep up with Tori in concert, improvising with her and keeping up with her dynamic playing style. Steve is also a songwriter and singer and is the vocalist and guitarist for a band called Binge. Steve had an interview that appeared in the July 1998 issue of Guitar magazine. Many thanks to Erin O'Neill for the Caton photo you see to the right.
April 2001 Update - In a posting to the Binge mailing list, Steve Caton, who has played on all of Tori's previous albums, confirmed that he will not be participating on Tori's "Strange Little Girls" album, due out in September 2001. He said he declined to participate due to personal reasons and that the decision was solely his own. His comments seem to suggest that he would not be touring with her again either. We wish you the best Steve on all your future projects.
July 1999 Update - The Dent's Binge Page debuted. Steve's band is called Binge and in July 1999 their first project was made available to the public. It was an excellent EP called "Crash." Besides Steve, the band consists of Vinnie LoRusso, Toby Skard, Thomas Morse, and Matt Sorum.
Links And Additional Information On Steve Caton

Willy Porter
Willy played guitar on one tune on "choirgirl". He opened for Tori during much of her 1996 Dew Drop Inn tour. He has several solo albums of his own and is an awesome artist.
"Willy plays rhythms that make me want to crawl into his guitar."
-Tori Amos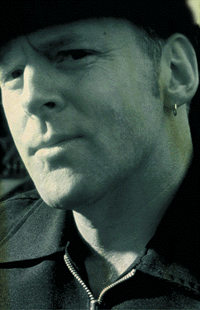 Singer/songwriter/guitarist Willy Porter (shown to the right) was Tori's opening act during much of the Dew Drop Inn tour (February-August 1996). He was also her opening act at the RAINN benefit concert in New York City on January 23, 1997. While on tour with Tori he got the biggest reaction when he playfully did a Jackson 5 cover ("I Want You Back") complete with a falsetto voice, and a tune he wrote called Jesus On The Grille. He was very personable and got along well with the crowd. His set often included a song called Cold Wind, that told the story of a gay man he knew who died of aids, and the struggles he endured during life. I was really touched to hear a straight man sing a song like this. I really respect this artist. His current album is called Falling Forward.
I placed in my Tori Sightings Section part of an article on Willy Porter that appeared on the Madison.Com web site (as in Madison, Wisconsin) in early 1998. The article was a preview of a concert he performed there. The article mentioned Tori. Willy says that Tori recorded 35 songs when she made her choirgirl album! (Only 12 made it on the album.) Willy played on 4 tracks during the recording, but only one, Playboy Mommy, made it on the actual album.
In November 1997, Ears With Feet Arielle Caron was able to talk to Willy Porter in person and ask him some questions concerning Tori's "from the choirgirl hotel" album. Here was Arielle's report:
he says that he DID NOT write a song with her (someone had written that in, i think) but DID play guitar for her new album. he says they were recording in london at one point and he did some guitar stuff.

one song in particular he likes (it has a "smoky, jazzy guitar groove" according to willy) is a new song called PLAYBOY MOMMY. he said this is the title he remembered but that all the songs are really good and he's looking forward to hearing the final release.

he says she is done recording pretty much, and that he thinks they are mixing it right now.

about tori, willy also says "she's very cool, no bullshit, she just talks to you like you and me are. i think she has some disdain for the press and that's why she comes up with fantastic answers to questions. like sometimes they'll ask her 'where were you born' or some other stupid question, and she'll just say something like 'well the truck ran off the road the other day and the moon said oh no'."

he said about opening for tori on the dew drop inn tour, "her audience is very intellectual and they were willing to give me a chance, so it was cool to reach new people in her audience."

Links And Additional Information On Willy Porter

George Porter Jr.
George Porter Jr. played bass guitar on "from the choirgirl hotel", as well as "Under The Pink" and "Boys For Pele".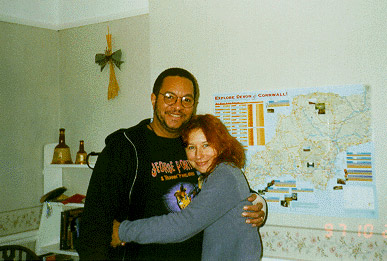 Tori with George Porter Jr. Photo comes from the official George Porter Jr. web site.

The first person to tell me that George Porter Jr. was part of Tori's "from the choirgirl hotel" album was Toriphile Samuel Merritt Stevens. Samuel heard about it from The Times Picayune newspaper in New Orleans. George has been a part of the New Orleans music scene for over 30 years. George and Art Neville were part of the band The Meters from the late 60's until 1978. Around 1990, he re-joined Art Neville to form the Funky Meters, along with Brian Stolz and David Russel Baptiste. When not playing with the Funky Meters, George is on the road with his band, Runnin' Pardners. He has a side project, a band called "P.B.S." George Porter Jr. played bass on Tori's "Under The Pink", "Boys For Pele", and "from the choirgirl hotel" albums. You can also hear George cutting up on the Tori b-side "Amazing Grace/Til the Chicken". Til the Chicken was inspired by George's mom (Nala), who did a lot of cooking during those "pele" sessions. Tori thanks her somewhere on the credits of the album. George is on the Tori b-side "Samurai" as well.

Links And Additional Information On George Porter Jr.

Stuart (Stewart) Boyle
Stuart played guitar on one tune on "choirgirl".
I was told by an official source that Stuart played guitar on one tune on Tori's "from the choirgirl hotel" album. (I am not sure how you spell his first name. The spelling differs depending on what source you look at.) Stuart is a member of the U.K. band Bullyrag. Stephen J. Pielocik tells me that Stuart has also did some guitar work with the band Orchestral Manoeuvres in the Dark in the early 90's.

Links And Additional Information On Stuart Boyle