Professional Widow On Work OUT CD
Added December 17, 1996


A dance version of Professional Widow appears on a new CD called Work OUT, which has been released by Atlantic Records in conjunction with Out Magazine.

Get more details about this CD at the Atlantic Records Web Site.


Dutch Professional Widow Single; Big Hit In Holland
Updated December 15, 1996


Postings in rec.music.tori-amos indicate that there is a Dutch Professional Widow single available with 4 remixes on it.

PW Armand's Star Trunk Funkin' Mix (Radio Edit)
PW Armand's Star Trunk Funkin' Mix
PW MK Mix
PW MK Vampire Dub

It has the UK/US Hey Jupiter single cover. (Serialnumber 7567-85478-9)




In Holland, Tori had her second hit with this single. (Cornflake Girl was the first.) Professional Widow peaked in high positions on several Dutch music charts.

Top 40 Chart - Peaked at #29
Mega Top 50 - Peaked at #33
Dutch Dance Chart - Peaked at #3
Album Chart - Boys For Pele peaked at #7

Many thanks to Dennis Snelders for keeping me informed on these chart positions


The Tori Amos Covered Project (I and II)


Marcel Rijs, with the permission of Tori's publisher, Sword & Stone, created a cool collections of songs called Tori Amos Covered, which included Tori songs performed by some of her fans. Marcel is currently attempting to coordinate Tori Amos Covered II. You can find out about it and the original recording at Marcel's home page.


Party Of Five Soundtrack


Tori appears on the Party Of Five Soundtrack, which was released in the U.S. November 12, 1996. The song is the BT track Blue Skies.


VH-1 Crossroads CD Containing 'I'm On Fire'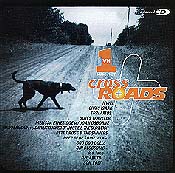 The album VH-1 Crossroads (Atlantic 82895-2) was released on October 1, 1996 in the US and Canada, which includes Tori's live version of I'm On Fire recorded for this TV show (which first aired on VH1 in the U.S. on June 19, 1996), as well as songs from other artists who have appeared on the VH-1 Crossroads program. I'm On Fire was the first single and video from the CD. The video was the performance of the song from the show. The I'm On Fire single was not released commercially, except as a promo to various radio stations. The Crossroads album was an enhanced CD with a video clip playable on your PC/MAC CD-ROM. Matt Presidente found this CD to be wonderful. He says, "It has a 31 megabyte quicktime of tori playing I'm on Fire, and the multimedia section of the CD is almost entirely built around tori - all it has is a tori video, a paragraph on VH1 and a help section - it even has tori playing in the background the whole time - it's really cool, especially for those of us who don't get VH1, and didn't get to see this!"

The other artists on the CD are Blues Travelers, Melissa Etheridge with Joan Osborne, Edwin McCain with Darius Rucker, k.d. lang, Chris Isaak, Sin Volt, Goo Goo Dolls, Del Amitri, Deep Blue Something, Gin Blossoms, Pete Droge & The Sinners, and Jewel.


Read a Billboard article about this CD.

Look At Some Photos and Read About Tori's Appearance On VH-1 Crossroads.

Read More Details About The CD At The Atlantic Records Web Site


In The Springtime Of His Voodoo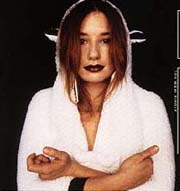 In The Springtime Of His Voodoo was released as a single in the U.S. September 24, 1996. As expected, this is a collection of remixes primarily targeting the dance market. The cover features Tori in a lamb costume against a black background. The photo on the back is Tori in the same costume with a different pose and a white background.

Here is the track listing:

1. LP Mix 5:32
2. Hasbrouck Heights Single Mix 4:25
3. Hasbrouck Heights Club Mix 10:04
4. Quiet Mix 4:30
5. Sugar Dub 8:52

Billboard Magazine reviewed the single and says:

Who'da thunk that Amos would become the belle of clubland? She has accomplished this feat thanks to several crafty 12-inchers that have placed her amid state-of-the-floor grooves. No doubt, her hot streak will continue with this sprawling and spacious post-production, which sews her vamps into a quickly shifting arrangement that mines electro-trance and deep-house ground. Remixers Vinny Vero and Stephen Donato had a field day with this tune, dissecting the melody and rebuilding it with a seemingly bottomless bag of sound effects and percussion rolls. Perfectly designed to give peak-hour club journeys a trippy, other-worldly feel.

There is also a 12" vinyl promo available with this track listing:

Cat# DMD 2320

A-Side
Hasbrouck Heights Club Mix 10:00
Quiet Mix 4:24
B-Side
Sugar Dub 8:53
Hasbrouck Heights Single Mix 4:22


Pet - The First Group On Tori's New Record Label


Pet is the name of the first band signed to Igloo records, Tori's new record label. I have a Billboard article on my site that talks about Igloo and this new band.

Tori held a press conference August 27, 1996 with her manager, Arthur Spivak. Later that night, Tori attended Pet's 9 o'clock performance at CBGB's. The Atlantic web site had this to say about the press conference:




"On August 27, Igloo/TAG artists Pet rocked New York City's CBGB following a brief press conference that featured Tori Amos (Igloo is Tori's custom label, Pet is her first signing, and she Executive Produced their self-titled debut album). The LA-based band tore through a brace of songs from their album, as well as a cover of Sir Mix-A-Lot's ode to the derriere, "Baby Got Back" -- which was actually kind of funny, considering how skinny vocalist Lisa Papineau is! Papineau is a remarkable frontperson, displaying an astonishing vocal range and some pretty deft stage moves as well. Tori -- on a day off from her ongoing "Dew Drop Inn" tour -- was in the house, but kept the spotlight on Pet by keeping a pretty low profile (although several New York papers mentioned that she'd be at the show). "




Update: Many people have been asking about the fate of Igloo Records. As of 2000, the label appears to be gone. I don't think it is something that Tori is interested in doing anymore.