Q Magazine Article
April 1998

Updated April 25, 1998

Q Magazine in the April 1998 issue dropped some tidbits about Tori's upcoming 1998 album and also was the first official source to confirm that Tori Amos has married her sound engineer Mark Hawley! I would like to thank Carl Seville and Paul Beech for sending this article to me. The photos that appears with this issue of Q are shown here as well and were sent to me by Lianne Macdonald.
If you click on the small photo below of the back of Tori on the photocopier, you will see a larger version of the photo kindly sent to me by Paul Beech.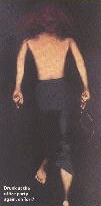 Amos Copies Herself
"Tori Amos clambered on top of a photocopier to create this Katerina Jebb picture for the artwork on her forthcoming, as yet untitled, album. "Picture this," Amos told Q. "There's a photocopy office, the flourescent light is still buzzing and there I am snogging the massive machine in the corner. The only way you can stay on the machine is to have a piece of your body suctioned onto it. It takes seven minutes a picture." Due out in May, the album was recorded in Amos's 300-year-old Cornish barn, which she converted into a studio with her new husband, the album's engineer Mark Hawley."
Click on the photo to the right to see it larger.
The following comments are from Carl Seville:
The article is accompanied by a picture of the back of Tori and does indeed seem to have been taken while lying on glass. Her hair is curly and looks very red. It really is quite a striking picture. Sorry I can't send it to you. The caption reads 'Drunk at the office party again, eh, Tori?'

At the back of the same magazine is an advertisement for the tour, naming it 'Plugged '98'. This has a picture of Tori lying down (shown to the right), showing just her top half. Unsurprisingly, it does not mention Glastonbury. It also states at the bottom that there will be a new single in April followed by the album in May which we already knew about.
Click on the ad to the right to see a much larger version sent to me by Richard Handal.

Paul Beech adds:
Most will know Mark [Hawley] as Tori's engineer of choice for her live work [AND studio], along with Marcel Van Limbeek.

Angela Lathem informs me that Tori was also mentioned in the same issue in a snippet on page 48 called "They're not like us, you know: In praise of Jamie Murphy's fellow Gingers in Rock (tm) " regarding the band, 'SPACE' and redheads in general. Tori is listed as one of the redheads, but then they say, "Alright, alright, so she's strawberry blonde." Strawberry blond?


Please give me feedback, comments, or suggestions about my site. Email me (Michael Whitehead) at mikewhy@iglou.com