"from the choirgirl hotel"
3rd North American Single: Cruel/Raspberry Swirl

Updated December 18, 1998

The Choirgirl Pages -
Choose A Section Below:


3rd Single: Cruel/Swirl


The 3rd choirgirl single in the U.S. and Canada was the double a-side release Cruel/Raspberry Swirl. Details on this release are below.

U.S. Cruel/Raspberry Swirl Single Released November 24, 1998
The third choirgirl single in the U.S., Raspberry Swirl/Cruel was released on November 24, 1998. If you can't find the single on the stores or your would prefer to order it online, you can order this item from CDnow

. An exact link to order this single is below:
Link To CDNOW and Order The New U.S. "Raspberry Swirl/Cruel" Single (They have it listed as "Raspberry Swirl").

CanadianCruel/Raspberry Swirl Single Released December 18, 1998
Ian Mullins reports that the new Cruel/Raspberry Swirl single was to be released in Canada on December 18. At the moment I am not sure if that happened or not.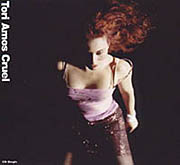 You can see to the right the cover for this single. (Click on the cover to see it larger. Thanks to Amanda Keller, Sean Francis and Larissa Silva.) The photo shows the front side of the single, for the song Cruel. The back side has a photo of bright red raspberries and is for Raspberry Swirl. The CD will cost about $3.99 and has the number Atlantic 2-844122. There should also be a cassette single available. Amanda Keller received the single early and has given me the track listing you see below:
Cruel - Shady Feline Mix
Raspberry Swirl - Lip Gloss Version
Ambient Raspberry Swirl - Scarlet Spectrum Feels
Mainline Cherry - Ambient Spark
Amanda says that Shady Feline Mix of Cruel does not sound too different from the original. The Lip Gloss and Ambient Raspberry Swirl are reportedly the same as what appeared on the German RS single. Toriphile woj says that the the shady feline mix of "Cruel" emphasizes the beat making it a shade dancier than the original. The "mainline cherry - ambient spark" is described as cool. "It's not as much a remix as a minimal cut-up of the song, interspersing the keyboard riff from the song's intro with the rest of the melody. Over this, the vocal remains."

There is also a 2-track promo CD out there with Raspberry Swirl (Lip Gloss Version) and Cruel (Shady Feline Mix) on it. Toriphile silverfish posted to the Precious-Things mailing list that "the promo comes in a cardboard box with a slide out tray (like the US JS single)."

Please give me feedback, comments, or suggestions about my site. Email me (Michael Whitehead) at mikewhy@iglou.com