Times listed below are U.S. Eastern time unless otherwise stated.


Searching The Dent /
ToriNews Archives


Other Important News Items & Dent Features


The Winter 2005 issue of the Tori Amos fanzine Little Blue World will be shipping this February
The Tori Amos fanzine Little Blue World will be shipping their next issue (Winter 2005) in February 2006. Here's some of what's included:

In the Loop with Matt Chamberlain, talking to Tori's long-time drummer and reviewing his eponymous new album.

Happy Birthday for Pele! In this special section honoring Boys for Pele's 10th anniversary, we take a look at differing and changing reactions towards the seminal album, with pro-and-con opinion pieces and now-and-then reviews.

Two new series examining Tori's evolving fashion and the harpsichord, that tricky instrument Tori first adopted in BFP.

Oh Baby...The Talent You Could Discover! What you need to know about CD Baby, an innovative and artist-friendly online indie music store.

Reviews: Our reviewers take a look at the BFP songbook and at Kate Bush's long-awaited album Aerial.

The Summer of Original Sinsuality, Part 1. The beginning of a fan's story of how she found Tori, halfway around the world from home.

PLUS, regular features like News and Expert and a scrumptious new recipe.

For more information about the issue and how to subscribe, visit little-blue-world.org.



A review of the "The Original Bootlegs" box set from the Home News Tribune Teen Scene
A review of box set The Original Bootlegs appeared in the January 16, 2006 issue of the Home News Tribune Teen Scene. The review was written by Matt Richards from Rutgers University's Cook College. [Click for details...]
Thursday, January 19, 2006

Official press release for the 2-DVD set Fade To Red
You can find the official press release from Rhino for the 2-DVD set Tori Amos-The Video Collection: Fade To Red at marketwire.com. You can also find articles about this press release online, such as at chartattack.com and mtv.com. Thanks to John Bonebrake and Asa for the links. [Click for details...]
Wednesday, January 18, 2006

Pre-order Tori's Fade To Red Video Collection!
A news item added to EverythingTori.com on January 17, 2006, states that Tori's Fade To Red Video Collection on DVD is now available for pre-order. This 2 disc DVD set includes 21 videos as well as bonus features like behind the scenes footage and a comprehensive audio commentary by Tori. It will come out on February 14, 2006, Valentine's Day. I earlier reported that you could pre-order the collection online at Amazon.com for $16.19. Now you can also pre-order it from thetoristore.com (Tori's Official Store) for $19.99 as well as rhino.com for $24.99.

By the way, several people tell me that they have seen new photos of Tori included on EverythingTori.com in the Galleries section under The Original Bootlegs Era. I am not sure how new the photos there are, but they are really nice!

Official Neil Gaiman merchandise is coming soon!
There is an update at thetoristore.com about author Neil Gaiman, who is a good friend of Tori's. It says that Neil will be coming out with his own merchandise line in a few months and is asking for input on what kind of items should be made available. You can find out more at thegaimanstore.com! Thanks to Sarah for telling me about this.

"Sleeps with Butterflies" #11 on the 2005 year-end R&R Triple A Radio Chart
Matthew and Ivan report that Tori's Sleeps With Butterflies was #11 on the 2005 year-end Radio & Records Triple A Radio Chart.

Tori makes several Foghead Favorite lists for 2005
Joel reports that Tori made it on several Foghead Favorite Lists for 2005. This was essentially a reader's poll for radio station KFOG (104.5/97.7) in San Francisco, CA. She made the following lists:


Ice dancing to Sweet the Sting!
Maysa reports that a pair of US ice dancers, Jamie Silverstein and Ryan O'Meara, skated to a part of Tori's Sweet The Sting on January 12, 2006 in the Original Dance portion of the US Nationals. They ultimately placed third and made the 2006 U.S. Olympic team!

The Dent will be on vacation until January 10, 2006
I am about to fly with my girlfriend Amanda to Orlando to enjoy a week at Walt Disney World and Universal Islands Of Adventure. The Dent should resume updates on or around Tuesday, January 10, 2006. Hope everyone had a wonderful New Years holiday!

Native American singer Pura Fe covers "Scarlet's Walk"
Chad Locklear informs me that Native American singer Pura Fe has covered Tori's song Scarlet's Walk. You can check out her version at www.myspace.com/purafe. This is a live recording from a Tori Amos tribute concert in 2005.

Exciting new DVD: Fade To Red Video Collection
I first reported on this on December 15, 2005, but wanted to mention it again since it is the biggest news we have for 2006 so far! A new Tori Amos DVD set being released by Rhino/Wea on February 14, 2006 called Fade To Red. Here is a description of this video collection from the official Tori Amos mailing list: "Spanning 1991-2005, Fade To Red is a look at the unique and compelling videos that have been so integral to Tori's creative vision. This 2 disc DVD set includes 21 videos as well as bonus features like behind the scenes footage and a comprehensive audio commentary by Tori, an insightful discourse into the making of her videos. Remastered in 5.1 Surround sound this is an audio and visual treat for all Tori fans." A description of this DVD collection at rhino.com adds that the DVD set "includes the gold-selling VHS release The Complete Videos, plus five additional clips, including two from her 2005 CD release, The Beekeeper." You can see the cover to Fade To Red to the right and find a web page about the DVD at everythingtori.com. Click the details link to see a complete track listing from this DVD video collection! You can pre-order this DVD collection now at Amazon.com for only $16.19 (35% off). I know a lot of Tori fans have wanted a DVD video collection like Fade To Red, so this is quite wonderful! Thanks to the many Toriphiles who emailed me about this. [Click for details...]
Saturday, December 31, 2005

Happy New Year from The Dent!
The Dent would like to wish all its readers a Happy New Year! Thanks for another year of support and may 2006 be a good year for us all.

Tori and German radio station WDR2
The German radio station WDR2 recently conducted a poll among their listeners for the best male and female singers. Tori reached #28 with Winter on the female list. WDR also issued a double CD set with one CD for
the best female singers and one CD for the best male singers. The double CD is called WDR 200 - Die besten Sängerinnen & Sänger and Tori Amos is featured with Winter on the CD with the females. (Winter is song #5 on the disc, but the list of songs does not reflect the results of the poll.) The CD has been available since December 3, 2005 and can be purchased online from amazon.de and bol.de. Thanks to Eric (with a 'c') for sending this to me.
[Click for details...]
Wednesday, December 28, 2005

A review of The Original Bootlegs at Wears The Trousers
On December 19, 2005, a review of Tori Amos: The Original Bootlegs (the entire box set) was posted to the online e-zine Wears The Trousers. The box set was given 4.5 stars. You can read the review at www.thetrousers.co.uk. Thanks to Rabih for emailing The Dent about this. [Click for details...]

Bid on two tickets to the Grammy Awards and help RAINN
RAINN is auctioning off on ebay.com two tickets to the 48th Annual GRAMMY Awards to be held on February 8, 2006. 100% of the final sale price will support RAINN (Rape, Abuse and Incest National Network). The auction ends on Friday, December 30, 2005 at 8:07 PST, so bid soon if you are interested! Thanks to QH for telling me about this.

Color difference seen in the cover of the official bootlegs
Updated: As reported on The Dent earlier, it appears that the European versions (or at least some of them) of the official bootlegs have a white cover instead of the brown cover as seen in the U.S. For example, Alex reports that all 6 bootlegs that he boought from amazon.de in Germany were white. Also, Kushty informed me that the U.K. version of the London bootleg (recorded June 4, 2005 at Hammersmith Apollo) ordered online from Play.com also has a white cover. You can see a photo of the white London cover on Kushty's blog. Other than the color change, everything else on the bootlegs is the same. [Click for details...]
Friday, December 23, 2005

Happy Holidays From The Dent!
Happy Holidays, Merry Christmas, Happy Hanukkah, Happy Kwanzaa and Happy Winter Solstice to all the readers of The Dent! I hope you are enjoying yourself during this festive season, and that you take the time to hug those you love. In that sense, you can make the most of this time of year no matter what you celebrate. Thanks for your support of The Dent!


New Dent Web Poll: What is your favorite "official" bootleg?
I have uploaded a new web poll. The question is, "What is your favorite "official" bootleg?" Please choose one of the recently released boots and vote only once. You can access the poll here or by looking further down this news page on the left.

My previous web poll asked you for your favorite song on The Beekeeper. The winning song was The Beekeeper, with Marys of the Sea second, The Power of Orange Knickers third, and Sweet the Sting fourth. The least selected favorite songs were Hoochie Woman and Ireland. To see the results of previous web polls on The Dent, click here.

A review of Tori's official booleg box set in the UK magazine Whatsonlondon
The December 15, 2005 issue of the U.K. magazine Whatsonlondon includes a small and positive review of Tori's recently released official bootleg box set. Click the details link to read it. (Thanks Mark.) [Click for details...]

"The Power of Orange Knickers" chosen as one of the top 2005 songs to play at a Christmas party
menju56 tells me that in the December 18, 2005 edition of The Mail on Sunday in the U.K. pop critic Tim de Lisle selects the best songs of 2005 to download for a Christmas party mix CD, and one of his choices is The Power of Orange Knickers, of which he writes:

Tori Amos featuring Damien Rice: The Power of Orange Knickers
It could have been pants, but this discussion of underwear and secrets was a treat - a beguiling piano chugger with the two voices mixing like oil and vinegar.
[Click for details...]
Sunday, December 18, 2005

Keep Hope Alive this Holiday Season - Support RAINN
The holiday season is here and there are some great opportunities at RAINN.org to buy gifts that will make a difference in the fight against sexual assault. Whether a necklace with a message of hope, or a gift membership for someone you love, RAINN has something for you! As a special holiday gift, RAINN is giving away an exclusive scented "HOPE" candle with memberships and gift memberships of $50 or more. This holiday season, consider making the season brighter by making the world safer. Best wishes for a very happy and safe holiday.

Some of the items available include necklaces, t-shirts, postcards, keychains, posters and a benefit CD for RAINN. To see all items available or to make a purchase, go to the RAINN Gear section of RAINN.org.

The 2005 round-up at YAHOO! Music includes a few Tori mentions
Thanks to menju56 for sending this to The Dent. In the 2005 round-up at YAHOO! Music, there are a couple of Tori mentions:

In the February round-up, The Beekeeper is one of the five album picks, and for March they have links to performances of "Parasol," "Sleeps with Butterflies," and an interview, and they write:

One of Y! Music's longtime favorites, Tori Amos gave a stellar performance in our studios this year, highlighted by performances of "Sleeps With Butterflies," "Parasol," and a thought-provoking cover of Jim Croce's "Operator" for Pepsi Smash. Always charming and always a consummate performer, Tori Amos never fails to please.

An announcement from the Tori fanzine Little Blue World
As of January 1, 2006, in consideration of changing shipping and production costs, the subscription rate for the Tori fanzine Little Blue World will be $17.00 in North America and $23 in the rest of the world. Subscribe or add on to your subscription now to take advantage of our 2005 rates. See www.little-blue-world for more information about this fanzine or how to subscribe.

The Tori Amos 2005 Sinsuality Tour Poster from Bob Masse is still available!
Reminder: Artist Bob Masse created a Tori Amos tour poster for 2005 in tribute to her Original Sinsuality Tour. This poster is still available for sale and its purchase will benefit the charity RAINN, specifically for the abuse victims in conjunction with Hurricane Katrina. You can see the poster and order it at visualgallery.com.


The London and Boston official bootlegs are now available at the iTunes Music Store
Thanks to Amy (laurapalmer) for pointing this out to me. You can now order the last two official bootlegs, from Tori's June 4, 2005 concert in London, U.K. at the Hammersmith Apollo and her August 21, 2005 show in Boston, MA at the B of A Pavilion, at the iTunes Music Store. I am sure other online vendors are offering it as well.

Tori's version of "Have Yourself A Merry Little Christmas" heard on the FOX TV show "Bones"
Thanks to the many Toriphiles who alerted me to this. On Tuesday, December 13, 2005, Tori's version of Have Yourself A Merry Little Christmas heard on the FOX TV show "Bones". It was heard during a touching scene where the "forensic team" was seeing their families for the holidays from behind glass doors due to a viral scare.
Thursday, December 08, 2005

Free Slipcase and Stickers offer from ToriAmosBootlegs.com
The following news items appears at ToriAmosBootlegs.com and Toriamos.com:

If you've previously purchased any of Tori's Official Bootlegs individually, you can get the slipcase and stickers for free. Any customer who purchases all 6 Official Tori Bootlegs from ToriAmosBootlegs.com by December 31,2005 will receive the slipcase and stickers for free. Please note that the slipcase and stickers will ship in mid-late January 2006. They will not ship with the rest of your order.

If you already purchased the first five Official Bootlegs by November 22, 2005, you will receive the 6th Official Bootleg, the slipcase, and the stickers soon (if you have not already received them). Orders shipped in the United States should arrive no later than December 16. Orders shipped internationally may take an additional 2-4 weeks.

See scans of the CDs and artwork from the 5th and 6th releases from Tori's live bootleg series: London and Boston
John from turbidblue.com emailed me scans of the artwork and discs from the final two releases from the official Tori Amos bootleg series. These boots are from concerts at the Hammersmith Apollo in London, U.K. on June 4, 2005 and from the Bank of America Pavilion in Boston, MA on August 21, 2005. [Click for details...]
Tuesday, December 06, 2005

More details/scans of the new Tori Amos bootleg box set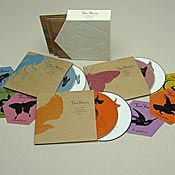 Today, Tuesday, December 6, 2005, is the official release date of the complete bootleg box set from Tori Amos. This 12-CD box set (pictured to the left), which is available at Toribootlegs.com, is also being sold at many various online vendors, like Amazon.com, under the name The Original Bootlegs. ToriAmos.com also says that the box set could be at your local record store as well. As reported earlier, the box set contains all 6 official bootlegs as well as a blind-embossed slipcase and 6 hexagon stickers with the artwork for each bootleg. You can find the complete track listing for the box set and sample clips at Toribootlegs.com.

Most of you remember the offer from Toribootlegs.com that claimed that if you purchased the first five bootlegs from them by November 22, 2005, you would received the sixth bootleg from Boston for free along with the slipcase and the stickers. I can report that several Toriphiles received their free bootleg and other stuff on Monday, December 5th! Since the last bootleg did not come out until now, it would make sense that most Toriphiles will get their free stuff sometime this week. So if you did not get yours yet, it is likely coming soon!

The sixth and final bootleg double CD was officially released today as well at Toribootlegs.com (and as mentioned above is part of the box set). It was recorded at the Bank of America Pavilion in Boston, MA on August 21, 2005.

The box set itself is a very nice item! Each side of the slipcase has the honeycomb imprint with each of the animals/insects also imprinted in the comb. Click the details link to see scans of the slipcase and the stickers kindly sent to The Dent by Adam. [Click for details...]

The music e-zine Chimeramusic.org has nominated Tori in several categories in their online poll
The Spanish language e-zine Chimeramusic.org is hosting an online poll where Tori is nominated for for Song Of The Year (Sleeps With Butterflies), Artist Of The Year and Album Of The Year (The Beekeeper). So it would be nice to anyone who can to go vote for Tori. The site is in Spanish. If you have trouble finding the poll, all you need to do once you enter the site is click the big banner with the changing pictures of artists. Then click the link that reads, "VOTA POR TU CANCION, ARTISTA, DISCO Y VIDEO FAVORITOS". At that point the poll will open and you can vote. Thanks!
Saturday, December 03, 2005

A Tori Amos 1996 Promotional CD is part of the Bid 2 Beat AIDS
A huge entertainment memorabilia auction called the Bid 2 Beat AIDS is now taking place on eBay. Proceeds going to LIFEbeat, the music industry's AIDS fundraising and service charity. LIFEbeat has earmarked a portion of the proceeds for the NO/AIDS Task Force, New Orleans' local AIDS service organization. The auction includes one Tori Amos item, which is a 1996 promotional CD. If you want to see all the items up for auction, click here. More details about this great auction can be found at bid2beataids.com. The bidding for the Tori items ends on December 11, 2005. Thanks to Shags and Sand for telling me about this.
Thursday, December 01, 2005

"The Original Bootlegs" box set onsale now through various vendors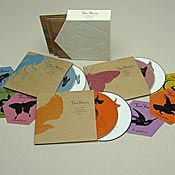 I earlier reported on The Dent that a box set of all 6 official Tori Amos boolegs called "The Original Bootlegs" would be commerically released in the U.S. on December 6, 2005. That is still the main release date, because you can still see that date posted at Toribootlegs.com and at Amazon.com. However, it appears that the box set has been released earlier at some other online locations. For one, you can find a listing for The Original Bootlegs at barnesandnoble.com, and they are offering this box set, which includes the 6th bootleg from Boston, for $64.78 to B&N members (Regular B&N price is $71.98). Apparently, this box set was available there since November 29, 2005. There is also a listing at VH1.com where you can buy The Original Bootlegs for the really low price of $58.26, but despite having a release date of 11/29, it still says it is on pre-order there. Thanks to Cliff, Lorna, and Kristy for this information. You can see a photo of this box set to the right, which comes from Toribootlegs.com.

Remember you can also order The Original Bootlegs through Amazon.com and support the Dent with your purchase. Finally, the box set, as well as each individual CD (including the 6th bootleg recorded in Boston, MA), is available at Toribootlegs.com. For German Toriphiles, you can order this box set through www.amazon.de.
Sunday, November 27, 2005

Various news tidbits about the official Tori bootlegs
I have a few miscellaneous news items about the official bootlegs that Tori has been releasing at Toribootlegs.com:

The 5th bootleg in the series, recorded June 4, 2005 in London, U.K. at the Hammersmith Apollo, was supposed to be released on November 15, 2005. However, a manufacturing issue has caused the London bootleg to be put on backorder and some people will be getting their ordered CDs a few weeks later. Most people have already been notified by email about this, but I wanted to mention it on here just in case.

Despite this delay, the London bootleg has debuted on Billboard's Top Internet Album Chart at #21 for the week of December 3, 2005. (Thanks Clint.)

The Denver and Manchester U.K. bootlegs have been added to the iTunes Music Store in the U.S. and likely in other countries as well. (Thanks Charity.)

For German Toriphiles, the first 4 boots are currently available at www.amazon.de.

Neil Gaiman and the feature film MirrorMask
Neil Gaiman and Dave McKean have collaborated on a 2005 feature film called MirrorMask. Neil wrote the script and Dave directed and also co-wrote the story with Neil. The movie is from Sony Pictures and Jim Henson Productions and combines digital animation with live action. You can find the web site for this amazing looking movie at sonypictures.com. The movie started playing at select theaters on September 30, 2005 and will continue be shown at others in the near future. (The official web site will help you locate theaters that are showing it.) You can find a trailer for this film at apple.com and more details at imdb.com and movies.yahoo.com.

The movie is the story of Helena, a 15 year-old juggler "working for her family circus, who wishes--quite ironically-- that she could run away from the circus and join real life. But such is not to be the case, as she finds herself on a strange journey into the Dark Lands, a fantastic landscape filled with giants, Monkeybirds and dangerous sphinxes. Helena searches for the Mirrormask, an object of enormous power that is her only hope of escaping the Dark Lands, waking the Queen of Light and returning home."

You can purchase the hardcover book "Mirrormask: The Illustrated Film Script of the Motion Picture from The Jim Henson Company" by Neil Gaiman and Dave McKean, from Amazon.com. The book contains the full screenplay of the movie and more than 1,700 illustrated storyboards.

Finally, there is an article posted to Mtv.com where Neil Gaiman reflects on this film. Tori Amos is mentioned in the article. It says that Neil's next movie project is a version of "Death" that he will direct himself starting around the Spring of 2006. The article mentions that Neil would like for Tori to score that film! (Thanks Missy and Clint for telling me about the article.)



Review of the single "Cars And Guitars"
The Herald News Daily newspaper, based in Williston, ND, printed a short review of the single Cars And Guitars in their November 26, 2005 edition. The source for this review is Reuters/Billboard. Click to read the review. [Click for details...]