Misc Tori Items
'Silent All These Years' Rereleased March 4, 1997 In The U.S.
The RAINN Retrospective Promo CD
There was a RAINN pamplet being passed out after the January 1997 RAINN Benefit Concert. Read the message from Tori that it contained!

Two Live Songs, Photos, Videos On The Web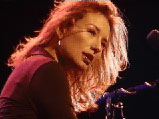 Shortly after the January 1997 RAINN benefit concert, Tori released a live recording of Me and a Gun and Silent All These Years on the Atlantic web site

. The songs were recorded during the show, and then made available online around 12:45AM Friday morning, January 24, 1997 via RealAudio in the section of Atlantic site called the Digital Arena, which may still be available. You could also download sections of a quicktime video of Tori playing Silent All These Years at her soundcheck, and see some photos from the soundcheck.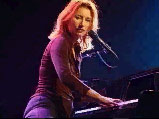 The 2 photos above are from a quicktime clip of Tori at her sound check made available at Atlantic's Web Site.

New York Post Interview
There was an interview with Tori in the New York Post about RAINN From January 17, 1997. Among other things, Tori puts Howard Stern in his place for some insensitive comments he made about this subject.

The 1997 Benefit Concert For RAINN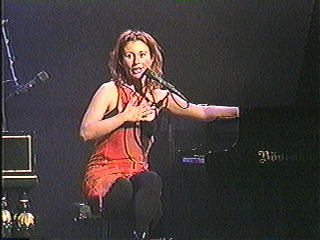 On Thursday, January 23rd, 1997 at The Theater At Madison Square Garden in New York City, Tori performed a benefit concert for RAINN. This concert was the kickoff to a year-long campaign to promote and finance RAINN. Willy Porter was the opening act. Tori was also joined onstage my Maynard from Tool to Sing Muhammad My Friend. Around $300,000 was raised for RAINN that night alone! The photo above is from Lifetime's broadcast of part of the concert January 24, 1999.
See The Set List & Read Reviews Of the Concert
See Many Photos From The Lifetime Broadcast Of The Concert
See Many Photos From "Tori Amos Live From NY", a video release of this entire concert!
Read more details about "Tori Amos Live From NY", the entire concert released on home video.

The December 1996 Tori/CK Press Conference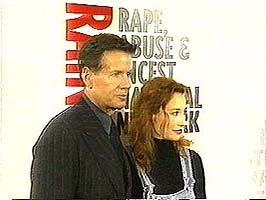 On December 4, 1996, there was a press conference in New York held by CALVIN KLEIN with Tori Amos to announce "Unlock the Silence", a year-long program to support RAINN, The Rape, Abuse, and Incest National Network. This program kicked off January 23, 1997 with a benefit concert by Tori in New York City. The photo above shows Tori and Calvin Klein at the press conference. It is from The Week In Rock, which aired on MTV the weekend of Dec 6-8, 1996.
More Press Conference Information: