"Private Talks" Interview CD
July 19, 1999


CDNOW has listed under Import Singles an entry called "Private Talks." This is a new interview CD from Europe that is limited to 10,000 copies. Jonathan Matthews and Bland sent me scans of this CD and you can see one to the right. I feel it is only fair to warn you that some people who have bought the CD are not satisfied. This CD contains the same interview as the one that appeared on a previous Interview CD called "The Interview Sessions" from Chatback Records. The "Private Talks" version of the interview is actually edited and not as complete as the one on The Interview Sessions. So unless you are a completist, love the way the CD looks, or don't have "The Interview Sessions", you may want to avoid this item! You may also want to keep in mind that this CD has an odd shape, and as a result will not play in some CD players. Here are some comments from people who have the CD:

From Tracy Streimish:

The shape of the CD is about half the size of a regular CD and has a picture of Tori at the piano and says 'TORI AMOS' at an angle on the bottom. It is a shape CD and is --NOT-- playable in a CD changer or a car CD player. I was happy with it up until I finished listening to it...On the CD is a Kevin and Bean interview from early 1996. I, being a toriphile and owning a lot of bootlegs and audio tapes, already had this interview in its entirety whereas on this shape CD it was very obviously cut and pasted together. It ends by fading out in the middle of the interview.

Also, there is another CD out there with this and another interview on it; more completely done, of course, called "The Interview Sessions" put out by Chatback Records, which is available largely wherever Tori CD's are sold.

From Laura Cohen:

First of all, people should know that the interview on this CD is the same as the first interview (out of the 2) on the Chatback Interview Sessions CD- the one with Kevin and Bean. It's identical, except that it's not even complete. It's only the first 18 minutes of it. I was so disappointed! Not only is it not a new interview, but it's not even the whole interview!

What is different about this CD is the CD itself. The CD isn't round, really...it's a picture CD of Tori playing the piano, with "Tori Amos" printed underneath, and the CD is shaped like the picture- the outline of her body and the words...it's really hard to explain. Because of it's shape, it says on the back of the case that it's "not playable in CD changer or car CD player". It comes in a jewel case with artwork on the back and inside, but no sleeve in front. There's also a mailing address for DA Music in Germany. It is numbered out of 10,000. I suppose this CD is worth it for a serious collector, but otherwise, if you already own Chatback's Interview Sessions, it's a ripoff!


Limited-Edition Little Earthquakes On "Heavy Vinyl" Released In UK
June 28, 1999


Mike Gray and grandcr tell me that a limited-edition of the album Little Earthquakes on heavy vinyl was released on June 28, 1999 in the U.K. The pricing was around 12-15 UK Pounds. This item was available online at Action Records in the U.K. and likely at other places as well. This album was pressed on 180 gram vinyl, which is about 3 times as thick as normal vinyl and is reserved for pressings designated as highly collectible. This release is not the same as the previously released UK vinyl for Little Earthquakes.


Tori #27 On The Y100 July 4th Countdown!
July 4, 1999


Earlier I asked the readers of the Dent to vote for Tori on a poll being conducted online at the web site of the Philadelphia radio station Y100 100.3 FM. On July 4, 1999, the radio station counted down the top 100 artists and Jennifer tells me that Tori was #27! They announced it and then played God and Landslide on the radio. (Landslide appeared on a Y100 Sonic Sessions CD a few years ago.) Thanks to all who voted!


Tori #20 On KROQ's Biggest Bands of All Time
Late May 1999


Melyssa Kimbell and Heather Griffin report that during the week leading up to Memorial Day weekend 1999, Los Angeles Alternative Radio Station, 106.7 KROQ asked it's listeners to vote for their top three bands of all time, either by mail, fax, website or email. Tori Amos finished as #20 of the 106.7 biggest KROQ bands of all time. You can see the results at the KROQ web site. KROQ played a short clip from a 1994 interview and then played Cornflake Girl, Spark, Silent All These Years, and Crucify (Remix). In 1997 Tori was voted #23!


MTV "Fight for Your Rights: Take a Stand Against Violence" CD
April 26, 1999


In 1999, MTV, along with the U.S. Department of Justice and the U.S. Department of Education conducted a year long anti-violence campaign called "Fight for Your Rights: Take a Stand Against Violence." As part of this campaign MTV offered a free Take a Stand Against Violence CD/Action Guide which featured music by top artists and contained information on how to prevent violence in your community. You were able to receive a copy of this action guide and enhanced CD by calling 1-800-638-8736 or visiting the Office Of Juvenile Justice And Delinquency Prevention Web Site. The CD contained the Tori song "Me and a Gun." MSNBC said "The Fight For Your Rights: Take A Stand Against Violence CD/Action Guide outlines specific ways for young people to reduce violence in their communities. Mentoring, conflict resolution, youth crime watch programs, arts and advocacy programs are only some of the suggested courses of action. The CD features music by Lauryn Hill, Alanis Morrisette, Tori Amos, Dave Matthews Band, Everclear and Backstreet Boys. Additionally, the CD contains educational content from the National Center for Conflict Resolution, which can be accessed on home computers." Here are the tracks on the CD (courtesy of Terry):

Lauryn Hill- Forgive Them Father
Dave Matthews Band- Cry Freedom
Everclear - Father Of Mine (Special Pop Mix)
Backstreet Boys- Quit Playing Games (Live Version)
Alanis Morissette- Sympathetic Character
Tori Amos- Me And A Gun


Little Earthquakes Certified Double Platinum
April 2, 1999


Little Earthquakes has been certified double platinum in the United States by the RIAA (Recording Industry Association Of America, Inc.) This means that over 2 million copies of the album have been sold. That makes it the best selling Tori album to date. You can see the certification at the RIAA Web Site. Congratulations Tori!


The Online People Intriguers Poll
January 1999


The final results are in for the Online People Intriguers Poll and Tori managed to finish at #8 on the poll with 1768 votes! Considering the fact that she was a write-in vote, that is pretty impressive. Thanks to all who voted, though to be honest, it is rather embarrassing the people that managed to do better than her. N-sync was #1, The Backstreet Boys were #2, and Hank the angry drunken dwarf made it to #3. The only other person in the top 10 that I personally found intriguing other than Tori was Gillian Anderson from the X-files. But it was fun and once again showed the power of her online fan base. Since Tori finished in the top 10 you can find a page dedicated to her in the People Intriguers Gallery with a photo and short paragraph.


Tori Nominated For 2 1999 Grammy Awards
Updated February 24, 1999


The nominations for the 41st annual Grammy Awards (1999) were announced on January 5, 1999 and Tori received 2 nominations. She was nominated for Best Alternative Music Performance for "from the choirgirl hotel" and for Best Female Rock Vocal Performance for Raspberry Swirl. The Grammy Awards ceremony was held on February 24, 1999 and Tori did not win either of the awards that she was nominated for. She was also not at the ceremony. We all know that Tori deserves to win, but the Grammy voters are not daring enough to vote for her. It is amazing that she was even nominated, so we can at least be grateful for that.

Tori lost the Best Alternative Music Performance Gammy to "Hello Nasty" by the Beastie Boys. This grammy was presented off air before the TV broadcast began. The Best Female Rock Vocal Performance award was given during the TV broadcast, and it went to "Uninvited" by Alanis Morissette. Look below to see who was all nominated in these two categories.

Best Alternative Music Performance

From The Choirgirl Hotel - Tori Amos
Hello Nasty - Beastie Boys (WINNER)
Is This Desire? - PJ Harvey
Airbag/How Am I Driving? - Radiohead
Adore - The Smashing Pumpkins

Best Female Rock Vocal Performance

Raspberry Swirl - Tori Amos
There Goes The Neighborhood - Sheryl Crow
Glass House - Ani DiFranco
Uninvited - Alanis Morissette
Can't Let Go - Lucinda Williams


"99X Deck The Hall Ball" CD Sampler
Updated December 14, 1998


"Little Drummer Boy" by Tori Amos is one of the tracks featured on the "99X Deck The Hall Ball" CD Sampler, which for a limited time is being offered for free. Go to the Total E web site for more information and to order the CD. Here are more details that were give in a press release:

Total E, the premiere one-stop online home entertainment superstore from Columbia House, today announced its sponsorship of the 99X (WNNX FM 99.7 -- Atlanta) Deck the Hall Ball CD, released in conjunction with the concert to be held Saturday, December 12, at 7:30 in the Atlanta Civic Center, and featuring the Barenaked Ladies, the Cardigans and Squirrel Nut Zippers. Under the CD sponsorship agreement, Total E is the exclusive distributor for the popular 99X Deck the Hall Ball CD sampler featuring the concert's performers and other artists, including Beck, Tori Amos, Jump Little Children, Collective Soul, Shawn Mullins with David Patterson, and Everything.

The free CD sampler will be available December 11 on a special 99X page on the Total E Web site, (http://www.totale.com/99X). Due to the popularity of the 99X holiday CD, supplies have traditionally remained in stock for only two weeks. Shipping will begin on December 14. Total E is offering customers free shipping and handling throughout the holidays.





The Rolling Stone Women In Rock Collection
Updated April 26, 1998


AmosLover1 has seen on U.S TV a commercial for a compilation from Rolling Stone called "The Rolling Stone Women In Rock Collection" It is a 3 CD set and supposedly contains all the people interviewed in Rolling Stone's 30th Anniversary Issue last year. Tori's "Silent All These Years" is on the compilation.


Atlantic Records 50 Years: The Gold Anniversary Collection
Updated April 26, 1998


There is a compilation double CD that will be released in North America on March 10, 1998 called "Atlantic Records 50 Years: The Gold Anniversary Collection" The CD celebrates the 50th anniversary of Tori's record company. Silent All These Years is on the compilation. Atlantic Records: 50 Years--The Gold Anniversary (Atlantic 83088-2) offers 26 hits from four popular genres: jazz, R&B, pop, and rock. Disc 1 includes Ray Charles' "What'd I Say", Ben E. King's "Stand By Me", Aretha Franklin's "Respect", Sam and Dave's "Soul Man", Otis Redding's "Dock of the Bay", Cream's "Sunshine of Your Love", Led Zepplin's "Whole Lotta Love", and the Rolling Stone's "Brown Sugar." The second disc features "Layla" by Derek and the Dominoes, Chic's "Le Freak", Phil Collins' "In the Air Tonight", Foreigner's "I Want to Know What Love Is", Tori Amos' "Silent All These Years", Jewel's "Who Will Save Your Soul", and "Hold My Hand" by Hootie and the Blowfish.

You can read more about this release and see a track listing at the Atlantic Records Web Site.

Toriphile Keith Richardson informs me that this release was remastered using Pacific Microsonics' HDCD technology. "The HDCD process is designed to offer better than standard noise-shaped 16-bit, 44.1kHz CD. To get the full benefit of HDCD, your CD player or D/A convertor needs to have the HDCD decoding circuit although they work fine in standard players. The magazine reviewers pretty much all rave about HDCD."


Women Of The 90's
Added March 6, 1998


Dennis Snelders informs me that there is a new compilation CD in The Netherlands called "Women of the '90s'" which includes the album version of "Professional Widow". Other artists include Sarah McLachlan, Natalie Imbruglia, Anouk, Joan Osborne, Leah Andreone, Republica, Texas, Alannah Myles and Amanda Marshall.


Ladykillers Vol. 2
Updated February 11, 1998


Here is something that might be of value to the die-hard and rich Tori collector. Michelle (RaisinGirl) informs me that Caught A Lite Sneeze is one of the tracks on a cd compilation called LadyKillers Vol.2. Here are the details from Michelle:

Ladykillers volume 2 came out in 1997 on the Polygram (UK) label. Michelle saw it as an import at HMV in the U.S. for $28.99. It is a double CD.

Tori's Caught A Lite Sneeze is on disc 1. Other featured artists include: texas, sheryl crow, alisha's attic, joan osbourne, neneh cherry, belinda carlisle, kate bush, saint etienne, cocteau twins, bjork, echobelly, luscious jackson, the cardigans, garbage, sophie b. hawkins, and cyndi lauper. There are a ton of other artists, but as you can tell, it's pretty diverse.

The numbers on the cd are as follows:
set # 553 381-2.
cd1 # 553 382-2.
cd2 # 553 383-2.

The name is written in the front in lipstick and it includes "36 wanted artists."


Radio Station 99X's Top 25 Most Influential Bands of the 90s
January 1998


Jenn reports that Atlanta radio station 99X placed Tori at #20 in their top 25 most influential bands of the 90's listing. Nirvana was #1.


1997 Kevin & Bean Christmas CD
December 10, 1997


Lori Anderson has informed me that the 1997 Kevin & Bean (of 106.7 KROQ in the Los Angeles CA area) Christmas CD was released Tuesday, December 9, 1997. It's called: "A Family Christmas (in your ass)" and it has Tori's version of "Little Drummer Boy" that appeared on Kevin & Bean's 1992 Christmas tape. This is the first year the charity music collection was released on CD instead of tape format.


Did Neneh Cherry Sample Tori In 1996?
Added March 14, 1998


I have a report from PRLstoke, who says that in 1996 Neneh Cherry had a single in the U.K. called "Woman". The single came on 2 CDS, and on the 2nd CD there was a track (a duet with uk rapper Tricky) called "Had You In Me", which featured the "uh-ho-oh-ho" intro to Tori's "The Waitress" slowed down. Later in the song those same four notes are played repeatedly on a saxophone. Has anyone else heard this? Most interesting...


Soul Coughing Says They Sampled Tori
Updated December 25, 1997


You can read an April 1996 article that appeared in a publication called Pitchfork and which is available at the Soul Coughing Underground web site. In that article, Soul Coughing band member M'ark Di Gli Antoni, who does all the samples for the band, claims he sampled from Tori's "Smells Like Teen Spirit" and "didn't get caught." The samples are in two songs, "City of Motors" and "Mr. Bitterness", from the 1994 album Ruby Vroom. I think the samples are done in such a way that they hard to detect.

Here is the part of the interview that mentions this:

Pitchfork: I know somewhere on the record you sampled a bit of a Tori Amos song.

M'ark: Yep. And this record it's Daryl Hall! [The Tori Amos samples are] in two songs, "City of Motors" and "Mr. Bitterness" and when I listen to it, it's so loud and clear, but I've never been called on it. You know, she does a cover of "Smells Like Teen Spirit" and you know, it's so melodramatic...actually, it's a really great cover. She's amazing until like two-thirds of the way through and then she gets into one of those [mimics wispy vocals] and it just falls apart, but until that moment, it's like "Wow, this is a really sick, great version of the song. The way she sings "I feel stupid" is so overwhelming. I used it and tried not just to treat it as her saying that directly, but I tried to break up the phrase a little bit and treat it like a woman singing. But with the second record it's Daryl Hall. I don't wanna say where it is on this record yet, because I did a lot of inviting last time. I made a big point of saying, "Hey, I sampled Tori Amos," and didn't get caught.

You can also read about this at the Soul Coughing FAQ.


"Eugina" By Salt Tank Samples "Me and a Gun"
Updated September 8, 1997


Mark H. Weidman and Ruth Eichmiller first reported that the track "Eugina" by Salt Tank samples Me and a Gun. I have added extra information from Tony and Jan Hoffmann:

Ruth says, "I read on your bitchin site that someone heard Salt Tank's Eugina (pacific diva) on the Platinum on Black vol. III CD (on FFRR records). Well, just to let you know the infamous line "Do you know Carolina with the biscuits soft and sweet..." can be heard on all four versions of the song and is in fact the only lyric. The Eugina CD single has the following tracks: pacific edit, sargasso sea, charged up, and pacific diva.

Toriphile Tony adds that the song Eugina (Sargasso Sea) can also be heard on an album called "United State of Ambience II" on Moonshine Records. He says, "Please tell everyone to check out this album. I have this to say about Ambient music: If there is any genre of music which facilitates mental evolution, this is it." He also is certain that the sampled vocals ARE Tori's and not someone else.

Jan Hoffmann tells me that Eugina is also featured on the "Salt Tank 7" album.


"O.B.E. (Out Of Body Experience)" From Rabbit In The Moon Samples "Precious Things"
Updated September 3, 1997


An anonymous Toriphile reports on a dance track that samples Precious Things:

Probably one of the most famous electronica artists is Rabbit In The Moon. Everybody's heard some of his stuff, because he is very original and very talented. His remixes are seldom, but there are a few (Sarah McLachlan's "Fear" being one).

Well, maybe you knew this and maybe you didn't. Rabbit In The Moon heavily sampled "Precious Things" for one of his songs called "Out Of Body Experience" (O.B.E.). And I mean heavily. It holds true to the song more than most remixes bearing the name of the original song do. It includes lots of samples of the piano and some of the lyrics (most prominent being the "*crack* Ay-haieeeeee..." The piano is both slowed down and sped up. It's very effective.

This track I found on "Northern Exposure", a trance CD only available in the UK. [Note From Mikewhy: It is available in the U.S. on a compilation album called Urbal Beats. See below. It should also be out on 12" vinyl.] This CD is a continuous mix of the BEST trance out there, done by Sasha and John Digweed.

"Out Of Body Experience" is track five on the first CD. The first three minutes are mixed with track four, God Within's "Raincry" (remember, it's a continous mix.) It is EXCELLENT.

Toriphile Geoffrey A. Ehrlich adds this track can be found on an album in the U.S. called Urbal Beats:

There is a techno group that is known for their wonderful remixes of delerium, sarah maclachlan, and bt's blue skies. they are rabbit in the moon. they have released their own single entitled "O.B.E." the song is very mellow but about 2 minutes into the song, you can hear the beginning of precious things sampled. it is amazing to hear it. it is available on a cd called "URBAL BEATS" which you can get at any large record store [In The U.S.]


"'Til The End Of Time" By Delerium Samples "Caught A Lite Sneeze"
Updated May 8, 1997


Kelvin (TioRamos) reported to the Torinews mailing list:

"Delerium, a band on the Nettwerk label comprised of Bill Leeb and Rhys Fuller (aka Front Line Assembly, Synasthaesia, etc.) recently put out their latest CD entitled Karma. Track 11, "'til the end of time" features the drum loop from Tori's "Caught a Lite Sneeze" at certain points. (Some have disagreed, saying that it is just a loop that sounds familiar to CALS, but there is *no* doubt in my mind that that is what it is).

This is a good CD regardless of its connection to Tori, IMHO. It features one delicious track with Sarah Mclachlan on vocals, and others with Kristy Thirsk (Rose Chronicles) and Camille Henderson (Sarah's bkgrnd vocalist). Check it out if you like Enigma-like ambient stuff. As a Delerium fan, I am a bit disappointed with it, since it sounds too much like their previous release, Semantic Spaces; I wanted to hear some more new samples, loops, and patches rather than many of the same ones they used for the prior CD. It is still a CD worth buying, and a great introduction to Delerium. "


"Professional Widow" Music Used in Lisa Stansfield Dance Remix "People Hold On"
Updated February 4, 1997


The music to the Armand Van Helden Remix of Professional Widow is used as the music to a new version of the song People Hold On, originally recorded a few years ago by Coldcut featuring Lisa Stansfield, and now listed under Lisa Stansfield and the Dirty Rotten Scoundrels. No Tori vocals are heard in the song however. This song made it very high in the U.K. single charts in January 1997.

The music in the Dirty Rotten Scoundrels remix is identical to the music in the Professional Widow remix. The Professional Widow remixer Armand Van Helden says he does not care about that, because he was paid a flat fee for the remix. Atlantic Records did not take legal action about this act of blatant copying!

There was a MTV News story about this on February 4, 1997


Tori Amos: The Interview Sessions CD
Updated June 17, 1997


There was an interview CD out by Chatback Records called simply Tori Amos The Interview Sessions. The CD looks like what you see to the right, I don't know if it is a boot or not. It certainly looks like it, because it does not describe in any way the interviews on the CD and it is using a photo from a 1996 Spin Magazine article. The CD (which is 40 minutes long) begins with a welcome from a British announcer, and then they play 2 interviews from the U.S. One is obviously with Kevin & Bean (Of KROQ radio in Los Angeles) from February 9, 1996 at the House of Blues (I think this is the location. There is a live studio audience that you can hear during the interview). The other is portion of another radio interview from radio station WDRE (92.7FM) in Long Island on February 5, 1996 This was an interview where Tori was really playful and made up a hilarious song called "Gary's Girl" to the tune of "Cornflake Girl" (This interview CD sadly does not include the song, but you CAN hear it on a boot called "Goddess.") Some people who sold the CD called it Interview CD #3.


Tori's Best Friend Beenie Sings


Toriphile Violet has already posted this interesting piece of Tori Trivia to all the Tori mailing lists. On the soundtrack to the 1986 film "About Last Night" with Rob Lowe and Demi Moore, there is a song called Trials Of The Heart by Nancy Shanks, otherwise known as Beenie. Beenie is Tori's best friend and joined Tori on stage for Me and a Gun during the very difficult concert in Miami Florida last October 23rd. Beenie is thanked in Tori's CD liner notes for several albums, and her name is heard during Father Lucifer.

Kris adds the following information about Beenie:

I was reading your "The Music" page and I saw that Nancy Shanks (Beenie) sang on the soundtrack for "About Last Night." So I did a little bit more searching and I found out that she also appears on the soundtrack to the 1988 film "Secret of my Success" with Michael J. Fox on the track "I Burn For You", which is a duet between her and Danny Peck. CDNOW.com has a real audio sample of "I Burn For You" and you can get to hear Nancy Shanks (Beenie) sing. I also found out that Nancy Shanks sang back-up on the Little Earthquakes album, but I'm sure that's old news, but it was new to me.

Caroline adds the following info:

A search of allmusic.com for "nancy shanks" turns up:

Nancy Shanks
Genres: Rock
Instruments: Vocals
Related artists -
Worked With: Tori Amos Eric Williams Dan Nebenzal Dan Marnien Tim
Landers Paulinho Da Costa Joe Chiccarelli Steve Caton Annabel Lamb
Ferron

Discography (albums):
Restless - EMI America

Appears on:
Y Kant Tori Read Y Kant Tori Read (1988) Vocals (bckgr)
Tori Amos Little Earthquakes (1991) Vocals (bckgr)
Ferron Phantom Center (1990) Vocals (bckgr)
Annabel Lamb Flame (1984) Vocals (bckgr)
Original Soundtrack About Last Night (1986) Vocals
Original Soundtrack Secret of My Success



Sunglass Hut & RAINN Give Away RAINN Promo CD
March 1997/June 1997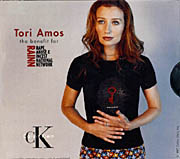 There was a free 2-song limited edition RAINN Concert CD used for a couple of promotions during 1997. The CD was called Tori Amos the benefit for RAINN and was numbered Atlantic #PRCD 6995-2. It contained:

1. Me and a Gun (live version)
2. Putting The Damage On (album version)

The live Me and a Gun was from the January 1997 Rainn benefit concert in New York City. The CD was in a slip case with the same cover as the 1997 "Silent All These Years" CD single, with the RAINN and Calvin Klein logos added.


Sunglass Hut had a deal during March 1997 where if you purchased CK eyewear, you received this free limited edition RAINN Concert CD. I think that Dillards and Lord and Taylor were in on this as well. There was a cool new poster of Tori (pictured here to the left) at stores that had this promotion.

In the June 1997 issue of various magazines (like Spin and Rolling Stone), there were ads stating that you would received this promo CD free with the purchase of a RAINN T-Shirt! Go here for more details on these ads.

This promo single was also being offered in 1997 as a way to entice people to become a member of RAINN. A member is someone who contributes $50 or more to the organization.


'Professional Widow' Remix Single; #1 In U.K.


On February 10, 1997, a special edition of Boys For Pele was released in the UK, which contained the Armand Van Helden remix of Professional Widow and removed In The Springtime Of His Voodoo (boo!). This was most likely prompted by the huge success of the Professional Widow single, which hit #1 on the UK single chart in mid-January. (Some Toriphiles found it a little upsetting that Tori had her biggest chart success in the U.K. with a remix that contains very little of her original vocals!) The Professional Widow (It's Got To Be Big) single was released in the UK on Dec 30, 1996. It was available on CD, 12" and cassette. The tracks on the CD single were:

Armands Star Trunk Funkin' Mix (Radio Edit)
Mr Roy's 7" Edit
Armands Star Trunk Funkin' Mix
Mr Roy's Cosmic Cottage
Just Da Funk Mix.


RAINN Retrospective Promo CD
January 1997


A Promo CD called Tori Amos Retrospective: The Benefit For RAINN, was issued by Atlantic in 1997. It contained 12 previously released songs, except for Putting The Damage On (The Twilight Mix). This remix is quite good, and features the regular song with some extra background vocals and drum beats. This remix was not officially released other than on this promo CD.


Tori On Billboard's Dance Charts
January 1997


In the January 25, 1997 Billboard, Blue Skies by BT with vocals by Tori Amos had climbed to #1 on the U.S. Dance Club Play Chart. This was at the same time that Professional Widow is #1 in England on the singles chart. So this makes Tori the queen of dance music on both sides of the Atlantic. I never would have guessed it!

Tori had been doing well on the U.S. Dance charts in Billboard for some time. Back in the November 23, 1996 issue, I was amazed to see that Tori's name was everywhere. On the Club Play chart, In The Springtime Of His Voodoo was peaking at #6. Blue Skies was #27 on this same chart and rising. Earlier in the year, Professional Widow had hot #1 on this Club Play chart. I also saw where Professional Widow did well on the Maxi_Singles Sales chart. It hung around that chart off and on for a while, peaking at #14.