The RAINN Concert Has Been Released On Home Video In the U.K., Europe, and Australia In PAL Format & In Canada In NTSC Format.

Tori Amos Live From NY Available From Online Vendors. No Official U.S. Release, But The Canadian Import Is Available At Many U.S. Stores
While the video was not officially released in the U.S., it is out in Canada in the NTSC format. Toriphiles in the U.S can simply order the Canadian import of Tori Amos Live From NY at several online music vendors, including CDNow

, CD Universe

and Music Boulevard

. Many Toriphiles tell me that you can find this video now in several stores in the U.S, but reports clearly indicate that it is a Canadian import.


Video Now Available In Canadian Stores
The RAINN concert video called Tori Amos Live From NY is available now at stores in Canada in the NTSC format! BJ, Nancy, and Miriam all say that Sam The Record Man is carrying this video. One person paid $24.99 for it. I have reports from Shane and others that HMV is carrying it as well.

Where You Can Get The U.K. PAL Format Of The Video Converted To The NTSC Format
Look under conversion tips below to find a place called 3D RESEARCH that will convert the video from PAL to NTSC for you at a very reasonable price! You will only need to convert the video to NTSC if you live in North Amercia and bought the video in the U.K. or Australia.

Full Details On This Video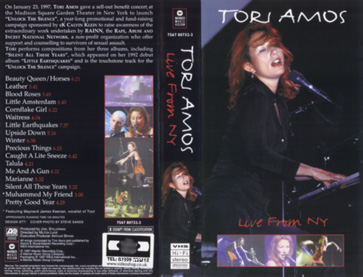 This scan of the front and the back of the video came from Richard Handal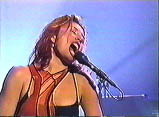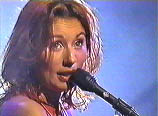 Tori singing "Precious Things" from the video "Tori Amos Live From NY". She is doing the girlllll part in the left photo.

Read a review of the video from the November 1997 issue of the British Magazine Vox.
Read another review of the video from November 1997 issue of the British Q Magazine.

The Video Is Out! Here Are The Reports I Have Received:
Toriphile Jas gives the following set list for this video, which happens to be the same as the one reported for the actual concert. This set list was confirmed by Ears With Feet Richard (aka Mr Microphone), who added that all the songs from the original concert are on there, but some of Tori's banter with the crowd has been edited out. The times for each song were provided by the Planet Tori web site

.
Track Listing
1/Beauty Queen/Horses 6.21
2/Leather 3.41
3/Blood Roses 3.49
4/Little Amsterdam 6.40
5/Cornflake Girl 6.22
6/Waitress 4.04
7/Little Earthquakes 7.39
8/Upside Down 5.16
9/Winter 6.36
10/Precious Things 6.33
11/Caught a Lite Sneeze 6.42
12/Talula 4.21
13/Me and a Gun 6.11
14/Marianne 5.32
15/Silent All These Years 3.00
16/Muhammed My Friend 3.00 - With Maynard :)
17/Pretty Good Year 4.29

Alan Sawyers gives a little more information:
Title: Tori Amos Live From NY
Cover: Big live shot of Tori plus 3 smaller live shots underneath
Time: 100 mins
Back sleeve: Black with 4 little live shots down the side (one of Tori and Maynard, one of the C.flake Dance!!!)
More On The RAINN Video From Little Amsterdam
Dennis Snelders has added to his web site, Little Amsterdam, an in-depth look and review of the RAINN video. Little Amsterdam

gives Tori news tailored for fans in Holland and Europe.
Scans Of The Video Cassette
I received the following scans of the actual video cassette itself from Christoph Viethen: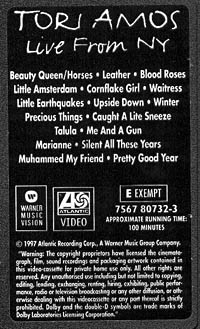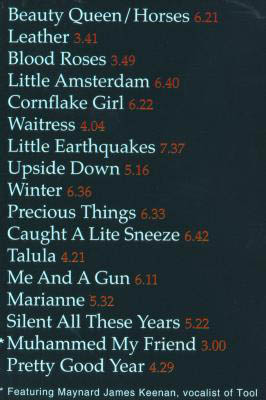 The January 1997 RAINN benefit concert was officially released on home video overseas in the UK, Europe and Australia in November 1997. Ears With Feet Nicholas from the U.K. first emailed me with the exciting news about this RAINN concert video. The video was released in Canada in early February 1998. Here are the details:
The video is called Tori Amos Live From NY and is from Warner Music Vision.
The video is not out yet in the United States. That means the release is currently available in the U.K., Europe, and Australia, as well as Canada. Toriphiles in the United States will have to obtain a copy from Canada, which has the same video format. Toriphiles in the U.S can also order the video Tori Amos Live From NY at several online music vendors, including CDNow

, CD Universe

and Music Boulevard

. If you live in North America and purchase the video overseas, you will have to go through the pain (and expense) of getting it converted from PAL to NTSC. (see below for more on this and some suggestions on converting

.)
The release is 100 minutes long . This covers all of the RAINN benefit concert that Tori did in New York on January 23, 1997, not just the songs that appeared on the Lifetime special January 24. All the songs from the actual live performance are on the video, though some of her between song banter has been edited out. (Richard (aka Mr Microphone) reports that the only bit of banter that is not on the New York Video is the bit before Cornflake Girl, the thank you to everyone who came. The rest is there, like the bits before Leather and Marianne.)
The video debuted on November 17, 1997 in the U.K. and early February 1998 in Canada. There may be an official release in the U.S. later.




The video is available in FRANCE! Here is some French news from Toriphile Stephan Fauchille:
It's possible to buy now the Tori video from the FNAC : http://www.fnac.fr

The video tape costs 149 french francs, and it's reference is : 756780 7323. it's a PAL tape (be careful, we are in SECAM format in France).

Video Formats and Conversion Suggestions
Some people are still looking for a place to convert the videos they got from the U.K. from PAL to NTSC. I have this message from Mike Goldman, whose company 3D RESEARCH does these conversions for $19.95 for a 120-min or less tape, plus $5 shipping. (See their web page for more details.

)
VHS is a tape format that you can find anywhere. However, the video format used in North America is not compatible with the one used in Europe, Australia, and Asia. Toriphile Ken Tough explains:
I wanted to point out that VHS is a tape-format whereas PAL is a video format. The US equivalent (all NAmerican video) is called "NTSC". This is important, because in Europe you do have VHS tapes, so you can buy a VHS tape here that will not work in the US! (In fact, tapes here are PAL VHS). So the real question (for people in North America) is whether it will be released in NTSC.

The video format says how the signal is encoded on the tape, and how your TV interprets it. The tape format says whether it will mechanically fit into your machine (sortof).

Video Formats
North America - NTSC
Europe/Asia/Austailia - PAL

Tape formats e.g., VHS, "BETA", HI-8 are independent of video format.

You can buy TV/videos that work with both systems, though.
There is also a format used in some places like France known as SECAM.
Toriphile Nithya Rajendran kindly offers the following advice for people in North America considering getting the video converted from PAL to NTSC format:
I've actually had a bit of experience in converting PAL to NTSC. The best and, in most cases, the only way to do it is to go to an electronics store or a TV/VCR repair shop and have them convert it for you. Depending on where you go that could set you back anywhere from $30 to $150. You might want to look through your local yellow pages and check out some VCR repair places ads; some places pride themselves on tape conversion.

Unfortunately, you can't do the conversion yourself, unless you have a VCR that has the ability to play and record both systems. These VCR's are pretty expensive and are hard to find in the US. Since it's a part of their business, those VCR repair shops invest in conversion systems and duel system VCR's. That's why your best bet is to go there.

Words of caution: Don't just go along with the first person who is willing to convert it, you could be seriously ripped off. In this kind of situation, quality really matters. So really scope out other places and what they're willing to offer. Ask them to show you a coverted copy of a tape. I understand some Toriphiles are in an area where their options are limited, but do your best. I wouldn't want anyone to lose money to gain something crappy. I know, I know I sound like I'm writing for Consumer Reports, but I've gone through this a hundred times and got ripped off so many times, I don't want people to go through the same thing.