The Rerelease Of
'Silent All These Years'

Updated August 5, 1997


General Information About The Single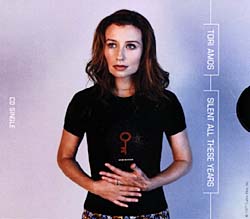 Silent All These Years was rereleased on March 4, 1997 in the U.S. as a CD and cassette single. The single has the album version of the song, as well as live version from the RAINN concert last January. The CD single is Atlantic 2-83001. It's rerelease is designed to draw more attention to RAINN, the Rape, Abuse, and Incest National Network that Tori began in 1994.
Many people have commented on the fact that the copyright of the cover photo on the new SATY single says 1977! This appears to be a mistake. I have also received questions about the writing on Tori's hand. Keith Richardson reports that reading from top to bottom, you can see the words Burnt Dry, Paper ice cream, and Anger salem.
Beth Winegarner adds that "the picture that's in the new SPIN of Tori has that same writing on her hand, and you can read it a little bit better. I think it says "pager," not paper, and there's a 7-digit phone number under the word "ice cream."

The Single's Billboard Hot 100 Position
The single debuted on the Billboard Hot 100 Singles chart in the U.S. at #71 and peaked at #65. The single kept going up and down on the chart, but never entered the top 40. Here is it's Hot 100 history for the 20 weeks it appeared on the chart:
71-71-99-70-70-80-78-75-65-72-66-66-70-71-72-71- 69-81-79-83

Tori Ad in Hits Magazine, A Radio Industry Trade Publication
These scans were sent to me by Royal Allen.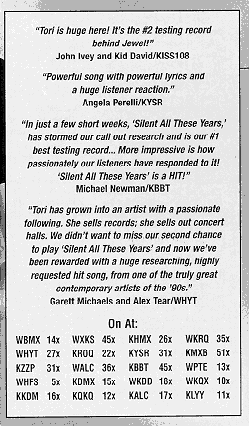 Touching Story Told By Boston DJ
Nithya Rajendran emailed me with this incredible story that she heard while listening to The River, which is radio station WXRV in Boston MA.
Anyway, I was listening to The River WXRV here in Boston and they had just played SATY. Then the DJ( oops, I forgot his name!) who's a big Tori fan shared a really moving story involving Dona Amos.

The DJ told us about a friend of his who has three kids. The two older sons were killed in a car accident about a year ago. The woman's youngest, a daughter around 12 years old, was severely traumatized by this event. The girl is also a huge Tori fan. So, her mother wrote to Tori telling her about the tragic event and how her daughter had been having a very difficult time dealing with this. She also told Tori how her daughter listens to her music when she's down and feels so much better afterwards. Tori got the letter and got the girl tickets to one of her shows last year. She also arranged for the girl to come meet her backstage. The DJ, who was there backstage, said that Tori spent "an astounding" amount of time with the young lady. "Not just a few minutes, but hours and hours with her alone," said the DJ. The DJ went on to say how nice it was to see that a musician of Tori's status and success had her heart in the right place and really showed how she cares for her fans. Damnit, I couldn't agree more.

Article About 'Silent' In Billboard
Thanks to Tina Cielski for telling me an article that appears in the March 29, 1997 Billboard about SATY. It covers the success that it is seeing at radio stations, and the hope that several record executives have of making it Tori's first big hit.

When Was SATY first released?
Silent All These Years was Tori's first single in the United States. Richard Handal posted to various mailing lists an interesting list of all Tori singles that appeared prior to the Little Earthquakes album in 1992. Take a look and find out the dates when SATY made its first appearance.

Article About 'Silent' In The LA Times
Check Out an LA Times Article About SATY from February 23, 1997


Please give me feedback, comments, or suggestions about my site. Email me (Michael Whitehead) at mikewhy@iglou.com