Fox After Breakfast
January 30, 1997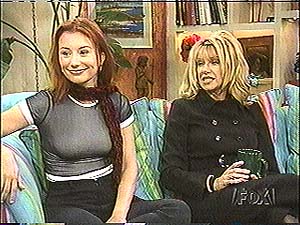 Late Show With David Letterman
January 29, 1997


Wednesday night, January 29th, Tori appeared on the Late Show with David Letterman. She was last and sang Silent All These Years. There were a few interesting twists to this appearance, and you can read about it here. The one thing that really bothered me was the fact that Letterman did now say or show the phone number to RAINN, or even talk about it. Apparently the studio audience got it, but not the TV audience. This is unfortunate because that was the major reason for the appearance.

View Photos & Read about Tori's Performance on Letterman.

Visit the David Letterman Late Show Web Page



Modern Rock Live
January 26, 1997




MTV Week In Rock / News Brief
January 24-25, 1997


MTV briefly covered the RAINN Benefit concert on THE WEEK IN ROCK during the weekend of January 24-25, but is was disappointing how little time they gave it. In fact, according to Karen Hagglund: "There was absolutely no mention of Tori until the closing credits, where footage of CfG (the same we saw on Lifetime) ran." Robbie Heacock reports "Later on in the evening (about 10:40 Friday or Saturday), MTV showed an MTV News brief during The Real World. It gave an a pretty brief synopsis, stating how much she raised thus far for RAINN ($300,000), and mentioned the infamous duet, however dubbing the song "Muhammed".


CNN Headline News
January 24, 1997




The Concert For RAINN on Lifetime
January 24, 1997


After the debut of new block of young women's programming called THE PLACE from 7-9PM, Lifetime TV in the U.S. broadcast The Concert For RAINN at 9:00PM Eastern/Pacific and again at Midnight. This broadcast was taped the day before (Jan 23) in New York City at The Theater At Madison Square Garden. This was a concert to benefit RAINN (Rape, Abuse, and Incest National Network). In November of 1997, this entire concert was released on home video in the U.K., Europe, and Australia. You can read about that and see more photos from this concert on my "Tori Amos Live From New York" Page.

See Photos and Read About The Lifetime Broadcast Of The Concert!


The Dish On Lifetime
January 24, 1997


Tori also appeared on a new show called The DISH on Lifetime on Friday, January 24, 1997. Tori was briefly interviewed by host Tracee Ross.


Rosie O'Donnell
January 24, 1997




MTV Loveline
January 13, 1997


MTV Loveline had Tori as a guest on Monday, January 13th at Midnight, and again at 3:00AM Tuesday morning. (Times are Eastern and Pacific). The show was really good, and Tori sat their during the entire hour and answered quite a few questions. I have a brief summary with some quotes, and some great photos for you to see.


MTV 120 Minutes
January 5, 1997


Sunday night at Midnight Eastern on January 5, 1997, there was a special episode of MTV 120 Minutes that featured past live performances taped in the MTV studios. Tori was shown performing Horses (She did not sing Beauty Queen!). MTV showed this before on January 28, 1996, but many people missed it, so this was another opportunity to see it. It was shown during the second hour of the program.

View Photos from Tori's performance of Horses.

Visit MTV's Web Site.