Concertina On The Charts
March 1, 2000 - Go to my Venus Music Chart Watch Page to see how this single is doing on the charts.

Concertina On The Atlantic Promo CD "Alternative & Rock/2000"
February 29, 2000 - Remo Luca found an Atlantic promo CD called "Alternative & Rock/2000" which includes the single mix of Concertina. I have placed a scan of the CD sent to me by Remo and more details on my Venus Page.

Concertina Single Oddity
February 17, 2000 - I found one of the credits on the U.S. Concertina single to be somewhat humorous. It says Recorded and Mixed by Mark Hawley and Marcel van Limbeek. It then says "Not assisted by Rob van Tuin." I have never seen someone credited for not doing something before! It does say he assisted on the "to venus and back" album itself and I guess they wanted to clearly emphasize that this guy was not part of the Concertina remix.

The Concertina Single Is Released In The U.S.
February 8, 2000 - While some stores offered the single early, Tuesday, February 8, 2000] was the day that the Concertina was available at most U.S. stores. As far as I can tell right now, the only thing that is available is a CD-5 Enhanced Maxi single which contains live versions of Famous Blue Raincoat and Twinkle as b-sides. It should also include the Glory Of The 80s video in HyperCD format (which forces you to be on the Internet to view the video on the disc.) I have not received any indication that the single will be available in other formats, like a cassette single. Read more details about the single and see scans of it below.
Here is the track listing as it appears on the single:
concertina (the single mix)
famous blue raincoat (live non lp version)
twinkle (live non lp version)
The number for this CD-5 maxi-single is Atlantic cd5 2-84651
Credits:
Recorded and Mixed by
Mark Hawley and Marcel van Limbeek
Not assisted by Rob van Tuin
At Martian Engineering, Cornwall, England
Produced by tori amos
Album version of concertina available on
the Atlantic album #83230 to venus and back
available on 2-CD/cassette set
Track 1 and 3
Written by Tori Amos
Published by Sword and Stone
Track 2
Written by Leonard Cohen
Published by ATV Songs LLC

The rest of credits talk about the bonus video (Glory of the 80s) and how to run it and the machine requirements for Mac and PC.

Tori Talks About The Concertina Remix/Single
February 3, 2000 - There is a news item at the Launch web site about Tori's upcoming Concertina single. Tori talks about the remix version of the single and it is very interesting. Here is most of the posting:
"Concertina," will be the next single from Tori Amos's album, To Venus And Back features a revamped version of the song that Amos says has a lot more "color." The singer will release the new version -- completed by her longtime collaborators Mark Hawley and Marcel vanLimbeek -- on Monday (Feb. 7). [Note from Mikewhy: I think Tuesday, February 8 is more likely.] The enhanced CD single will also contain the video for "Glory Of The '80s," as well as live versions of "Famous Blue Raincoat" and "Twinkle."

LAUNCH asked Amos if the remix of "Concertina" is the kind that might turn up in nightclubs. "No, it's not a dance mix," she explained. "What it is really is some background vocals were added and a different read on the song. They're similar, but one is just a little more hi-fi and more like ear candy. The new mix [is] like a recolorized film. The film is the same but they just colorized it."

Amos also assured fans that the new "Concertina" is not a complete rewrite. "I didn't want them to change. so that I say 'clouds' 17,000 times; that's not what I wanted. People get confused when you call something a remix because today remix means that it becomes a different structure. I didn't want the structure messed with one bar," she added.

Concertina Will Be Released Commercially As A Single In The U.S. In February 2000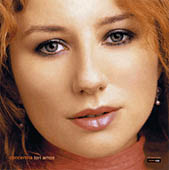 January 14, 2000 - The Official Tori Amos web site (toriamos.com) reported that Concertina will be released as a single commercially in the U.S. They state that it will be released on February 7, 2000, but I think they really mean Tuesday, February 8, 2000, because new releases usually come out on Tuesdays in the U.S. According to toriamos.com, 'The title track will contain a brand new mix of the song (by Tori and her longtime collaborators, Mark Hawley and Marcel van Limbeek) and will also contain live versions of "Famous Blue Raincoat" and "Twinkle." As an additional bonus, the video for "Glory of the 80's" will be included. The live tracks were originally included on an import version of Tori's "Glory of the 80's" single but will be available here [U.S.] domestically for the first time.' These live b-sides are the same as what appeared on the Glory Of The 80s single in Europe and Australia.
You can see the cover to the Concertina single to the right. (Click it to see it larger.) The cover is the same as on the Concertina Promo CD. pictured and discussed below. This will be the third single released from "to venus and back" in the U.S. This "new" mix of Concertina is not a radical remix from what I have heard, but a subtle one. According to shiv who has heard the remix, "Well, the "single" mix isn't much different but the vocals seem to be mixed slightly less distorted and there are some added background vocals to the second verse. Aside from an enhanced piano track, I really couldn't discern many differences between the two versions."
Tori herself talked about the remix in an interview in early February 2000, and you can read that above.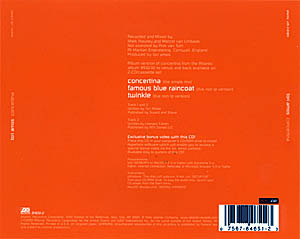 The back of the commercial Concertina single

The U.S. Concertina Promo Single; Is Atlantic Promoting Concertina AND Glory Of The 80s?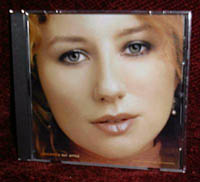 January 6, 2000 - I received a report from Jonathan Tung, an Atlantic College Rep, that "Concertina" from 'to venus and back' was sent to various U.S. radio stations to be added as a single on December 24, 1999. Several stations, like KFOG-San Francisco, WRNX-Amherst, and WNCS-Burlington have started to play it and several Toriphiles have heard it on the radio. The promo single being sent to radio stations has 2 tracks on it. They are Concertina the single mix and Concertina the album version. They are both 3:57 in length. The promo CD does have a very nice cover and comes in a jewel case. There are a few copies on sale at eBay and one included the photo of the single you see to the left. (Click to see larger.) This same cover will also be used for the commercial release of the single. More details as they become available. I must thank SpArKdOwN for telling me about the promo CD photo.
What is interesting is that Tori (Not THAT Tori, a fan named Tori) reports that according to Gavin, Atlantic is trying to get U.S. radio stations to add Glory Of The 80s during January 2000! Perhaps this is a situation similar to when "to venus and back" was released and both Bliss and 1000 Oceans were being promoted at the same time, although to different formats. If anyone out there can sort this out, especially if you work for a radio station, please email me!
shiv from radio station WOXY 97X in Cincinnati, OH emailed me in early January 2000 and said they have BOTH songs in rotation currently. (I wish we had a cool radio station like that!)