While in Los Angeles, CA in late September 1999, Tori filmed the "Glory Of The 80's" video at Universal Studios. She mentioned filming this video during the KROQ Breakfast with Tori & Alanis on September 24, 1999. Below you can find

photos from this video. Toriphile Jen placed photos from the Glory Of The 80s video on her web site Purplesque, and gave me permission to post them on the Dent.
In December 1999, Tori's Glory Of The 80s Video was added to Atlantic's INSTAVID web site. You can watch the video if you have Real Player installed.
On November 4, 1999, Sara Lorraine sent me the following report on the video, which is only being shown in Europe & Australia:
Just saw the new Tori Amos video for "Glory of the 80s" on MTV Europe. The video shows Tori in a black, vinyl type dress, the sleeves stretch farther than her hands (much like an undone straightjacket) and the botton folds stretch farther than her legs. She's got gray eye makeup and black lipstick on. She's in a metal square frame, with heavy cable bars (the karma drawn up in lines?) running from one end to the other and attached to her outfit. She's trapped. There's a spinning disk that flies around throughout the video and Tori morphs into different things; a wolf, a black bird, a baby. A various points in the video she sports her own pair of wings. The disk begins to smack into the cables, slowly but surely freeing her. She flies away, although she doesn't use wings to do so. The song is an edit version, with some of the extra "sure you're out there orbiting around"s cut out for length. It was a pretty good video; very symbolic.
There is a web site called The Tori Amos Videography Pages which is a great resource for getting details on and viewing many of Tori's videos! Surf on over and check it out. They include the new Glory Of The 80s video and made this screen shot, which I include below.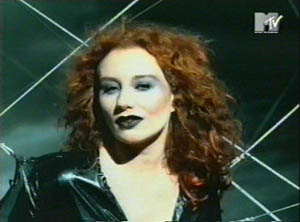 For more details about the Glory Of The 80s singles, go here. You can find Glory Of The 80s wallpaper (featuring photos from the video) and other designs at the From The RaysinGyrl Hotel web site. (Check out the TidBits section.)

Photos from Jen