Sound & Vision Magazine Comments On The Online Sale Of The Bliss Single
January 21, 2000 - Karla Canales told me about an article that appears in the February/March 2000 issue of Sound & Vision Magazine. It has the title, "Download Downer - Big record labels aren't so quick to unlock their vaults." The article talks about charging for music downloads and the lukewarm response consumers have had to this. Here are the parts that mention Tori:
In August [1999], Atlantic was the first major affiliate to offer a download for sale, the "Bliss" single by Tori Amos. It was offered to Internet shoppers through various e-merchants, who charged 99¢ to $1.99 (some also gave it away free to shoppers who pre-ordered the album). The result: only 1,200 fans downloaded "Bliss."

... Given the paltry responses to Amos, Bowie, and Dave Matthews downloads - and that speedy broadband connections are still several years away for most people - the big labels don't see any need to rush to put their vast catalogs of albums up for sale on the Internet.

The Bliss Single Was Released August 24, 1999 In The U.S. ; Where Were The Live Tracks Recorded?
As expected, the Bliss Single was released in various formats on Tuesday, August 24, 1999 in the U.S. It was released as a regular CD, cassette, and vinyl 45 single and a CD5 Maxi Single. I have to tell you that the live b-sides, Hey Jupiter and and the maxi-single, Upside Down, which are not on the live album, are intensely beautiful. They may make you cry and are far superior to any bootleg out there.
It appears that the new Bliss Single is not available in Canada except as a U.S. import. I have also not heard if 1,000 Oceans is going to be released there. So I am unclear as to the status of Tori singles in Canada. At this time there does not seem to be domestic release available there. If anyone has additional info to report, please do.
I was sad to see that the single does not state where the live songs were recorded at. However, it appears both live songs from the CD-5 were recorded at the Binghamton, NY show on November 10, 1998. (Thanks to Keith Albright and Heather for informing me.) Here is what Keith says about this:
In case you're wondering, or if you don't already know where the live tracks on the "Bliss" single were recorded, I'm almost certain about the location. I am about 99.9% positive that the two live tracks on the "Bliss" Single and CD5 were taken from the November 10, 1998 show at the Broome County Arena in Binghamton, NY. I believe this because:

1) Tori gave that same message about how she hadn't played "Upside Down" in a while, but was asked at the coffee shop to play it, AND had the starting/stopping problem because of some low feedback.

2) Tori played the songs "Hey Jupiter" and "Upside Down" in secretime back-to-back. and finally (what really makes me believe all this is right),

3) If you listen to the single's live tracks straight through, you will see (or rather, HEAR heheh) that there is no break, cut, or fade between tracks.

I just wanted to give you that little bit of information, because I was very excited to find out (or think that) the show I was at was recorded and put on the new single!
Below you can find scans of the cover and back side of the CD5 maxi-single. The artwork for the regular CD single is the same. When you open the CD5 Maxi-single you will also see the same photo as on the cover, but in black and white and with Tori's entire body showing and the lyrics to Bliss over the photo. It is the same photo that comes with the promo single that you can see below

. The regular CD single which only has Hey Jupiter live does not include the extra photo with the Bliss lyrics. The maxi-single is marketed in a jewel case while the regular cd single comes in cheaper cardboard packaging.
The CD5 Maxi single has the number Atlantic cd5 2-84533 and the CD single is listed as Atlantic 2-84532. There are many configurations of the single. The times are not listed on the CD5 but I added them for your information:
CD5 Maxi-Single (Atlantic 7567-84533-2)
1. Bliss (3:40)


secretime
2. Hey Jupiter (live non-lp track) (4:31)
3. Upside Down (live non-lp track) (5:46)
CD Single (Atlantic 7567-84532-2)
1. Bliss
2. Hey Jupiter (live non-lp track)
Cassette Single (Atlantic 7567-84532-4)
1. Bliss
2. Hey Jupiter (live non-lp track)
Commercial 7" (Atlantic 7567-84532-7)
1. Bliss
2. Hey Jupiter (live non-lp track)
The single says Written and Produced by Tori Amos
Published by Sword and Stone
Recorded and Mixed by
Mark Hawley and Marcel van Limbeek
Assisted by Rob van Tuin
At Martian Engineering, Cornwall, England

From the Atlantic album #83232 to venus and back avalable on 2-CD/cassette set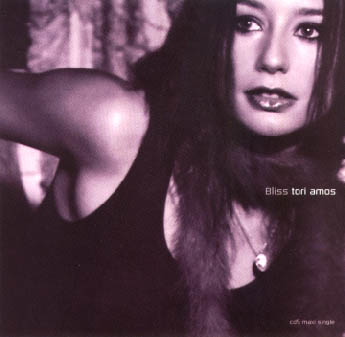 Cover Of The Commercial Bliss CD Single and CD5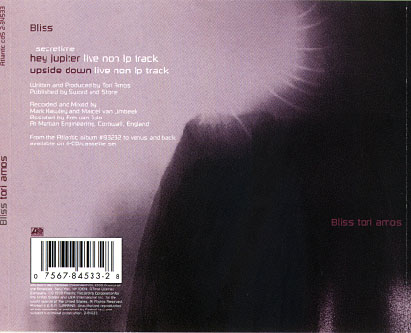 Back Of The Commercial Bliss CD Single and CD5

Order The Bliss Singles From Spun.com, Amazon.com or CDnow
Spun.com even has a special Bliss Page

where you can order the CD and even hear the song in Realaudio. If you buy it from Spun.com using any of these links, you will be supporting the Dent.
You can also order the Bliss single from Amazon.com:
You can also order the Bliss single from CDnow:

The Bliss Video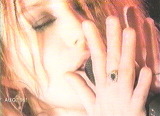 The Bliss Video premiered on MTV 120 Minutes on Sunday, August 15, 1999 in the U.S. See a bunch of photos from the video in my TV/Radio Archives. The video uses footage that was taken during the final two shows of the Plugged '98 tour in Michigan.
See Photos From The Bliss Video.

"Bliss" Available NOW As A Digital Download
Klaus Braun and Sabrina tell me that a news article at the Billboard web site

on August 13, 1999 first alerted us to the fact that Atlantic is making the song "Bliss" available for sale over the web as a digital download. The list price for the single is in the $1.99-$2.49 range, and that this move is a first for the web. Billboard said:
Atlantic is setting a precedent in developing the commercial marketplace for downloads by choosing to place the track with numerous e-merchants, including the Musicland Group, Wherehouse Entertainment, CDnow, Tower Records, Trans World Entertainment, Virgin, and independent outlets, including Music Millennium, Waterloo Records, Twist and Shout, and Compact Disc World. Atlantic is allowing merchants to choose between two technology providers for the downloads: Liquid Audio and Microsoft's Windows Media.



Read an official press release about the Bliss download!

Sabrina and Randy Uhl found an interesting article about this at the Sonicnet Music News Of The World site

. There is also a good article that appeared in the September 14, 1999 edition of the San Jose Mercury News that you can read in my Article Archives.

Download Bliss now from CDNow!

- You will support the Dent if you get it this way!
I have also found a few other places that are offering the single, and some of these may be better options if you prefer Liquid Audio or are a Mac user. You can download the song from the Ear X-Tacy web site

, a record store in my hometown of Louisville, KY. Their web site has a great photo of the "to venus and back" cover that is much larger than we have seen before, and another great promotional shot of Tori.


Another place is Wherehouse Music

, who is offering the song for only 99 cents right now or for free if you buy any other Tori item from them. (They include a nice photo of Tori at the site.) You can also go to EveryCD, Inc

, who has a really nice page with details on how to do the download. (The page includes a better shot of the photo that is on the "to venus and back" album cover.) Krista Laws, who is the Internet Coordinator for gohastings.com

, first told me about this, so may Hastings will offer the single as well.
I personally prefer the Liquid Audio format to Microsoft's Windows Media. You can find out more about the Liquid Player and download it from www.LiquidAudio.com

. Here is some info about the download:
The song (encoded at 96 kbps, 3 minutes and 33 seconds long) may be copied one time after it is purchased, restricted for US distribution only.
Liquid Player (1.5 MB file) required to stream or buy the track.
During install process of Liquid Audio Player the browser will shut down to correctly install the player therefore, bookmark the Bliss Page prior to download.

Details About The Promotional "Bliss" Single
The nice folks who run Spun.com

sent me great scans of the front and inside cover to the "Bliss" Promotional single that has been sent to various U.S. radio stations. (Atlantic PRCD 8960) It is the same photo used for the commercial "Bliss" single, but it shows more. The photo definitely has a purplish tint to it. The inside cover of the promo single has the same photo as the front, only with the official lyrics on it and it is in black and white. Look below to see these scans and to read the official "Bliss" lyrics! Thanks to Spun.com for sending these to me! I would also like to thank Toriphile Riley, who also sent me scans shortly after Spun.com did.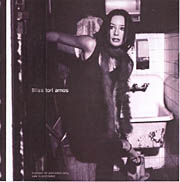 Cover To The U.S. "Bliss" Promo CD - Click to see larger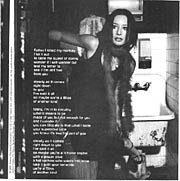 Inside Cover To The U.S. "Bliss" Promo CD with Official Lyrics! Click to see larger

Details On The Commerical Bliss Single! Non-Album Live Tracks Will Be B-Sides
August 2, 1999 - Toriphile Amber and Dean just sent to me a fax that from WEA (Warner/Elektra/Atlantic - the company that owns/runs Atlantic Records) and contains exciting new info on the "Bliss" single!
Street Date (release date): August 24, 1999

"Atlantic megastar Tori Amos' new full-length release 'To Venus and Back' hits the streets September 21. A double disc release, the set features an all new studio album on one disc plus a "live" recording taped during her acclaimed 1998 Plugged world tour on the second. As a prelude to the release, Atlantic will hit AAA and alternative August 6th with one of the new tracks entitled "Bliss", a song about the bond between a father and a daughter. As always with Tori's legion of fans, they want everything. Considering the success of her past commercial releases, Atlantic will be releasing "Bliss" on four configurations. A special live non-lp track "Hey Jupiter", will be featured on all the configs with an additional live non-lp track, "Upside Down", included on the CD5. Atlantic promotion will then hit the POP format with a different track in September [1,000 Oceans] with additional commercial singles released at that time. Going on a tour with Alanis Morissette from August 18th-September 25th and continuing with additional headlining dates from September 29th-October 7th ... plus bookings on Leno, Letterman, The View and features in Rolling Stone and the cover of SPIN, it's fair to say that Tori will be everywhere."

There will be 4 variations of this single.

CD5
1. Bliss (album version)
Secretime
2. Hey Jupiter (live non-lp track)
3. Upside Down (live non-lp track)

Commercial 7"
1. Bliss (album version)
2. Hey Jupiter (live non-lp track)

Cassette Single
1. Bliss (album version)
2. Hey Jupiter (live non-lp track)

CD Single
1. Bliss (album version)
2. Hey Jupiter (live non-lp track)

The Official "Bliss" Lyrics
Below you will find the official lyrics to "Bliss" as printed on the inside cover of the promo Bliss single sent to U.S. radio stations. (You can see scans of that cover above.) Thanks to Riley for typing the lyrics below and adding some commentary at the end:
Father I killed my monkey
I let it out
to taste the sweet of spring
wonder if I will wander out
test my tether to
see if I'm still free
from you

steady as it comes
right down
to you
I've said it all
so maybe we're a Bliss
of another kind

lately, I'm in to circutry
what it means to be
made of you but not enough of you
and I wonder if
you can bilocate is that what I taste
your supernova juice
you know it's true I'm part of you

steady as it comes
right down to you
I've said it all
so maybe you're a 4 horse engine
with a power drive
a hot kachina who wants into mine
take it with your terracide
we're a Bliss
of another kind

"Bliss" Makes It To Radio Early!
August 1, 1999 - We were told that Tori's new song "Bliss" would be sent to alternative radio on August 6. However, it appears that at least some radio stations got the song early. I have reports from Toriphiles who heard the song on the radio as early as Friday, July 30, 1999! This is obviously big news and if anyone else has heard the song, I hope you will email me and tell me both the station you heard it on and describe the song for us. I have created a new "Bliss" Page to track these reports and details on the song, including various guesses as to the lyrics!
Go To The Dent's "Bliss" Page To Find Out More & Read Lyric Guesses.

First Singles To Radio Will Be "Bliss" and "1,000 Oceans" According To Atlantic Press Release
July 21, 1999 - A Press Release from Atlantic Records, distributed by Business Wire on July 20, 1999, revealed additional details about Tori's new double album, "to venus and back". You can read it in my Article Archives. There is also an article at the SonicNet Music News Of The World site

which mentions details from this release as well. Special thanks to Henry Ho, Dink and Tripp Gwyn for telling me. Here are the important single related details:
The album is set to be released on September 21 in North America.
2 tracks from the new album are going to radio soon. "Bliss" is being sent to alternative radio on August 6 and a new song called "1,000 Oceans" goes to Pop, Hot AC, and Modern AC radio in late September.

Atlantic Web Site Says New Album Will Be Released September 21 & Will Contain "Bliss" & "Glory Of The '80s"
July 13, 1999 - A small news item at the Atlantic Records web site

agrees with the info reported last week at Billboard Online

. It says that Tori's new double album, "to venus and back," will be released in the U.S. on September 21, 1999. It also verifies that "among the new songs are "Bliss," which explores father-and-daughter ties, and "Glory Of The '80s" about Amos' time as a working musician in Reagan-era Los Angeles."