By using the links below to purchase these books, you will also help support The Dent!
Click here to pre-order the paperback edition of AMERICAN GODS, due in May 2002, from Amazon.com.

Interesting Neil Gaiman quote about Tori from the "Manchester Evening News" newspaper
Added July 14, 2001 - Emma Taylor tells me that the July 11, 2001 edition of the "Manchester Evening News" newspaper included a large interview with Neil Gaiman. In the interview, he mentions Tori Amos. Here is his quote:
Sudden declorations of love apart, Croydon-born Gaiman, who lives outside Minneapolis with his wife and three children, is almost resolutely normal. Well, as normal as someone who writes about gods and despair and is close friends with famously eccentric singer Tori Amos can be.

"Tori's not really that eccentric," he laughs. "She's got a different way of looking at things, but i always think she's the most practical kook i've ever met. The problem is she's very deadpan and a lot of people misunderstand that and think she's just weird."

Delirium Toy
Added July 14, 2001 - Amy Shockley reports: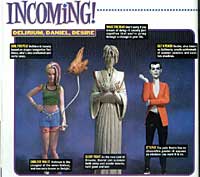 I just wanted to let you know that in the August 2001 issue of Toy Fare, it has a section entitled "Incoming" which lists toys that are coming soon. This month it includes a Delirium action figure (and other Neil Gaiman characters) with the captions, "GIRL FOR PELE Delirium is loosely based on singer/songwriter Tori Amos, who's also red-haired and sorta crazy." "ENDLESS WALTZ Delirium is the yougest of the seven Endless, and was once known as Delight." I have also included a scanned image. (Click on the image to see it larger.)


More American Gods Related News
Here are a few interesting news items about Neil and his 2001 novel "American Gods".
On June 27, 2001, Neil appeared on The Screen Savers on TechTV in the U.S. and announced that American Gods reached the top 10 on the New York Times Best Sellers List for Hardcover Fiction.
CNN.com did a story on Neil and "American Gods". The article looks at how the book was promoted using the Internet.

Neil Gaiman's novel, AMERICAN GODS, was released on June 19, 2001!

Updated June 19, 2001 - The latest novel from Neil Gaiman is called American Gods, and it was released on June 19, 2001. You can find out more about it on Neil's official web site neilgaiman.com. The site has all kinds of information about the book and a journal where Neil posts.
You can order "American Gods" NOW through Amazon.com.
Toriphile Danielle received an advanced copy of "American Gods" and reports that Tori is thanked in the acknowlegements at the beginning. Here is what Neil wrote:
Mrs Hawley lent me her Florida house to write in, and all I had to do in return was scare away the vultures. She lent me her Irish house to finish it in, and cautioned me not to scare away the ghosts. My thanks to her and Mr Hawley for all their kindness and generousity.

My Review of Neil Gaiman's new novel "American Gods"
Updated June 19, 2001 - I (Mikewhy) was very fortunate to receive an advance copy of Neil Gaiman's new novel, American Gods, and I have decided to post a small review of it on the Dent. This is more a collection of my thoughts after reading the book than a formal review. The review is very general and does not contain any spoilers.

NeilGaiman.com is online!
Neil Gaiman now has an official web site at neilgaiman.com. Check it out!

Neil Gaiman online comments about Tori's new album "Strange Little Girls". Neil wrote something for Tori's CD Booklet and her 2001 tour book!
Updated July 17, 2001 - Read more about this on the Neil and "Strange Little Girls" Page.

Hot Topic doing a line of exclusive Sandman merchandise
Added February 14, 2001 - I was informed by Neil's assistant Lorraine that Hot Topic is now selling a line of exclusive Sandman merchandise. This came about through popular demand. Check out what you can buy at hottopic.com.

Neil Gaiman did his last Guardian Angel Tour in October 2000
Updated Late October 2000 - For the last 7 years, Neil has been doing Guardian Angel Tours, where he shares poems and tales with audiences and raises money for the Comic Book Legal Defense Fund. Gaiman announced that his 2000 reading series during October 2000 will be THE LAST ANGEL TOUR. Read the UPDATED press release for this final tour which has all the details.

Neil Gaiman reads poem for Tori's baby at his last Angel Show in Chicago
October 17, 2000 - During October 2000, Neil Gaiman is doing his last Guardian Angel Tour, where he shares poems and stories with audiences and raises money for the Comic Book Legal Defense Fund. (See below for more details on this tour.) On October 16, 2000, Neil did a reading in Chicago, IL at The Vic Theatre. While there, he talked a little about Tori's new baby Natashya and read a poem that he wrote for her! Find out details about this magical evening on this special page dedicated to the Chicago Angel Show Reading. Neil also read this poem in New York on October 18, 2000.

Neil Gaiman posts about Tori's baby at The Dreaming web site
September 8, 2000 - Neil Gaiman has posted about Tori's baby at The Dreaming web site on Wednesday, September 6, 2000. He even mentions The Dent and calls himself "a proud fairygodfather." Thanks to William for telling me about this! (Read more about Tori's baby here.) Here is what he wrote:
Tori had her baby... Posted by neilg at 10:23 PM PDT
Just in case anyone missed it, Tori Amos and Mark Hawley are the delighted parents of a 7lb 1 oz baby girl. Which is reason enough for me to post something here.

I expect there's probably more information at the dent -- http://thedent.com which is a good place to go for Tori news.

Hurrah.

Signed

a proud fairygodfather

Neil Gaiman Article In Dallas Observer Mentions Tori
July 21, 2000- I found an interesting article on Neil Gaiman that was published in the Dallas Observer on July 20, 2000. In the article, Neil calls himself "the wussiest of wussies," , talks about his upcoming fourth novel called American Gods, and makes many other fascinating comments, which is normal for him. Tori is mentioned in the article, which you can read at dallasobserver.com. Here is the part that mentions Tori:
Not long ago, a journalist asked Neil Gaiman how he feels about the fact that, despite his large body of work--novels, comics, children's books, short stories, and so forth--he will be remembered solely for Sandman. Gaiman sneers at the question, but it's not an entirely unfair one, and he knows it. After all, Sandman was a hit almost from the moment the first issue, Preludes & Nocturnes, reached the stands in December 1988. Even now, its bound collections--10 in all--continue to rank among the best sellers in DC Comics' adult-oriented Vertigo offshoot, of which Sandman was the charter member.
The series spawned gushing praise: Norman Mailer wrote that it was a "comic strip for intellectuals, and it's about time." Tori Amos, whose songs often reference Gaiman, treats The Endless--the family of timeless gods who personify such forces as Death, Destiny, Desire, and, of course, Dreams--as though they exist in this world. ("On bad days I talk to Death constantly," she wrote in the introduction to 1994's collection Death: The High Cost of Living.) The title won more awards than are given for comics; it was treated, in fact, like literature, as though it were too special to be included among the panels-and-balloons riffraff. In September, DC will publish the paperback version of The Sandman Companion, a nearly 300-page book that explains every panel; no comic book ever received such elucidation.
Here is a quote from Neil that I liked. He is talking about a short story he wrote in 1993 called "Chivalry."
"It's a gentle, funny, human story, and one gets to say a bunch of things about growing old and about the nature of time and about people which I couldn't say in any other story," Gaiman says. "I love that. That, to me, is the joy of things. I get to ask questions in using fantasy that I don't think I could ask if I was just writing romantic fiction. You get to ask some of the really big questions and some of the really cool questions. In American Gods, I get to talk about things most of my readers will have seen 100,000 times in ways that will make them look at them for the first time. That, I suppose for me, is the power of fiction. That is where the magic lives."

Listen to an MP3 of Neil Gaiman talking about Tori and his first encounter with her music
July 18, 2000- Audrey found this Neil Gaiman sound file and posted it on her Here. In My Head web site. Once at that site look for a link to the sound file next to her 07.17.00 update. It was taken from Neil Gaiman's "Guest of Honour" speech at Construction - The 1998 New Zealand National Science Fiction Convention.

Article On Tori and Neil In The U.K. Sunday Independent
An Interview with Tori and Neil Gaiman was in the October 10, 1999 edition of the Sunday Independent in the U.K. It appeared as part of the paper's regular 'how we met' column. It included a recent photo of Tori and Neil together. You can read the article and see the photo in my Articles Archive.

Great Neil Gaiman Section At Here. In My Head
The excellent web site here. in my head: my tribute to Tori Amos includes a Neil Gaiman section that is really good. It details for you the various places Neil and Tori Amos have mentioned each other in their various works.

Neil Gaiman Will Write AND Direct The Movie For "Death: The High Cost Of Living!
Neil Gaiman announced in early April 2000 that his DC/Vertigo miniseries "Death: The High Cost of Living" will finally make it to the big screen and that he is set to write and direct the film. We have been hearing about the possibility that this would be a movie for some time, but now it seems to be official. Besides being great news for Neil fans, it has led to a lot of speculation that perhaps Tori could be involved. We know she is trying her hand at a movie score, and some people seem to think that there is a possibility that this could be the film she is working on. It is a cool thought and I would be thrilled if it turns out to be true. However, there is no evidence at this time that this is the project that Tori is working on. If there ever is evidence that Tori is or is not involved, I will announce it on the Dent and on the movie score page I have created. There is also news that Gaiman's short story "Chivalry" has been sold to independent film studio Miramax. The story features an elderly woman who finds the Holy Grail in a knick knack shop and is slated to be directed by a first-time director. This is another film that some feel would benefit from the Tori treatment. Thanks to loria near, Tyler Walz and Michael Gehrig for being the first to tell me about this possibility. You can read all about this at the Aint-it-cool-web site, at scifi.ign.com, and at The Dreaming web site. IGN Movies also has an interview with Neil about this. Even if Tori is not involved, it will still be a really cool project!

Neil Gaiman Does English Adaptation Of The Movie "Princess Mononoke"
Beth Winegarner, David Louie and Heather Hansen were the first to tell me about this. Princess Mononoke is a Japanese anime film set in historical Japan that explores the trials of nature versus an ever-encroaching civilization. Hayao Miyazaki directed the film, which was called Mononoke Hime in Japan, which is arguably the most popular Japanese film of all time. The film was released in the U.S. on October 29, 1999 by Miramax's Dimension Films under the title Princess Mononoke. Miramax is trying to vault Anime into the mainstream in the U.S with this release. Dimension reworked the film with an English script, adapted by Neil Gaiman (The Sandman) and cast with the familiar voices of Claire Danes, Billy Crudup, Minnie Driver, Billy Bob Thornton and Gillian Anderson. You can read more about this remarkable film at the Princess Mononoke web site and at slashdot.org. The film is only playing at select theaters right now, but it is hoped that more will pick it up later. Robert Ebert has stated that the film deserves consideration for Best Picture. Toriphile Heather Hansen has seen the film and says: Neil Gaiman did an excellent job for the English Adaption. You gotta see it. It was beautiful. The music score was so pretty and you have to see the tree spirits. They are so precious. And the forest spirit was awesome.
You can do a search and see of it is playing in your area by going to this web site.

Neil Gaiman Comments On "to venus and back"
There is a 1999 interview with Neil Gaiman by Hannah Kuhlmann that appeared in the Minnesota Daily at the University Of Minnesota. You can read this interview at the Excite News web site. He comments very favorably on "to venus and back," which you can read below:
Q: What did you think of Tori Amos' new album? I know you're an admirer of hers.

NG: I love it. I first heard its unmixed form. England in June I went and stayed at her little Cornish farmhouse studio, played me all the tapes, or tracks. I think it's astonishing, I think it's lovely. One of the things I like best about Tori is, she keeps moving. It's, you know, I don't think you could take any track from any of her albums and put it on the previous album. She said to me, when she'd finished, "Well, do you like it?" I said, "Yes, I like it very much." She said, "Well, what is it?" I said, "It sounds to me like a greatest hits album from an alternate universe." You know, you took the best track off the hip hop album, the best track off the- you know, "Suede" and "Bliss" and "1,000 Oceans" seem to come from three completely different worlds, taking three tracks at random. It's wonderful stuff. I think "Suede" is my favorite. I like the creepiness of it.

I was writing, working on the novel American Gods, on the train to San Diego back in July, early August. I love taking the train in America, it's a very good thing to take the train because you get three or four days of peace and quiet, and nobody phones you and nobody gets in touch, you can just sort of get things done, eat a little too much. It's not actually the eating too much, it's the fact there is no exercise of any kind, you're having three, four meals a day and putting on incredible quantities of weight, and going off and writing. I just have this little CD-R that they burned for me, have the album playing over and over. And I liked the creepiness of "Suede."
A new 136 page illustrated hardback book from Neil, with Illustrations by Yoshitaka Amano. The first new Sandman story in almost four years.

October 25, 1999 - Neil Gaiman has written his first Sandman story in four years. It is called SANDMAN: THE DREAM HUNTERS. It's a prose story, a 136 page illustrated hardback book with illustrations by Yoshitaka Amano.
The story is set in 11th century Japan. It tells the story of a beautiful fox-spirit-girl who falls in love with a monk, and what happens when she learns that a magician seeks to steal the monk's life through his dreams. To save the monk's life, she seeks the help of the King of All Night's Dreaming....
It's also the story that the Baku, from the "to venus and back" liner notes, come from!
The book is $29.95. (You can order it from Amazon.com for only $20.97.) The book reached comic stores in Late October 1999 and book stores in November 1999.
Yoshitaka Amano, the artist, did about 70 beautiful paintings for it. (He has an exhibition in New York until October 30, 1999 at the Angel Orensanz centre in New York, on Norfolk and Houston. Neil says that Tori fell in love with the paintings when he showed her colour photocopies, and she also saw the Amano exhibition in person.) Be sure to check out Yoshitaka Amano's official web site, which includes more details on this book.

Neil Gaiman Article & Interview At CNN Web Site
Delf alterted me to a good article on Neil Gaiman that was posted to the CNN web site

on February 25, 1999. It is called "Neil Gaiman: Adults deserve good fairy tales, too." The article does include a brief mention of Tori and will be of interest to all Neil fans.

Neil Gaiman's 1999 STARDUST Tour
In early 1999, Neil did a book signing tour for his novel, Stardust. This was significant for Toriphiles because a) there is considerable overlap between fans of Neil and Tori and b) Tori herself appears in the novel as a tree! (There was an illustrated version of the novel released in 1998 that shows the tree, as you will see below, and a published novel that does not include illustrations. I think the version with illustrations is hard to find these days.) The tour is now over, but below you can find a press release and more information on the novel "Stardust," including photos of the Tori tree from the illustrated version. Special thanks to Andy Heidel of Avon Books and Lorraine Garland.


The Stardust Series and the Tori Tree!
"and if there is a way to find you I will find you. but will you find me if Neil makes me a tree..."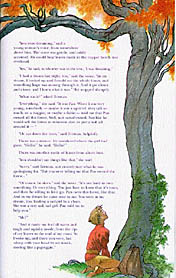 The lyric above is from the song Horses on Tori's 1996 Boys For Pele album. Ever since then we knew that author and friend of Tori Neil Gaiman was going to make Tori a tree in one of his upcoming works. That happened in a new book series by Neil Gaiman and Charles Vess called Stardust. The first part of this 4-part series came out in October 1997. The Tori tree appears in issue #3 that came out in early 1998 in a special illustrated version.
Beth Winegarner made me first aware of the Tori tree and sent me the scans you see to the right and below. Click on either picture to see it larger. Here is what Beth posted about the Tori tree to the Precious Things mailing list:
I'd like to say that I got my issue #3 of "Stardust" today and came immediately home to read it....
And it has the Tori tree in it! I'm going to be nice and scan the artwork for Mikewhy to put up on the Dent, but basically the sTori is, she's a tree who helps the main character figure some stuff out towards his quest, and gives him a leaf which will help him later on (probably in the fourth and final installment). It's a beech tree with copper leaves -- of course -- and since it's a talking tree, it's living in the realm of faerie. There's a really gorgeous painting of it (all the art was done by Charles Vess), with the tree growing out of a tiny island in a pool which, at night, is twinkling with starlight.
She (the tree) says a few Tori-esque things, including: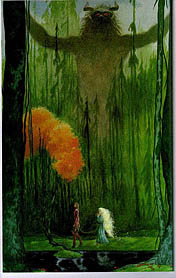 "And it made me feel all warm and squishy inside, from the tips of my leaves to the ends of my roots."
The tree in question is actually someone who was transformed into a tree by a kind of spell or curse. She used to be a wood nymph. "'I was pretty cute as a nymph, too,' she admitted coyly."
But my favorite bit relating to the tree has to be this one:
"'I didn't always used to be a tree,' said the voice in the rustling of the copper beech leaves. 'A magician made me a tree.'"
It isn't giving much away to tell you all these things. However, I'd advise you all to start reading from issue #1 if possible. Don't just get #3 'cause it's got Tori in it... it's not going to make much sense if you pick it up in the middle. :)

You can see a larger photo of the Tori tree at the Tour Diary site

of Michael Heiker. This one was actually signed by Tori as well!

Toriphile Chris The King tells me the following about Stardust:
In Stardust there is a Tori tree. Ee know this to be true. Did you know, however, that in the acknowledgements section of the published novel (alas, with no graphics by Charles Vess) Neil says:

"Tori lent me a house, and I wrote the first chapter in it, and all she asked in exchange was that I make her a tree."

On further questioning, Neil admitted that the house in question was Tori's canal house, and that it was very nice.

Press Release For The Novel Stardust
INTERNATIONALLY BESTSELLING AWARD-WINNING AUTHOR NEIL GAIMAN "EMPLOYS EXQUISITELY RICH LANGUAGE, NATURAL WISDOM, GOOD HUMOR AND A DASH OF DARKNESS"* IN HIS LATEST NOVEL, STARDUST
STARDUST Is Published In Hardcover by Spike To Go On Sale January 5
"The multitalented author of The Sandman graphic novels and last year's Neverwhere charms again . . . in a comic romance, reminiscent of James Thurber's fables . . . deftly written [with] Gaiman's distinctive wit, warmth, and narrative energy."
_Kirkus Reviews
"Sparkling, fresh, and charming. Superb."
_ Booklist
Multiple award-winning author Neil Gaiman is listed along with Thomas Pynchon and William Burroughs as one of the "Top Ten Post Modern Writers in America" by the Dictionary of Literary Biography and is considered "a little intimidating" by Stephen King. Neil Gaiman became a cult hero with his immensely popular Sandman graphic novel series. Hailed by Norman Mailer as "a comic strip for intellectuals," Sandman sold over a million copies a year, and issue #19 took the 1991 World Fantasy Award for best short story thus making it the first comic ever to be awarded a literary award. With the 1997 Avon Books publication of Neverwhere, Neil Gaiman made the leap from graphic visionary to novelist. Neverwhere was the "thrilling" (USA Today) underground bestseller of 1997, reaching #3 and # 9 respectively on the Los Angeles Times and San Francisco Chronicle best seller lists. Neverwhere was also Booklist's "Editor's Choice Book for 1997" and is soon to be a major motion picture from Jim Henson Productions. Now, Spike publishes Gaiman's second novel, STARDUST, "a fairy tale in the grand tradition" (Publishers Weekly) much akin to Will Goldman's The Princess Bride and Lewis Carroll's Alice in Wonderland. Kirkus Reviews says "there are dozens of fantasy writers around reshaping traditional stories, but none with anything like Gaiman's distinctive wit, warmth, and narrative energy." The "deftly written" (Kirkus Reviews) tale told in STARDUST begins in the sleepy English town of Wall on the border of the Faerie Kingdom.
*Publishers Weekly
It is in Wall that young Tristran Thorn has lost his heart to the beautiful Victoria Forester and, when a star falls from the sky, Victoria promises Tristran his heart's desire if he retrieves that very same star.
Tristran ventures into the realm of Faerie in hopes of gaining Victoria's hand, only to discover he is not alone in his quest for the fallen star. For in the Faerie realm, the fallen star is not a piece of cold rock and metal but a young woman that holds the secret of youth for three wicked witches and the key to rule a kingdom for the murderous lords of Stronghold. In a world where up is down and nothing is what it appears to be, Tristran must evade those who seek his destruction and covet the star. STARDUST is a love story, and a journey and, most of all, it is about attaining the heart's desire which is ever so often not what it is expected to be.
Invoking the masters of faerie stories written for adults_Carroll, Dunsany, Mirrles, and Cabell_Neil Gaiman wrote STARDUST in longhand utilizing nothing more than a fountain pen. "It's a much shorter book, I think," says Gaiman, "than it would have been on a computer. Writing it with a fountain pen meant that I thought more about sentence structure before I wrote. I also wanted to write it as if I were writing eighty years ago; to get the kinds of rhythm of sentences and of storytelling we don't get any more."
ABOUT THE AUTHOR:
Even though he is English, Neil Gaiman is one of the most vocal comic book freedom of speech proponents in America. He comes "from a country that has no First Amendment" where "there are lots of things that you cannot say and cannot show," says Gaiman. The 1997 winner of the Defender of Liberty Award honoring his outstanding contributions to the Comic Book Legal Defense Fund, Neil Gaiman has raised almost $60,000 to date for the CBLDF with his "Guardian Angel" reading tours. The winner of four Eisner Awards, a World Fantasy Award and the Horror Critics' Guild Award, just to name a few, Neil Gaiman is the author of more than twenty works of fiction, non-fiction and graphic novels. His many works include the novels Neverwhere, Good Omens co-authored with Terry Pratchett, the Sandman graphic novel series, and his short story collections Smoke and Mirrors: Short Fictions and Illusions and Angels and Visitations. His first children's book: The Day I Swapped My Dad For Two Goldfish was listed by Newsweek as one of the best Children's Books of 1997.
Born in Portchester England and now living in Minnesota, Neil Gaiman is an eclectic personality who is rarely to be found without his dark sunglasses and custom-altered leather jacket of dubious origins. Just recently, he traveled to Argentina and visited the town of "Gaiman" in Patagonia, a childhood dream of his.
STARDUST
by Neil Gaiman
Spike/Hardcover/Fiction/256 pages
Publication Date: January 5, 1999
$22.00 U.S. ($29.00 Canada)/0-380-97728-1

Tori Mentioned During A DC Comics Online Chat With Neil Gaiman
Josh Kostka reported some interesting Tori-related news to the Precious Things mailing list that he discovered during an unscheduled DC comics online chat with author Neil Gaiman that took place on America Online in October 1997.
Neil Gaiman said that he's asked painter John Bolton to hide Tori in one of the panels of the new Desire 16-page story that will appear in the "Vertigo's Winter Edge" Special, coming out soon. He also said that Tori was his inspiration for the new second mini-series of "The Books Of Faerie", due out in early '98.
In a different posting, Josh mentioned this bizarre Tori reference:
In a "Previews" comic catalog from January 1996 (international edition) there was a little thing about the "Death:High Cost Of Living" collection by Neil Gaiman, for which Tori did the introduction. They wrote "Written by Neil Gaiman with an introduction by HEAVY METAL SINGER AND LESBIAN ACTIVIST TORI AMOS".

Neil's "Death: Time of Of Your Life" Issue #1 Seems To Reference A Dilemma in Tori's Public Life
November 5, 1997 - I saw following interesting post to the Precious Things mailing list from Michael Francis, which gives us yet another possible connection between Neil's work and Tori:
Many people will be aware of Tori's dilemma during the early years of career about playing large halls, as to opposed to more intimate settings. Just thought you migt want to know that this is referenced directly in Neil's "Death: Time of Of Your Life" Issue #1.

The main character of the book is a lady named Foxglove who is also a musician. On page 8 of said issues, her manager remarks that she can't play small venues anymore, coz she's just so popular.

No point to this really, just a another sign point pointing to Neil's relationship with Tori.

Comments Made About Tori By Neil In The Magian Line Newsletter
The Magian Line

is a Neil Gaiman news and information newsletter created by Sadie. Past issues have featured interviews with Neil where he mentioned interesting tidbits about Tori. You can read these interviews online at the Magian Line web site. (Many thanks to Kirstin (bloogirl) and David Louie for making me aware of all this!)

One interview is from Magian Line 3.2, July, 1997

. Neil talks about wanting Tori to join him on a Comic Book Legal Defense Fund tour.
An older interview is from Magian Line 3.1, August, 1996

. Neil talks about Tori coming to visit and finally meet his daughter.
Another interview where Neil mentions Tori is from Magian Line 2.4, December, 1995

. Neil talks about the BFP song Horses and his plans to make Tori a tree! He also states the Boys For Pele is Tori's best work and a REAL album.

Neverwhere: The Novel and Book Tour
During June 1997, Neil Gaiman went on a book signing tour across the U.S. for his new novel Neverwhere. On the back of Neverwhere, there is a quote from Tori: "I didn't ever want this book to end... Hunter, Islington, Door-these characters are a part of my life now. I see them when I turn corners."
I believe that Neverwhere was also a series on British TV. Apparently part of Neil's TV series was written in London at a house that Tori onced lived in. (She no longer does!) The house was built into the side of a bridge, over-looking a canal, which Neil says explains why there is a lot of water in episode 4 of the series.
Toriphiles Kirstin (bloogirl) and Sara A Field met Neil during one of the stops on his book tour and asked him about Tori. There descriptions are below:

I received the following email from Toriphile Kirstin (Bloogirl), who met Neil in San Francisco June 26:

i saw neil gaiman (love him love him love him) tonight [June 26] in san francisco (the booksmith at 7pm if you wanted to verify his appearance) and asked him about tori amos....

the boy gave me lots of news....

well. some.

ok, one part is a bit fuzzy-im really sorry, i havent had much sleep and it was a whirlwind of a couple days,

Neil got a call recently. his assistant handed him the phone with a puzzled face and said, 'it's John Cole.' so, neil took the phone, and John said, 'Hello, is this Neil Gaiman? This is John Cole.' he went on to explain that he was trying to get ahold of tori amos because he wants to do a duet with her, but wasnt able to get through her management. and he wanted to know if neil would help him get ahold of tori.... apparently he did, because neil told me personally later "well, if tori does do the duet, you heard it from me first" :)

( I received email from Howard Cohen who suggested that the name of the musician above may have been John Cale, the former member of the Velvet Undergound. He says, " There has always been a slight bond between these two artists in my mind, as Cale's 1972 release "Paris 1919" reminds me musically of "Little Earthquakes." (actually the other way around). Also of interest is his more recent live, mostly piano, solo concert "Fragments of a Rainy Season." In addition, both were classically trained child prodigies. I would love to see dueling pianos between the two.")

the other news....

im not sure if you know this, but on the Magian Line website (i can get the webpage if you need it) he explained before tori's cd came out about the song 'horses'....the reference to him is related to his yet to be released 'Stardust' 4 part novella (to be published by dc comics cause, as neil put it, they were the only ones who didnt balk at the idea of having a painting on each page....)

so, anyway, when tori heard about the story idea, she asked if neil would make her a tree in the story, so he said in the story there is going to be a tree that is very tori....

Anyway, the new news, is that the tori tree will be in the 3rd book of the novella, second chapter (two chapters per book), OR the first chapter of the 4th book.

The first book is due out in october.

I saw the following post to the Torinews mailing list from Toriphile Sara A Field, who met Neil in Chicago June 30:

just got back from the Neil Gaiman signing of *neverwhere*, his new novel. he read a little and answered some sandman/miracle man/comic questions and then he signed copies of his books. he is a very funny guy, and has the most adorable english accent.

so when it was my turn to get my book signed, i asked him to tell me a tori story. he said, what do you want to know? ask me a question and i'll answer it. so i asked what she thought of the book, and he said something along these lines:

*i gave her the book in feb. when i stayed at her house. she read it, and i read a lot of it to her. i was working on *stardust* (a new book/comic i assume) and she made me promise to make her a tree. and that's the line from horses, about me making her a tree.*