Neil Gaiman News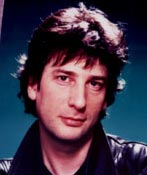 Tori Amos and Neil Gaiman go together like peanut butter and jelly. Neil Gaiman is a writer, known for his novels and the Sandman graphic novel series. He is a close friend of Tori's who is mentioned in songs from almost every Tori album. You can find out the latest news on Neil at NeilGaiman.com. (This site includes Neil's online blog, as well as the photo of Neil you see to the left.) Another great source of Neil news is The Dreaming web site. You will also find a really good Neil section at the Here. In My Head web site. Look below for the latest news items about Neil posted to The Dent.
Wednesday, March 22, 2006

Tori included on a Neil Gaiman Tribute Album!
Thanks to Shellie, Tim and Jen for this information. According to a news story posted to Billboard.com on March 22, 2006, an "album inspired by the work of prolific author Neil Gaiman will be released this summer by Philadelphia-based independent label Dancing Ferret Discs. The project, tentatively titled 'Where's Neil When You Need Him?,' is expected to arrive July 18, 2006." Artists who are fans of Neil's work were asked to compose material based on their favorite Gaiman character or story. Tori's contribution to the album is the song Sister Named Desire, which they say has been remastered for this project! "Among the 17 expected contributors are goth/metal band Tapping The Vein, medieval rockers Schandmaul, electronic act ThouShaltNot, the Cruxshadows and trip-hip group Lunascape." The Billboard article also says that Neil himself is writing the liner notes for the CD, "while collaborator Dave McKean is creating its artwork."
[Click for details...]
Wednesday, January 18, 2006

Official Neil Gaiman merchandise is coming soon!
There is an update at thetoristore.com about author Neil Gaiman, who is a good friend of Tori's. It says that Neil will be coming out with his own merchandise line in a few months and is asking for input on what kind of items should be made available. You can find out more at thegaimanstore.com! Thanks to Sarah for telling me about this.
Sunday, November 27, 2005

Neil Gaiman and the feature film MirrorMask
Neil Gaiman and Dave McKean have collaborated on a 2005 feature film called MirrorMask. Neil wrote the script and Dave directed and also co-wrote the story with Neil. The movie is from Sony Pictures and Jim Henson Productions and combines digital animation with live action. You can find the web site for this amazing looking movie at sonypictures.com. The movie started playing at select theaters on September 30, 2005 and will continue be shown at others in the near future. (The official web site will help you locate theaters that are showing it.) You can find a trailer for this film at apple.com and more details at imdb.com and movies.yahoo.com.

The movie is the story of Helena, a 15 year-old juggler "working for her family circus, who wishes--quite ironically-- that she could run away from the circus and join real life. But such is not to be the case, as she finds herself on a strange journey into the Dark Lands, a fantastic landscape filled with giants, Monkeybirds and dangerous sphinxes. Helena searches for the Mirrormask, an object of enormous power that is her only hope of escaping the Dark Lands, waking the Queen of Light and returning home."

You can purchase the hardcover book "Mirrormask: The Illustrated Film Script of the Motion Picture from The Jim Henson Company" by Neil Gaiman and Dave McKean, from Amazon.com. The book contains the full screenplay of the movie and more than 1,700 illustrated storyboards.

Finally, there is an article posted to Mtv.com where Neil Gaiman reflects on this film. Tori Amos is mentioned in the article. It says that Neil's next movie project is a version of "Death" that he will direct himself starting around the Spring of 2006. The article mentions that Neil would like for Tori to score that film! (Thanks Missy and Clint for telling me about the article.)


Tuesday, September 06, 2005

The new novel by Neil Gaiman, Anansi Boys, will be released on September 20, 2005; Neil begins a signing tour at the same time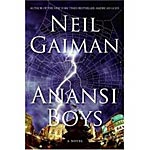 Neil Gaiman's latest novel, called Anansi Boys, will be released on Tuesday, September 20, 2005. You can see the cover to this novel to the right and you can read find out more about this book and read an excerpt from it at neilgaiman.com. This book can currently be pre-ordered from Amazon.com.

Neil will also begin a signing tour for Anansi Boys at the same time. To find out where Neil will be, check out the Where's Neil section of neilgaiman.com. The ticketed events are selling out quickly so if you want to come, get your ticket as soon as possible!



Neil Gaiman mentions in his blog that he has again written the forward to Tori's tourbook
In his online blog, Neil Gaiman reveals that he has written the Forward to Tori's Tourbook for the Original Sinsuality Tour. He says it is actually a correspondence between Tori and himself about gardening. Read exactly what Neil has to say at neilgaiman.com. Thanks to Amanda Morris and Aren for the news.
Wednesday, February 16, 2005

Tori-related news from Neil Gaiman's online journal
Angela (Shiseido) and Jenny inform me that Neil Gaiman posted in his online journal on February 15, 2005 that he was working with Charles Vess on an illustrated book version of a poem called Blueberry Girl, which Neil wrote for Tori's daughter before she was born. Click the link to read what Neil says.
Thursday, January 27, 2005

Details about the new book "Hanging Out With the Dream King: Interviews with Neil Gaiman and His Collaborators"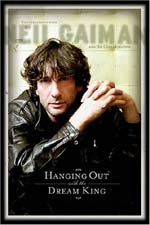 I first reported on this book last June, and wanted to post an update. There is a new book edited by Joe McCabe called Hanging Out With the Dream King: Interviews with Neil Gaiman and His Collaborators from Fantagraphics Books, which will be released in most bookstores on January 31, 2005. (Comic book stores however have been selling the book since December 29, 2004.) This 280 page book includes an interview with Neil and with many of the people he has collaborated with over the years. One of the interviews in the book is with Tori Amos! Past descriptions of the book stated that Tori wrote the book's intro, but that is not true. (Neil did.) You can see the book's cover to the right. Other people interviewed include Charles Vess, P. Craig Russell, Bryan Talbot, Jill Thompson, Sandman co-creators Sam Kieth and Mike Dringenberg and Alice Cooper. Tori's interview in the book will include an amazing drawing from artist Herb Leonhard. The book also features, in its color section, the publication of Bill Sienkiewicz's gorgeous Tori painting from the 2005 RAINN calendar cover.

You can order this book and read more about it at Amazon.com. Amazon.com is selling the paperback version. There is also a hardcover edition of the book for sale directly from the publisher at fantagraphics.com, signed by Neil Gaiman and limited to 1000 copies. A portion of the proceeds from this edition will go to the Comic Book Legal Defense Fund to help defend comics from censorship.   Also, author Joe McCabe will be doing a signing for this book on Saturday, January 29, 2005 at Atomic City Comics at 642 South Street in Philadelphia, PA. There will be other signings as well, so keep an eye on your area.
Tuesday, November 09, 2004

Neil Gaiman speaks at the Chicago Humanities Festival on Wednesday, November 10, 2004
Author Neil Gaiman will speak at the Chicago Humanities Festival on Wednesday, November 10, 2004 at 8:30PM at the Student Center at DePaul University (Lincoln Park) located at 2250 N. Sheffield (at Belden). You can read more about the event at chfestival.org. Thanks to Jennifer for letting me know about this item, which is will likely interest some Toriphiles in that area!

Tuesday, September 30, 2003

Neil Gaiman article in Entertainment Weekly magazine covers THE SANDMAN: ENDLESS NIGHTS; Includes Tori quote
The October 3, 2003 issue of Entertainment Weekly magazine (#731 with Uma Thurman on cover) includes a 5 page article called "The Best Comic Book Ever Returns," on Neil Gaiman and the newly released THE SANDMAN: ENDLESS NIGHTS. The article is written by Scott Brown and mentions Tori and includes a quote from her about Neil. [Click for details...]
Thursday, September 18, 2003

Neil Gaiman will be interviewed live today on Talk Of The Nation on NPR
For those who like Neil Gaiman, he will be interviewed this afternoon (Thursday, September 18, 2003) on Talk Of The Nation on National Public Radio! For those who miss this, the audio for the interview will be available online at npr.org after 6PM ET, 3PM PT. You can find a station in your area that broadcasts Talk Of The Nation here. In my city, Talk Of The Nation is broadcast from 2:00PM until 4:00PM. Check your local station for the time in your area if it differs.

Neil Gaiman article in USA Today about the return of the Sandman
USA Today published in their September 18, 2003 edition a really interesting article on Neil Gaiman and the return of the Sandman in the new book Sandman: Endless Nights, which was released September 17, 2003. (You can order Sandman: Endless Nights from Amazon.com now.) Tori Amos is mentioned in the article and there are several quotes from her about Neil. The entire article is interesting and worth taking the time to read. Thanks to Richard Handal for telling me about this.

In other Neil Gaiman news, you can find a review of Sandman: Endless Nights and The Wolves in the Walls at CNN.com. (Thanks Joseph Ellis and morgana.) [Click for details...]
Thursday, September 11, 2003

Upcoming Neil Gaiman appearances/book signings
Author Neil Gaiman will be doing a series of appearances this September. Here are some you should know about:

1) Neil will be at New York is Book Country on Saturday, September 20, 2003 at 11:00AM at the Equitable Center, located at 787 7th Ave in New York City. Tickets are $20.00 and can be purchased at ticketweb.com.

2) Neil will be talking with Art Speigelman at the 92nd Street Y in New York City on Sunday, September 21, 2003 at 7:30PM. The event is called Writing For Children and Adults and will take place at Buttenwieser Hall located at 92nd Street at Lexington Avenue. The cost is $25.00. You can find details at www.92y.org.

3) Neil will be doing a surprise signing for ENDLESS NIGHTS, the new Sandman book, in Ft. Lauderdale, FL on Monday, September 22, 2003 at the Barnes and Noble located at 2051 N. Federal Hwy in Ft Lauderdale. The signing will begin at 6:00PM.


Wednesday, August 06, 2003

Latest Neil Gaiman News
I have added several new Neil Gaiman related news items to The Dent's Neil Gaiman Page:




Neil Gaiman Signs "The Wolves in the Walls" at Borders in New York City on Friday, August 8, 2003
Neil Gaiman will sign his new book for children and adults called "The Wolves in the Walls" at Borders in New York City (100 Broadway in the American Surety Building) on Friday, August 8, 2003 at 3:00PM. Go to bordersstores.com for more details. More details are also provided at the Neil Gaiman web site The Dreaming. They say Borders will start giving out passes (like numbers) at 1:00pm. They will be colors, 50 for each color, rather then numbers. The first 200 will see Neil read, those after that will have to listen to him only.

Neil Gaiman posts interesting Tori tidbits to his online journal about Tori's upcoming tour/album
Go to Neil Gaiman's online journal and you can see what he wrote about Tori as part of his July 2, 2003 entry. Here is a summary of what Neil said:



Tori is currently rehearsing with her band for the Summer 2003 tour AND for the new song(s) on her upcoming Greatest Hits CD. (He did not explain what he meant exactly by "new songs")

Tori claims to Neil that she will perform "Snow Cherries From France" on her upcoming tour, although he does not know if it will appear on the Greatest Hits CD. Neil calls it a "pretty, stange, love song".

This tour will be Tori's last time on the road until at least 2005.


Neil Gaiman mentions on his online journal Tori's upcoming Atlantic Greatest Hits CD and an upcoming web site for Tori's chef
You can check out Neil's comments in his online journal. He basically says Tori is in Cornwall remixing her upcoming Greatest Hits CD for Atlantic. Neil also reveals that Tori's chef Duncan (who was profiled recently on VH1 Rock Bodies III) will have a web site available soon with receipes and such. That should be really fascinating! Thanks to Missy and Annalisa.

Neil Gaiman News: Neil's first feature film, "MirrorMask", has begun shooting
Missy attended a reading/signing that Neil Gaiman did in Chicago, IL on June 7, 2003, and she was told by Neil that his first feature film, called "MirrorMask", has just begun shooting! Neil Gaiman wrote the script for the film, and it is being directed by Dave McKean. For more information about this movie project, go to muppetcentral.com. The story idea for this movie grew out of conversations about a possible sequel to Henson's 1986 movie "Labyrinth".

In addition, I have redesigned this Neil Page for easier updating!

Neil Gaiman News Tidbits
I wanted to make you aware of a few news items related to Neil Gaiman:



In September 2003, Vertigo will publish a hardcover graphic novel called THE SANDMAN: ENDLESS NIGHTS. This is the first new Sandman book in 7 years! "Endless Nights presents seven tales - one for each member of the Endless - that reveal strange and surprising truths about the Sandman and his uniquely dysfunctional family."

Marvel comics will release a new mini-series from Neil called 1602 beginning with #1 in August 2003. You can read a little more about it at previews.diamondcomics.com.

Check out a new book called "Neil Gaiman's the Sandman and Joseph Campbell: In Search of the Modern Myth" by Stephen Rauch. This book is a scholarly examination of Neil Gaiman's work, and "includes detailed analysis of his best-selling "Sandman" and "Death" series, a look at his work's relationship to Joseph Campbell, and such topics as "The Relationship of Dreams and Myth in Campbell, Jung, and Gaiman's Sandman". You can find out more about this book at stephenrauch.com and purchase it at Amazon.com.
Saturday, November 30, 2002

Small interview with Neil in Hot Press Magazine
Read a short interview with Neil Gaiman from the November 20, 2002 issue of Hot Press Magazine in Ireland.
Thursday, September 05, 2002

Neil Gaiman's AMERICAN GODS won the 2002 Hugo Award for Best Novel
This happened on Sunday, September 1, 2002 at WorldCon in San Jose, CA. The Dent congratulates Neil on his well deserved award! There is a thread about this at the Neil Gaiman message board.

Read an interview with Neil Gaiman at Foodporn.com
Read this great interview with Neil at Foodporn.com where he talks all about food.

Be sure to check it out.Neil Gaiman's new book, Coraline, released on July 2, 2002; Check out the web site at mousecircus.com
Author Neil Gaiman's new book Coraline, which is called a novel for people of all ages, appeared in stores in hardcover form on July 2, 2002. The audio version of the book was released on June 18, 2002. The web site for the book, located at mousecircus.com, is now operational and is quite remarkable.

You can purchase Coraline online at Amazon.com.
---
For older Neil Gaiman news items that were posted to the Dent between June 1997 and June 2002, click here.