Dew Drop Inn Tour


General Information
Dates/ Set Lists / Reviews
Sound Check Set Lists
Quotes From The Stage
Timeline Of Major Events


Me and You and A Tour Named Dew

I was able to see 10 shows during this tour. Here are the concerts I saw and the order that I would rank them, starting with Cincinnati, my pick for best show of the tour. You can follow the links to read my reviews. The Indianapolis, Bloomington, and Davenport reviews also have links to some photos I took at the pre-show sound checks. The Muncie show was special for me because Tori played Killing Me Softly for the first time this tour for me!
Cincinnati, Ohio - June 3
Muncie, Indiana - Sept 18
Chicago, Illinois - Sept 28
Bloomington, Indiana - Sept 19
Dayton, Ohio - Aug 3
Davenport, Iowa - Nov 6
Lexington, Kentucky - April 20
Indianapolis, Indiana - July 28
Columbus, Ohio - Aug 1
Louisville, Kentucky - April 19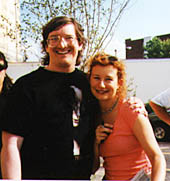 Photo of me meeting Tori on September 18, 1996 in Indianapolis. Click to see this photo larger, and more photos from that day.

A Private Listening Party With Tori

If you read through all the reviews that Toriphiles have sent in to me, you will see many cases of how wonderful Tori is to her audience. Debbie Nazarian posted the following account of a private listening party with Tori during the Dew Drop Inn tour to the Precious Things mailing list.

KROQ Almost Acoustic Christmas Concert

Tori headlined the Almost Acoustic Christmas Concert, sponsored by LA radio station KROQ, on Friday, December 13, 1996 at the Universal Amphitheatre . It was a concert benefiting 5 different charities, one being R.A.I.N.N. All female artists appeared on Friday, including Natalie Merchant, Sarah McLachlan, Jewel, Garbage, and Fiona Apple. Early Christmas Morning, and again on December 29, 1996, MTV aired a special edition of MTV 120 Minutes which was dedicated to the KROQ Almost Acoustic concert.
Read About & See Photos From MTV 120 Minutes.

Other DDI Tour Resources

Kevin Hollenbeck has placed on his Planet Hollenbeck site a feature called Samhain with the Goddess, an on-line journal of the four Tori Amos concerts he saw in the midwest (Oct. 30th in Oklahoma City, Nov. 2nd in Tulsa, Nov. 3rd in Lawrence, KS, and November 4th in Springfield, MO).

Fonty, webmaster of the Chasing Tornados Web Site, has created a page that shows images and text from the Dew Drop Inn Tour Book.

At the web site for radio station TK101 in Pensacola, Florida, there are photos of Tori in the photo gallery section from her concert in Pensacola on August 10, 1996.

Toriphile Michael Viggiano took photographs at the April 10, 1996 Gainesville concert and placed them on his web site.

Sped Erstad has created an informative web site where he takes the data from my DDI tour set lists and creates a summary by song. It has not been updated since last September, but is still interesting.

Check out Zeigen's Tori Amos Confessions Web Site for more reviews of some of the early shows from this tour.

Meet and Greet With Tori Amos This wonderful web page documents through words and photos an experience Alvin Alcid and others had meeting Tori in many different cities during her tour. It also has some reviews.

You can see more photos of Tori during the fan Meet and Greet sessions by going to Dan's Tori Amos Page, which has some photos from various cities.

Bryan Hoch has a web page where he proudly displays 3 photos of himself with Tori during her visit to Buffalo on October 7, 1996.
Tour Summary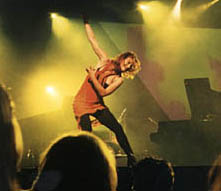 The Dew Drop Inn Tour began on February 23, 1996 in Ipswitch UK at the Regent Theatre, and ended after 187 shows on November 11, 1996 in Boulder Colorado at Macky Auditorium. There were some nights where Tori did TWO shows in one place! This summary includes a list of all the covers she performed on the tour, as well as some concert photos from Washington DC! Tori later performed two more concerts that were in a way a continuation of the tour. She did a 5 song set at the KROQ Almost Acoustic Christmas Concert in Los Angeles CA on December 13, 1996 and performed a RAINN benefit concert in New York City on January 23, 1997.
(The photo here was taken by Brian Jacobs, and shows Tori doing her Cornflake Girl dance at the RAINN Benefit concert in January 1997.)
Read a final summary of the Dew Drop Inn tour
EWF Bastiaan has created a compilation of all songs Tori sang on the Dew Drop Inn Tour, in order from most performed to least. Check out these stats, with numbers and percentages, and learn some fascinating facts about what Tori sang during the tour. Bastiaan says there were 185 shows, but I count 187 and Tori has been quoted as saying 187.

Molly & Alie's Concert Experience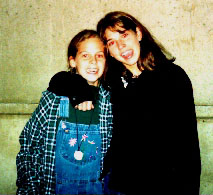 Tori is an amazing person who really cares about her Ears With Feet. The photo to the right shows Toriphiles Molly & Alie, sisters who made history during the tour. They had a memorable encounter with Tori where she first mentions the term Ears With Feet for her fans. Molly & Alie had a wonderful web page, but they have taken it down. They asked me to mirror part of their page to keep their Tori story alive, and I have happily done so!
Read Molly & Alie's concert experience, and the story behind the term Ears With Feet. - You can now hear the sound clip from September 1996 with Tori saying goodbye to us on the web and calling us Ears With Feet!

Tori's Farewell Card From The Web

Devin and Maria presented Tori with a huge farewell card in Boulder on November 11, 1996, which contained over 250 messages from many of us on the web. (Click on the images to see larger photos of the card.) Read about the presentation of the card to Tori.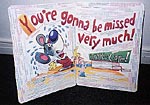 This is the inside of the card, with our messages pasted on it. There are even more messages not shown on the back.

A Sad Yet Special Performance In Miami
October 23, 1996 was not an easy day for Tori. It was the second night of her 2 day engagement in Miami Florida at the Jackie Gleason Theater. Five songs into the show, in the middle of Space Dog, Tori stopped playing, turned to the audience, and said while in tears, "Guys, I'm so sorry but I just can't play. I am so sick, guys. I'm sorry. I'm am just so sick." She left the stage for over 10 minutes. She then returned, saying "I'm just gonna play like we're old friends, OK?" She went on to give an incredible and unique performance. The set list included Losing My Religion, Lovesong, Let It Be, Winter, Part of Girl , Bells For Her, and a new song called Cooling that she said should have been in BFP, but will be on the next album instead. (This song is GORGEOUS!) She did Cornflake Girl and Talula, but did them during the encores! She had her best friend Beanie come on stage and sit with her during Me and a Gun. I have no idea what was wrong, and to be honest Tori has the right to keep her personal life private. But this concert demonstrated that Tori is human. She has amazing wisdom and endurance, but she still struggles with life. It is her response to this stuggle that makes her so wonderful. Tori is not an invincible goddess, but a woman who inspires us to find our own fire and to make it through our own struggles. The support and love shown by the fans that night were great. Tori did a great show the following night in West Palm Beach Florida, where she sang The Waitress for the first time this tour. She also told the audience. "As some of you might know, I almost passed out last night. To those of you who were there last night: you were delicious. Thank you."
Read Several Reviews Of That Night In Miami
Read Accurate Quotes From The Show

Press Concerts Reviews
Here are the newspapers reviews that I currently have from the Dew Drop Inn Tour. It is always interesting , sometimes humorous, and sometimes outrageous to read what the press says. If you have additional newspaper reviews, please send them to me. The date listed below is the date of the concert reviewed, not the date the review was printed in the paper. The date the review appeared in the paper is listed with the review itself if available.
Atlanta Journal Constitution - Atlanta GA - April 14
Washington Post - Washington D.C. - April 26
New York Times - New York NY - May 13
Newsday - New York NY - May 13
Toronto Sun - Toronto Canada - May 27
JAM! Showbiz - Toronto Canada - May 27
Chicago Tribune - Chicago IL - June 6
Entertainment Avenue Online - Chicago IL - June 6
Star Tribune - Minneapolis MN - June 10
Kansas City Star - Kansas City KS - June 13
Dallas Morning News - Dallas TX - June 15
Houston Chronicle - Houston TX - June 17
Santa Barbara News-Press - Santa Barbara CA - June 23
LA Times - Los Angeles CA - June 28
Seattle Times - Seattle WA - July 16
The Sun - Vancouver Canada - July 19
The Province - Vancouver Canada - July 19
The Oregonian - Portland OR - July 21
Cedar Rapids Gazette - Cedar Rapids IA - July 26
Peoria Journal Star - Peoria IL - July 29
NandoNext (Nando Times) - Raleigh NC - August 15
The Diamondback - Vienna VA - August 16
Buffalo News - Buffalo NY - August 28
Boston Phoenix - Boston MA - September 9
The Digital Collegian (Penn State) - University Park, PA - September 13
Rockford Register Star - Rockford, IL - September 20
Sun and Press Bulletin - Binghamton NY - October 6
San Antonio Express News - San Antonio TX - October 27
Tulsa World -Tulsa OK - November 2
University Daily Kansan - Lawrence KS - November 3
River City Reader - Davenport IA - November 6
Daily Nebraskan - Omaha NE - November 7
UCLA's The Daily Bruin - Los Angeles, CA - December 13, 1996