We have known for some time that Tori's "Strange Little Girls" album will be released with multiple album covers in many countries. However, it appears that the covers do vary from country to country, at least a little bit! They all feature one of the 13 characters Tori portrays for the album. You can read details and see scans of the various covers below. On at least some of the covers, the image is a little different than what the character looks like inside the booklet. I have seen this for sure with the Happiness is a Warm Gun and I Don't Like Mondays character (which is not available in the U.S.)
This page also includes information about the back of the album and how the disc inside looks.
The CD booklet itself is detailed on this page.
The Covers
Here is what we know about the covers from various countries.
North America - United States
The scans you see below are the covers verified for the U.S. release of Strange Little Girls. Thanks to Little Bird and Danzer who sent the scans:

The 4 U.S. covers. Clockwise from the upper left we have the
"Strange Little Girl"
,
"Time"
,
"Raining Blood"
and
"Happiness Is A Warm Gun"
characters.


The Netherlands, Sweden, Finland, other European countries and Australia
The 4 covers available in in these countries are a little different! (Thanks to Martijn Tulp and Inger.) Instead of the "Time" character, they get a cover with the "I Don't Like Mondays" character on it! The other 3 characters are for "Strange Little Girl", "Raining Blood" and "Happiness Is A Warm Gun". You can see a scan of the "I Don't Like Mondays" cover below from Dennis Snelders. This photo of the character is actually different from the one that appears on my main Strange Little Girls page!


Click to see larger.

South Korea
Kwon Gary reports that the SLG album in South Korea has the "Happiness is a Warm Gun" character on the cover.

The back of the album and the disc
The back of the CD and the disc is rather sparse. The disc looks like it is a greenish color (which looks gray to me sometimes) and only has Tori Amos and Strange Little Girls on it along with copyright information. You can see a scan of the disc below: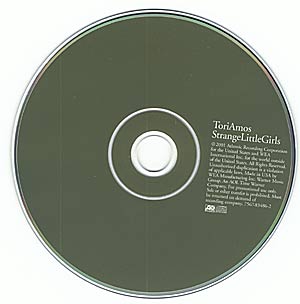 As for artwork on the back of the CD, you can find the track listing and some small text in white. The text says:
Produced by: Tori Amos. Mixed by: Mark Hawley & Marcel van Limbeek.
Then they print the basic copyright information. You can also see the URL of Tori's official site, www.toriamos.com. They also print the number for the CD, which is Atlantic 7567-83486-2. You can see a scan of the back of the CD below: