On December 23, 2002 (and again on December 24 and December 27, 2002) VH1 in the U.S. broadcast a show they simply listed as "Concerts: Tori Amos Special". When the show aired, it had the name Scarlet Scessions and featured 4 songs from the Sony Studios taping that took place on November 14, 2002. Therefore this could be considered a sneak peak at the DVD that should be coming out sometime in 2003! Look below for screen shots from this 30 minute show on VH1 and commentary/details about the program. It gives you a good taste of what Tori's concerts are like right now.
They showed Tori performing:
a sorta fairytale
Tear In Your Hand
Taxi Ride
Mrs. Jesus
VH1 oddly did not show any credits with the program, and did not mention that it was part of a DVD to be released later. While I recognized it as being from the Sony Music taping last November, they did not tell the viewing audience that. I find it most frustrating when a program shows something like that without telling people where and when it is from. I guess many do not care, but it is something VH1 should consider. That being said, it was VERY nice and I enjoyed seeing several people I knew in the audience!

Screen Shots
Many thanks to David Mobley for these wonderful screen shots! Click any thumbnail to see the photo larger.
Here is another screen shot from Olga: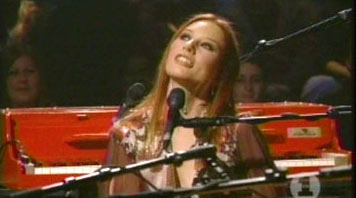 You can also find screen shots from this show at Toriphoria.

Commentary
From melissa j mcdaniel:
Hey, just thought I would add a few comments regarding the Tori VH1 Special that originally aired on Dec 23rd. (I saw it EARLY this morning and it was great!)

--Tori was wearing the exact same outfit that she was wearing in St Louis on Dec 3rd, the beige/salmon/cream colored dress with sequins and multi-layered flowing chiffon sleeves. Her hair was straight, a little in her face, no bad '70s do though, just pinned back in the back with a clip with big flowers on it. She had the "smoky eye" thing going and light neutral lips.

--The set was interesting and sorta reminded me of the "MTV Unplugged" set because of the dim lighting and ambience, cool danglng chandeliers, bluish background, and the stage was in the middle with audience on all sides. The top of the Bosey was off so that the sound could resonate everywhere in the room equally well (and also I imagine so that they could get some good closeups of Tori's face while singing, which they did.) There were some fans in the audience, I saw one singing along with "Neil says hi, by the way..." but no one seemed to be familiar with the new stuff yet.

--Setlist:
#1. A Sorta Fairytale (album version)
<REALLY long commercial break>
#2. Tear In Your Hand
#3. Taxi Ride
#4. <improv into> Mrs. Jesus

I was so happy she had an improv! It's so much of her style and an important part of any live Tori show, and I was glad they included it on the special too. :)

She came out and left before and after almost every song, and I think they did that so it would make it easier to show just one of the songs at a time, like in a "music video" format on regular VH1.

Anyway, that's it.... it's definitely worth it and I think the DVD is going to rule!! :)

From Anthony Liranza:
just finished watching the vh1 special which aired here in california from three to three-thirty.

it is called scarlet's sessions and is footage, i'd bet life and limb, from the upcoming dvd which was taped in new york this past november.

the footage was incredible: the sound mix was absolutely fantastic; drums, bass, piano, and vocals were pitch perfect. the quality of the recording was pristine as was the shots, angles, and time devoted to each of the players, jon, matt, and (of course, the radiant tori). the dvd is gong to be fucking awesome, is the point.

the songs which were shown were:

a sorta fairytale
tear in your hand
taxi ride
mrs. jesus (with a beautiful improv beforehand)

all in all, i cannot wait for the dvd!!!

From ponchgoddess:
I just watched the VH1 tori amos special and it was called "Scarlet sessions" (maybe clips from the dvd recording?) the songs aired were

a sorta fairytale
tear in your hand
taxi ride
improv/mrs. jesus

the words sung in the improv were

"so you know what you know and you think that you know as much as you can then it goes with what you know untill you don't"

bassist jon was wearing a suit!