Triple J makes "Cornflake Girl" #4 on the greatest "Whistling Songs" of all time!
Added March 17, 2001


Yvette Maker first told me about this. She reports:

Just stumbled across this on the website for Australia's national alternative radio station - Triple J. They did a special in September 2000 on "Whistling Songs - the Greatest of All Time", and 'Cornflake Girl' was award the #4 spot. What an honour!


Tori placed into the Rock n Pop Hall Of Fame at rocknworld.com
Added August 16, 2000


Craig Klein noticed that Tori had been placed into the Rock n Pop Hall Of Fame at rocknworld.com. She was voted in on June 1, 2000 after the second round of voting from visitors of the site. She was placed in The 90's category. Congratulations! She is one of the few women to be placed into this hall of fame so far. (Janis Joplin is there, and some groups that have women like The Mamas and the Papas and Smashing Pumpkins.)


Tori #41 on rocknworld.com's Top 100 Artists of the 90's and #64 for the Top 100 Artists of all time!
Added August 13, 2000


rocknworld.com has a chart with the Top 100 Artist of the 90's and Tori is #41 on that list. Many thanks to Heather G. for telling me about that. The site said that visitors chose these artists, so there must have been a poll there. Here was the top 10:
Nirvana
Pearl Jam
Metallica
Dave Matthews Band
Godsmack
Korn
Rage Against the Machine
Smashing Pumpkins
Alanis Morrisette
Alice in Chains

Frank from rocknworld.com informs me that Tori was also #64 on their Top 100 Artists of all time! Here was the top 10 for that list:
The Beatles
Aerosmith
Rolling Stones
Metallica
Nirvana
Led Zeppelin
Pink Floyd
The Eagles
Queen
Guns n Roses


Tori Part Of The Experience Music Project In Seattle
Added June 22, 2000


The Experience Music Project is a new, interactive music museum located in Seattle, WA, which opened to the public on June 23-25, 2000. The Experience Music Project web site says EMP is "a one-of-a-kind music museum combining interactive and interpretive exhibits to tell the story of the creative, innovative and rebellious expression that defines American popular music. Featuring a world-class collection of artifacts, unique architecture by Frank O. Gehry, state-of-the-art technology, exciting interactive presentations, and a dynamic ride-like attraction, EMP will encourage visitors of all ages and backgrounds to experience the power and joy of music in its many forms....EMP is dedicated to capturing and reflecting the essence of rock 'n' roll, from its roots in jazz, soul, gospel, country and the blues, to its influence on hip hop, punk and other more recent genres. EMP invites visitors to participate in a total sensory experience: see rare artifacts and memorabilia, hear musicians tell their stories, or play an instrument and create your own music." It sounds like a cool place, and Tori does have a small place in this museum. Toriphile Shaman was able to attend the pre-opening gala for the EMP and reports the following:

I couldn't help but smile when I saw Tori Amos was one of the selected musicians who appears in the Sky Church display. Across the top of this room is a rotating display of a couple of a dozen musicians. She appears on the far right in a black and white picture. She's also part of the SoundLab. I only had limited time but I ran across her song Cornflake Girl as a song that you can try to play along with. You can play just the left hand or the right hand ot both and you can slow down the speed.


"Tori Amos Live And Unrehearsed" Nominated In Yahoo! Internet Life Online Music Awards But Lost To Paul McCartney
Updated July 26, 2000


On Monday, July 24, 2000, the Yahoo! Internet Life Online Music Awards took place from Studio 54 in New York City. This is an annual event created by Yahoo! Magazine to acknowledge and celebrate the most revolutionary artists and online companies on the Net. One of the categories was called Best Live Music Event, and MTV.com's "Tori Amos Live And Unrehearsed" was nominated along with "Paul McCartney At The Cavern Club," "NetAid," "Oasis Live In Toronto," and "Woodstock99." The winner was "Paul McCartney At The Cavern Club," from MCY.com. Therefore Tori's music event did not win (although I think this was a non-artist award, meaning if the Tori special had won, MTV.com would have received the award.) Tori was also not at the awards ceremony, which was broadcast over the net. There were performances by Alanis Morissette, David Bowie, Aimee Mann and Isaac Hayes.

"Tori Amos Live And Unrehearsed" was a video webcast that took place on August 16, 1999, two days before the start of the 5 1/2 weeks tour. You can still read about it in my TV/Radio Archives.


"Leather" By Bimbetta
Updated May 31, 2000




Tori's "Home On The Range" Covered On Romantic Strings, Vol. 2
Updated May 31, 2000


Laura Heywood sent me this information. Tori's version of "Home On The Range" is covered on the 1998 Album called Romantic Strings, Vol 2. You can read about it at the Barnes & Noble web site.


"Cornflake Girl" By Jawbox
Updated May 31, 2000


A group called Jawbox covered "Cornflake Girl" on their 1996 self-titled album Jawbox. They also did a video for the song. It was a hidden track on that album. I found an interview in a zine out of Pensacola, Fl called "It's The Music, Stupid!" where Jawbox talks about doing this cover and video. Some of their comments are less than flattering:

...we made a video for Cornflake Girl, which is a hidden track on the record. That was actually real fun because we made it with our friend James Schneider who's a filmaker in D.C. We payed for it ourselves and Bill and I were basically the crew. Bill and James and I worked out this video idea on our own... it was just a real total fuckin' blast to do. But they're (Atlantic) not gonna do anything with it.

Q: I was gonna ask later, what's with the Cornflake Girl cover? Is it tongue-in-cheek, or is it serious? Do you really like the song?

No, it's like a combination. It's not really a parody. But it's not a straight-up homage, because we're not really big fans of Tori Amos. Itwas Bill's idea, and I think it was more of like an academic experiment, of saying like "Here's a song that I recognize to be a really well-crafted song". What Bill said was he was driving around the whole time, every time he would get in the car it would come on the radio. And he would be like "Oh, this song is really, really cool!" It has this sort of like really pleasant front, really hooks you in, you know, like a sweet melody. Really, like simple progression, you know, she's got a nice voice, or whatever. But then there's all these other cool things going on in the song . This sorta weird, triplet E rhythmic piano thing, and all these other cool things. So he was like,what if we just took this song that's so alien to us and just worked it out. You know, it was completely academic.

Q: That's why I asked if it was maybe tongue-in-cheek, because it IS very alien to your sound, so it was unusual to hear you cover it.

But I thought of it as tongue-in-cheek for like 5 minutes. Like a really good gag. But, yeah, but it's really more interesting to take something seriously and make something out of it. It's a cool song! I like that song. It gave me some appreciation for Tori Amos. But I think I'm way to big of a fan of old Peter Gabriel records to really be a fan of Tori Amos because every time I hear her, I just think it's like Peter Gabriel and Kate Bush. And it just, it irks me.


"Professional Widow" By Nite Flyte (smooth jazz Tori!)
Updated March 17, 2000


This is a pretty humorous and interesting item! Jonathan Matthews and David found a "smooth jazz" version of "Professional Widow", which appears on an album called "Martini Grooves." and performed by Nite Flyte. They have a RealAudio clip available for this item at CDnow, and it is pretty funny. It appears to be the smooth jazz version of the Professional Widow REMIX that did so well in the U.K. a few years back. The album looks like it was released on August 18, 1998.


"Loaded With Hits" Compilation CD
Updated March 17, 2000


Alannah tells me about a new compilation CD called "Loaded With Hits." It's a 2-CD set with an odd array of artists, one song from each, including Tori's "Jackie's Strength." (I assume the album version, but I am not positive.) This item is described as a TJ Martell Hit Compilation that benefits the TJ Martell Foundation, which is active in Leukemia, Cancer, and AIDS research. One report says this item is due out on April 18, 2000, while CDNow reports it is due April 4, 2000. The album's set list is below:

CD 1
Will Smith--Just The Two Of Us
Mariah Carey--My All
Christina Aguilera--Love For All Seasons
Celine Dion--Immortality
Backstreet Boys--As Long As You Love Me (Soul Solution Remix)
Robyn--Do You Really Want Me (Show Respect)
Spice Girls--Stop
*NSYNC--I Want You Back
Five--When The Lights Go Out
B*Witched--C'est La Vie
Billy Crawford featuring Nona Hendryx--Urgently In Love
Nicole--Make It Hot
R. Kelly--Home Alone
Keith Sweat--Come And Get With Me
Brian McKnight--Anytime

CD 2
Sarah Mclachlan--Building A Mystery
Eagle Eye Cherry--Save Tonight
Kenny Wayne Shepherd--Blue On Black
Lisa Loeb--I Do
Natalie Imbruglia--Torn
The Verve Pipe--The Freshmen
The Dave Matthews Band--Don't Drink The Water
Blondie--Maria (Soul Solution Radio Edit)
KRS-One--Step Into A World (Rapture's Delight)
Goodie Mob--Beautiful Skin
Big Punisher--I'm Not A Player
Creed--My Own Prison
Eve 6--Inside Out
Tori Amos--Jackie's Strength


"Just Passin' Thru 3" Contains "Jackie's Strength" Live
Updated May 31, 2000


Christie and PelePig6:58 first informed me that radio station WHFS 99.1FM in Washington D.C. released their "Just Passin' Thru 3" album on Friday, March 10, 2000. The CD includes a live version of "Jackie's Strength"! The exact title of the album is "Just Passin' Thru, No. 3 - From The HFS Archives". The album will be available at all Washington D.C./Baltimore area Starbucks stores for a limited time and will cost $9.91. A portion of the proceeds will benefit the Capitol Area Food Bank and Maryland Food Bank. The track listing is:
Creed - My Own Prison
Remy Zero - Prophecy
Semisonic - Closing Time
Citizen King - Better Days
Tori Amos - Jackie's Strength
Eve 6 - Inside Out
Soul Coughing - Circles
Barenaked Ladies - One Week
PJ Harvey - Civil War Correspondent
Korn - Freak on a Leash (Dante Ross remix)
Adam Mullet tells me that you can purchase the CD "Just Passin' Thru Vol. 3" at the Starbucks web site. Click on this link which takes you to the Starbucks Store. Then click on music on the left side of the page. Melissa tells me you can currently hear a 30 second RealAudio clip of Tori's song at the WHFS web site in the Music section.


Tori Nominated Twice For 42nd Annual Grammy Awards
February 24, 2000


Tori was nominated twice for the 42nd Annual Grammy Awards, but lost both times. She lost in the Best Female Rock Vocal Performance category to Sheryl Crow and lost the Best Alternative Music Performance category to Beck. Neither of these awards were given during the televised broadcast on February 23, 2000, but were given earlier in the day. Tori was not at the event. I am sad that she did not win, but I am not surprised. For full details about who was nominated in each category, see below. We all know the incredible impact that Tori has had on music and long after some of the acts that did win are distant memories, Tori's music will live on. I honestly believe that.

Best Female Rock Vocal Performance

Bliss - Tori Amos - Track from: To Venus And Back
Sweet Child O' Mine - Sheryl Crow - Track from: Big Daddy - Music From The Motion Picture
Jukebox - Ani Difranco - Track from: Up Up Up Up Up Up
Angels Would Fall - Melissa Etheridge - Track from: Breakdown
Possession (Live) - Sarah McLachlan - Track from: Mirrorball




Best Alternative Music Performance - Albums Only Award

To Venus And Back - Tori Amos
Mutations - Beck
You've Come A Long Way, Baby - Fatboy Slim
Play - Moby
The Fragile - Nine Inch Nails


Audio Biography "Maximum Tori"
Updated February 29, 2000



Here are scans from Maximum Tori from Nick Peruski. Click to see larger. They show from left to right the front cover, back cover, and fold-out poster.




You can now find at many stores and online vendors a new UK Interview CD and booklet called "Maximum Tori". I have seen this for sale at the Tower Records web site, the EQS web site and the CDpoint web site. This item is a biography booklet with an interview CD that is 58 minutes long. It also includes a fold-out poster (which is only 8 in. x 8 in. and pictured above) in a custom slip-case. It costs around $12.99 to $16.99. There are Maximum releases like this for other artists too other than Tori. Here is the track listing, which appears to designate different parts of the interview. (Thanks to Victor Toledo, Laura Heywood, and RIANGIE3.)

Introduction
Spark
Flowers In The Desert
Me & A Gun
Faith
Pretty Good Year
Never Was A Cornflake Girl
Professional Widow
Tear In Your Hand
Still Orbiting

Reaction to this item has been mixed. The overall opinion seems to be that if you are a completist collector or simply must have every photo or interview Tori does, then you should get it. Otherwise you might want to pass!

Here are comments on this item from Chris:

The cd contains no music at all really. It is a biography of tori being read by someone with a british accent. There is some music playing in the background(but its not tori music, its some other music someone wrote). At the beginning of each "chapter" or whatever you want to call it, there is Tori saying a quote. I havent listened to the whole thing yet, but as far as I know, thats how the whole CD is. The info is pretty interesting though....lots of little things I didnt know before.

Here are more comments from Nick Peruski:

i just bought the tori maximum interview cd. it has 10 diferrent tracks each beginning with tori saying a quote(the first one is just an intro with some guy speaking,non tori related). the rest of the track is some lady with an annoying british accent telling about tori's life. i found it to be semi-decent.

Here is commentary from jessica rabbit:

as i write i am slacking off at work (no one goes to art galleries in the rain- that's where i work) and listening to Maximum Tori, the Unauthorized Bio of Tori Amos....it is terrible!! there are VERY few qoutes by tori herself, and the background music isn't even tori! her life story is read by some british gal, and everything they say is nothing you probably don't know already....so, guys, save $15-something dollars and don't fall for the beautiful picture and free mini-poster.....!!!! (of course, i won't end up taking it back...it has her pic on the Cd itself! teehee)


"Cloud On My Tongue" Sampled by Rapper Tonedeff
Added January 21, 2000


A rapper named Tonedeff has sampled Tori's "Cloud On My Tongue" on a song called "Circles.". (Sarah J Layman was the first to tell me about this.) This song appeared on a 1996 album from Tonedeff called Calligraphy. (This was an album that was never really released as far as I can tell. The Tonedeff web site calls this album "a destined classic that was overlooked by Polygram Records and Warner execs.") Tori and her songs are also mentioned in the lyrics. Check out the lyrics below. You can listen to this song at the Tonedeff web site.

Lyrics To "Circles"

Young beautiful girls, Professional Widows and models/
Candy facial expressions, figure impressions of bottles/
Novelties jettin' full-throttle, vivacious to view through goggles/
Vibrant, though minds-Conniving, a style aficionado/
I don't wanna lose 'em all, the lover eyes of a doll/
Hot, erotic, she got it, putting Butterflies in my gull/
She's got my sense spinning, like a nickel in rotation/
With no modulation, the type of pussy to form a nation.
V1b (logic)
Many bitches give the round around and claim that they're not able/
"I can't kiss on the first date." But still be dancing naked on some
tables/
Claim the families behind you, but you've spoken much too fast/
Cause your mom and your cousin, too, claim you're just an outkast.

Chorus

V2a (logic)
Round & Round 'n', contemplating/
Circulating like the earth be in rotation/
She's the object of my fascination and brothers around me/
Got my mind in the jungle, but girl, I'll house you like the county.
V2b (tonedeff)
I met this Honey named Tori, A-MOSt wicked scam/
Who was the Waitress at the Little Amsterdam with Talula and Marianne/
Who used to run together like the Horses ran/
But, Tori always used to seem like she was in The Wrong Band/
Began the format to rap the Precious Things in her ear/
Like, you've been Here. In My Head, but I've been Silent All These
Years/
I've had this Cloud On My Tongue, understand where I be coming from?/
It's something I wanted to say before she moved to London/
It's been a "Pretty Good Year," she said, "I went to China/
All the way to New York." Her travels seemed to make her finer/
She said she was Past the Mission of gaining my recognition/
Cause she thought she was a Cornflake Girl in competition/
With them raisin chicks, who turned to Icicles in Winter/
I had to begin to express all the times she's been the center/
of my Thoughts, with Little Earthquakes bringing me to my knees/
I figured she was acting cold because she Caught A Lite Sneeze.

Bridge-- "Thought I was over the bridge now". -Tori Amos
V3a (tonedeff)
She's got me going in circles, 360 degrees-easy/
Sometimes, she be colder than ice to freeze the pleas/
Of my being one of her L-O-V-E's, But see, degrees vary in her/
So, to win her, I'ma spin her with my flows/
Think of the times she rolls around my way/
But, hey, what can I say, I see her every other day/
And damn her face, it's a disgrace when I can't even write a rhyme/
Cause every time I find I'm dreaming of her creaming in my mind/
In positionit blurs my vision every time she pass/
'Is the mission just to get glasses or wax that ass?"/
But it's like, her candle never had a fire to light/
So, my dick is the wick and I'll be catching some matches tonight.
V3b (logic)
She be that two-faced bitch, that switches her hips like mood swings/
Giving head to the winningest team on campus, but still has time to be
queen of the prom scene/
Obscene as it may seem as an objective/
Brothers have tried to reject it, but that ass is yet to be neglected/
V3c (tonedeff)
She's not the girl from Ipanema sipping ZIMA/
She be that rave bitch that's at the disco sippin' Cisco in her daddy's
Beamer/
V3d (logic)
so if she really wants to take you for a spin/
She's good for nothing but the Holiday Inn.
We're in circles.




Many people have made the mistake of thinking that Tonedeff is dissing Tori in the song, which is not the case at all. Tonedeff has sent me a letter talking about the song and clarifying what it is about, and I urge you all to read it below. So if you are sending Tonedeff letters complaining about him disrespecting Tori, please don't!

Letter From Tonedeff To The Dent

What the hell does TONEDEFF think he's doing with "CIRCLES"?

Greetings to all EWF and toriphiles worldwide.

This is the hip-hop artist known as Tonedeff, and I just wanted to say thank you to everyone that checked out "Circles", and to clarify a few points about the song.

Let me just state upfront, that I'm a HUGE Tori Amos fan. I have all of her records and b-sides, songbooks, videos, etc. I honestly believe that she is a genuis and that she is incredibly underrated. (People will look back on her in history and consider her a legend).

When I came up with "Circles" in 1995, I was enamored with "Cloud On My Tongue" (Still my favorite song...those STRINGS!!!)

Then, the words came.

The intitial objective of the song was to be a lament about 'Princess-Type' chicks in school, and how they were incredibly clueless...but how we couldn't resist. (They had us going in 'Circles').

Then, the song developed into what it is now.

"Circles" is basically a presentation of Yin & Yang of a pissed off and frustrated with women MC, and a hopelessly romantic, obsessed, pro-women MC. I play the Light-side, and Logic played the Shadow-side.

That's why there's alot of heavy language and sexual connotations...It was our way of making sure that people got it.

We are not referring to Tori as a "Two-faced bitch that switches her hips like mood swings". Logic is referring to the general idea of one of those clueless chicks he was frustrated with.

If you notice, my 2nd Verse, I make references to about 21 Tori tunes. I chose to rhyme about a 'Honey' named Tori...cause it was my way of paying homage to the woman that has inspired me to break rules musically and even to learn to play piano. (Thanks, Tori.) It's actually a pretty sweet verse, and other EWF that have heard it love that verse, because of the way I intertwined the song titles into a story.

We wanted non-tori fans (idiots) to latch on to the song and the overall theme, and I added some fun stuff and goodies for all the EWF to enjoy, stuff that only they would catch.

I've been trying to get this song to Tori for the 5 years since it was created...(waiting for meet & greets, passing off the CD to people who 'SAY' they're gonna give it to her, etc.) but no luck.

If this track ever got out...it would be a #1 hit...I guarantee it. Maybe EWF across the globe can help me out with this one. (I promise to put Tori in the video---Making this song was really just my excuse to meet her somehow).

So, that's basically the explanation.

It's all love, really.

I'm also the guy that did the Jungle mix of Sugar and the House mix of Horses. (Nickels or Krush Groove Kaleidescope--KGK). There's definitely more tori fun to come. (Especially on the new album I'm working on, ARCHETYPE).

Thanks for listening, guys...I hope I've answered all your questions.

Mucho Love.
Tone

tonyrojas
tone@tonedeff.com
bust the website:
http://www.tonedeff.com



"Tori Amos For Fingerstyle Guitar With Tablature"
Late 1999


Ula, Amy Belden and Meaghyn tell me about a new Tori Amos guitar book (copyrighted 1999) called "Tori Amos For Fingerstyle Guitar With Tablature" The book includes 16 Tori songs. The book puts the piano parts of the songs in tab format. It also comes with a CD that demonstrates how the songs are supposed to sound. The book, like most all of Tori's other songbooks, is published by Amsco. It has a picture of Tori sitting next to the top part of a guitar on the front. The back has a close up shot of Tori's face, and there is one picture inside the book. Lily Matini sent me a scan of the book's cover, which you can see to the right. Click on the picture to see it larger.

The Order number is AM 948618.
The US ISBN# 0.8256.1694.8

Here are the songs in the book:

Icicle
Silent All These Years
Pretty Good Year
Caught a Lite Sneeze
China
Cornflake Girl
Little Earthquakes
In the Springtime of His Voodoo
Past the Mission
Blood Roses
Black Swan
Jackie's Strength
Spark
Black-Dove (January)
Talula
Winter



Respect: A Century Of Women In Music
December 20, 1999


Amanda Cavataio was the first to tell me about this. Rhino Records has released a remarkable 5-CD Box Set called "R-E-S-P-E-C-T: A Century Of Women In Music". As described on the Rhino web site, this package "brings you a deluxe five-CD box set giving props to female artists who made music history during the 20th century. Spanning 1909-1998, R-E-S-P-E-C-T's 114 songs include nearly every genre of popular music, voicing the struggles, stereotypes, and successes that have helped to define 'The Year of the Woman,' a ubiquitous catch-phrase used to describe successful female artists since the early '90s." Tori's "Silent All These Years" is included on Disc 5, entitled, "Hip-Hop, Pop, and Passion." There are many more fabulous women on this compilation as far back as the days of Women's Suffrage ("She's Good Enough To Be Your Baby's Mother And She's Good Enough To Vote With You" by Anna Chandler). The set retails for just under $70, and comes in a very nice package with extensive liner notes. Go to the Rhino Records web site for more details, a complete track listing, and the text of the liner notes where you can read what they say about Tori. You can also read an interesting article about the CD box set at the CNN web site. I think it is wonderful that Tori was included in this collection, and it again shows how relevant she is as an artist! This collection can be ordered at the Rhino web site, or can also be purchased at various online vendors like CDnow and Amazon.com.


Star Lounge 99 CD
November 28, 1999


Tori was one of the artists on the Star Lounge 1999 CD, produced by radio station KYSR - Star 98.7 in Los Angeles. The CD, which was only released locally in the L.A. area, contained a live "Star Lounge Performance" of Silent All These Years. (I am not sure when this performance took place!) To kick of off the sale of this CD, Tori appeared at the Virgin Megastore Orange, located at 20 City Boulevard West at the Block in Orange, CA at Noon on Sunday, November 28, 1999. You can read reviews of that and see a photo here. For a while, you could buy this CD online at the Virgin Megastore web site. However, the CD appears to be sold out now.

Proceeds from the new '99 Star Lounge CD went to the STARLIGHT CHILDREN'S FOUNDATION, VICTORY OVER VIOLENCE, and VH1 SAVE THE MUSIC. The collection features performances recorded live in the Star Lounge by the following groups:
Goo Goo Dolls - Slide
Shawn Mullins - Lullaby
Sarah McLachlan - Possession
Semisonic - Closing Time
Sheryl Crow - Anything But Down
Fastball - Out of My Head
Sixpence None The Richer - Kiss Me
Eve 6 - Inside Out
Seal - Human Beings
Alanis Morissette - Unsent
Citizen King - Better Days (And The
Bottom Drops Out)
Melissa Etheridge - Angels Would Fall
Tori Amos - Silent All These Years


The 1999 KROQ Christmas CD "Kevin and Bean's Last Christmas"
November 30, 1999


Kemanorel tells me that on November 30, 1999, the 1999 KROQ Christmas CD will be released in the Los Angeles, CA area. It will be called "Kevin and Bean's Last Christmas" and it will include Tori's version of "Have Yourself A Merry Little Christmas.". (Toriphile Christina Olsen tells me that Tori's entry is listed on the CD as "Christmas In Space," which is actually wrong because THAT is the subtitle to the b-side "Purple People") Here is more about this CD fromHeather G./RaysinGyrl:

Visit the KROQ website for onsale information. Kevin & Bean's Last Christmas will be available at all So Cal Wherehouse record stores beginning this Tuesday -- [November 30, 1999] with 26 original and hard-to-find Christmas songs by Tori Amos, Moby, Blink-182, Lit, Save Ferris, Korn, and Dave Matthews Band. Plus, spirited holiday messages from Bob Hope, Charlton Heston, Al Gore, and Karl Malone. It sells out every year for only $5, with proceeds going to the Starlight Foundation and other local children's charities. These CD's generally fly out of the stores and you really need to be on your toes to get one. This year the album will feature Tori's beautiful Christmas song, "Have Yourself A Merry Little Christmas" as previously heard only as a bee side to the UK Spark part 1. Don't under-estimate how fast these sell out.





Under The Pink Certified Double Platinum
October 13, 1999


On October 13, 1999, Under the Pink was certified double platinum by the Record Industry Association of America. Thanks to Karwan Al-Dabbagh for alerting me to this! You could see this on the Billboard Web Site.


"The Pretty Good Years: A Tribute To Tori Amos"
September 28, 1999


This is an odd item that several people have informed me about. It is an album called "The Pretty Good Years: A Tribute To Tori Amos" which was released on September 28, 1999. It was released on Dressed To Kill Records, a U.K. label that seems to specialize in tribute-like albums. You can see listings for it at several online vendors, including Amazon.com. It is a cheap item costing under $7. When Tori was asked about this item during the Mp3.com chat on September 20, 1999, she gave this answer, "I'm sure it'll do well. Probably came off of somebody's crap tape recorder." Stefan Schoonus informs me that this item is a collection of Tori covers performed by E-clypse featuring Jemma Price. The album contains the tracks listed below. You can also see the cover of this album which was scanned by Sandy:
Cornflake Girl
Silent All These Years
Crucify
Professional Widdow
Caught A Lite Sneeze
Hey Jupiter
Winter
Leather
China
Baker Baker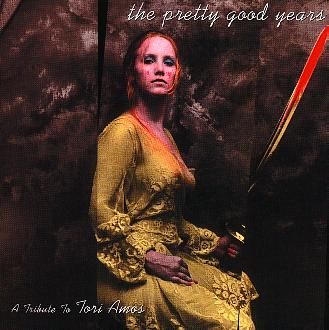 Special thanks to Tara, Shyam, Jay C Venaas and Tony for first alerting me to this. Here are more comments or details that people have sent to me about this item:
From Kevin Barnes
October 30, 1999 - This is the review I submitted to Amazon.com concerning "The Pretty Good Years: A Tribute to Tori Amos". I gave it 3 stars:

"Some tribute albums work very well as a collection of respectable covers by various artists putting their own unique style into the already well written songs -- This one doesn't. One band with one singer trying much too hard to replicate the original songs does not do Tori justice -- but it is cheap and if nothing else it is still very well written music and it makes you think about Tori songs and would be good to have in case a tragedy occurs that misplaces all of your actual Tori music. Get it only if you have a couple of extra bucks lying around and already have all of Tori's real music."

From Jonathan Matthews
October 30, 1999 - It is by E-clypse featuring Jemma Price (which you already know). Vocals are by Jemma Price, Programming is by E-clypse, guitars are by Russ Pay. The full title is "the pretty good years : A Tribute To Tori Amos." The cover has a girl (maybe Jemma Price?) in a green dress holding a sword with blood on it. ... Anyway, the sounds are electronic. A lot of keyboards are used. The piano almost sounds fake as well and TOTALLY sounds uninspired during "Cornflake Girl." Guitars replace piano on "Hey Jupiter," "Winter," "Leather," and "China." As we all know, no one is going to be better that Tori. It goes without saying. However, I think it's really cool that Ears with Feet came out with an album devoted to Tori. It might not be great, but it definitely shows you what Tori's love can do to people. It inspires people. And it inspires these people (Emma and E-clypse, whoever they are) to show the world just how much they're inspired. I'm using the word inspired too much.

Behind the cover reads: "Following the enormous success of her tribute to Kate Bush, Jemma Price makes a welcomed return to Dressed to Kill with this collection of Tori Amos interpretations...." It then goes on to talk about Jemma and how she recorded a new album and stuff.

From Leiden
October 25, 1999 - I read on your site you were interested to hear about the Jemma Price versions of Tori's songs on the Pretty Good Years tribute album. Well, I own this album, plus another one by her.

Earlier this month, I was in London. I had heard of a Kate Bush tribute 2CD by this band, and I found it in London at HMV. It was cheap (about $7 for a double album), so I bought it out of curiosity. Back home I also found the Tori tribute at Plaatboef, for about the same price. Now for the quality.....

The band stayed pretty close to the originals, especially on the Kate tribute (which is called "The Child In Her Eyes", by the way). Personally, I don't see the use of cover versions when you decide to just re-do the original, which in this case, is a lot better than the cover version. Jemma seems to try hard to sound exactly like Kate Bush (even on the Tori disc!), but I was not impressed. And all the songs sound like they have been recorded once, like demo versions. They didn't even bother to take out the false notes, it seems! Some versions sounds just terrible (Cornflake Girl, Wuthering Heights, Babooshka).

In my opinion, anyone that appreciates the music of Kate or Tori, should play the original artists, and stay away from this cover band.

From saM
November 9, 1999 - I'm not sure that anyone cares for this review...... but upon seeing that it was available on the dent, and it had to do with Tori, so I had to have it. The CD: Pretty Good Years, by Jemma Price. This was a tribute to the goddess, but lets just say this attempt was a bit short come. Maybe because I compare her to Tori, maybe because Tori is the most amazing person in the human realm, I'm not sure. Lets just start out by mentioning to influential people to her. Kate Bush, and (more of) Jewel. This girl at times convinced me she was Jewel, The covers she does although two are piano, the rest are all guitar, sounding just like jewel. Which I thought was O.K., cause she gave it her own thought. Although the songs (to anyone else), mostly sound like Tori's, I guess a truly obsessed fans knows there is a difference, a huge difference. Tori's voice just flows perfectly, and this jewel impersonator, well you'll just have to see won't you. I guess in a way, the goddess spoiled me. Anyone else trying to cover a song of hers may just have no hope.

So lets get down to the music. Her voice as I said, sounds like Kate Bush and Jewel, funny that the Jewel sound extremely shows through in the guitar covers. Now I bet alot of you are thinking, Tori's stuff, on a guitar? I wouldn't believe it either, but "baker, baker" (which is not one of my favorites) came out Beautiful by guitar. I also really like what she did in looping the beats in "Professional Widow" and "Caught A Light Sneeze." Great effects, I mean I bet Tori would've done it this way, if she wrote them in '99. Very keyboard processed beats. All in all, its an O.K. CD, I guess a must have for a Tori fan. If you love Jewel, and don't know about Tori, this is a good way to get into her. And the CD, is mad cheap, like 7 bucks. It contains most of her hits (But for most of us, all the songs are hits.)

Email me for any question on this CD at: HaloOrphan@aol.com

From BrettSomers4me
October 18, 1999 - First let me discuss the artwork. The front cover has a picture of a woman, with red hair, dressed in a green dress that looks to be from about the Medevil Era. She is holding a sword that half way covered in blood (from the point of the sword to about half way down it.) It has "the pretty good years" in the top right hand corner and has "A Tribute To Tori Amos" In the bottom left hand corner and both are written in a signature type font. The inside of the insert has this paragraph, and I quote:

"Following the enormous success of her tribute to Kate Bush, Jemma Price makes a welcomed return to Dressed To Kill with this collection of Tori Amos interpretations.

Jemma recently spent her 23rd Birthday in the Garage Studio Complex, East Grinstead, writing, recording and developing her first album of original material. (not a birthday cake in sight).

DTK productions stalwarts, Russ Pay and Martin Smith who guided both this work and the previous 'Bush' material are tending a hand with the new tracks.

In the rare moments of down time, Jemma is performing one off dates around London to an ever burgeoning audience of friends, fans, followers and fanatics."

And then after that is says:

"If you wish to find out more about Jemma please write to..... Jemma Price P.O.Box 11249, London SW6 7ZF."

On the back of the cd, it has the tracks which are:

1. Cornflake Girl
2. Silent All These Years
3. Crucify
4. Professional Widow
5. Caught A Lite Sneeze
6. Hey Jupiter
7. Winter
8. Leather
9. China
10. Baker Baker


And then is has:

A tribute to Tori Amos by E-clypse (feat) Jemma Price
Vocals - Jemma Price
Programming - E-clypse
Guitars - Russ Pay
Produced and Engineered by Russ Pay and Martin Smith
Recorder at the Garage Studio - East Grinstead
Mastered at the C.D. Clinic"

It also has the website in the upper right hand corner running up and down:

"www.dressed2kill.co.uk"

I don't really have time to review each song. But let me say that they are really different vocally, and at times musically. After listening to these songs, it made me resepect Tori's versions a lot more. Jemma really has a unique voice, and I really look foward to a cd with her own songs on it. All in all it's a worth while cd, and really a good find. Enjoy!

From Morten Sand Henriksen
October 7, 1999 - E-Clypse featuring Jemma Price" is the same band who did the Kate Bush tribute album released about two months ago. The Kate Tribute was also released on Dressed2kill. The Kate fans I've been talking to is very happy with the album and apparently the lady can sing. The only thing is that she sounds exactly like Kate and thereby not adding anything new to the songs.