Tori debuted 3 songs for the tour tonight. They were Imagine (solo), Upside Down (solo) and Real Men. The set list also included Liquid Diamonds (I finally got to experience this song live on the current tour!), Siren, Bells For Her and Northern Lad. If you were at the Indianapolis show, please email me with your reviews and/or set list or post your review or comments in the Dent's Concert Reviews forum. (You can post under any name without registering, so it is quick!)
More Details
Tori performed in Indianapolis, IN on Tuesday, March 18, 2003 at the Murat Theatre. The opening act was Rhett Miller.


Set List
I,
Mikewhy
attended this show and was able to write down the set list.
Wampum Prayer
a sorta fairytale
Little Amsterdam
Pancake
Cornflake Girl
Siren
Liquid Diamonds
Talula
Wednesday
Band Leaves
China
Upside Down
Imagine
Band returns
Bells For Her
Concertina
Northern Lad
Riot Poof
Take To The Sky
I Can't See New York
Iieee
1st Encore
Taxi Ride
Past The Mission
2nd Encore
Real Men
Tear In Your Hand
Reviews
The latest reviews are at the bottom of this page. For more reviews, please check out the
Dent's Tour Reviews Forum
. Please post your own review if you were at this show!
From
Mikewhy
: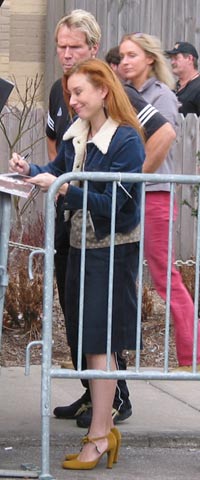 She played Liquid Diamonds!
Sorry, I jumped ahead. But before the show I was telling everyone that the one song I personally most wanted to hear on this tour was Liquid Diamonds. I was thrilled and so very happy when I heard Tori and the band begin this one.
I attended the meet and greet and managed to get some photos. I include one that you see to the right.i
The concert overall was perhaps even more intense and enjoyable than Pittsburgh (or at least the same...) There was an incredible electricity in the air before the show, and that led to an unforgettable show. Tori was in a fine mood and her voice was in top form tonight. She sounded great, she smiled a lot, and she surprised the audience by debuting 3 songs tonight for the tour. They were Imagine (solo), Upside Down (solo) and Real Men.
There were many dramatic gestures from Tori, even more than usual. For instance during Little Amsterdam, she slammed the piano hard with her hand around the line, "which side you're on". Pancake as usual had a funky intro with Tori doing a lot of dancing and gyrating to the music.
After Pancake, Tori thanked Indianapolis for giving them a good day off from the tour the day before. She mentioned that Tash thought the big water monument in the center of Indianapolis was her own palace.
When Tori played Liquid Diamonds, I felt chills go through my body. I finally was getting to hear one of my favorite Tori songs live on this tour. I had heard it before, but it had been a while, and this latest arrangement was really effective. I kept smiling at Amanda during the song, and many people who knew how much I wanted to hear this song congratulated me afterwards.
I had a feeling the night would be different when Tori performed Talula early in the show instead of during the encore like she usually does. That right there seemed to indicate that something special was coming for the encore.
Before the roadside cafe, Tori whispered "Hi" into the microphone and then sang another version of her "I have a little sign" improv as the Roadside Cafe sign descended. She then morphed the improv into something that included the lyrics, "song come out to play... I might not know the words... imagine that... give it a go... I'm sure the boy in the second row knows if I don't know... a few songs from... that need to go home with you....Indiana" (Those lyrics are really choppy and incomplete by the way!)
Imagine was a beautiful moment during the show. It seemed the entire crowd was into the song, and there were many key points during the song when the crowd would cheer. They especially roared when she sang the line, "". It was obviously an anti-war crowd, and with the U.S. on the verge of war, the song seemed to touch everyone. Tori received a standing ovation at the end. It was one of the most amazing moments I have seen at a Tori show.
The band did some jamming before Concertina, even more than usual. At one point Tori seemed to decide to let them jam for a while, and she picked up her cup of something and sipped a few spoonfuls while the band played. She had a huge smile on her face, and then started looking back and forth between Matt and Jon while they jammed. Then she joined in.
Northern Lad had a long amazing intro. At one point Tori looked like she was about to sing, but then stopped. Then she started for real. At one point during the song she gave the crowd a sudden and huge grin that made me laugh out loud because it was so cute.
This was the first time I heard Tori perform Riot Poof on this tour, and the new arrangement she has for the song was quite funky. She did a lot of dancing and hip shaking on this one. This was followed by her amazing Take To The Sky with the jamming "I feel the earth move under my feet" ending. She went crazy at the end of the song even more than she did back in Louisville a few days earlier. It was a really intense and powerful ending. This song has become really potent in her show.
Tori started playing Past The Mission, but then stopped and laughed really hard. She then started talking with Matt about why she was laughing. She at first wondered if she should tell us because she feared we would laugh through the next song, but she decided to tell us. She said something about sitting at dinner and saying "Pass the Chicken."
Real Men was really a treat tonight. She performed it with Jon on the upright bass. Matt was no where to be seen for that song. There were a lot of shouts between lines as people got into that song.
Tori ended the show with Tear In Your Hand. When she sang, "Maybe it's time to wave goodbye now, " she waved to us and then patted her heart. It was a touching ending to an amazing show, one of the best this year. It seems Tori is on a real roll with these shows. And her set list the last three concerts have each been dramatically different. The tour is really amazing right now, and I am glad to be part of it for a while!
From
Tracy Scott
:
wow! this was only my 5th tori show, but last night was the best show i have ever seen. i arrived at the murat a little after 2 for the meet and greet and saw some familiar faces. this was my first meet and greet, and i was well rewarded! all of the people around me had really rare tori books and music, and all i had was a piece of paper! i didn't care though, i just wanted her to sign something for me. and she did! she was like "a piece of paper?" and i was like "oh! that's mine! it's for tracy!" and she said "hi tracy" and then autographed it for me! i was so happy! (it's already framed and hanging on my wall.) at the meet and greet i heard people yell out "imagine" and "northern lad," so maybe she played those songs just because they were suggested, who knows.
well, the concert was spectacular. she started with the usual "wampum" and "fairytale" then she went into "little amsterdam" which was HOT! she was very sexual during this show, making all kinds of pelvic thrusts and she was stroking the microphone very suggestively. when the song was done, you could see her wiping the drool from her face! after she sang "pancake" she talked to the audience and was telling a story about natashya thinking there was a palace on the west side of indianapolis.
she played "siren" tonight! that is one of my favorites, and i had never heard it live, so i wasn't sure exactly what it was until she began to sing. her improv during roadside cafe started with the sign coming on, and then was basically saying that a lot of old songs were coming out and she may not know the words, but the guy in the 2nd row will, or something to that effect. her first solo song was "china" and i weeped the whole way through. that is such a beautiful song, and she really performed it well last night. then, she did a song i didn't think she usually did - "upside down." but my highlight of the evening was next. she played "imagine" by john lennon. of course i cried the whole way through. when she sang lines like "nothing to kill or die for", "living life in peace", and "brotherhood of man" the audience just clapped in agreement. of course the war is weighing heavy on our minds, and this song was perfect for the evening. she got a standing ovation when she finished. then the band came back for "bells for her." before "concertina" matt and jon played each other in a sort of duel again, and tori stood there applying lip-gloss, and drinking something from a spoon out of a mug. so great! then she began "northern lad" and after the first chorus, she said "oops" into the microphone. i'm not exactly sure why though, cause i was enjoying it no matter what. then she played "riot proof" which i never would have expected! "take to the sky" was great again tonight with the Carole King additions in the end. while she was slapping the piano at the beginning it looked like she popped something into her mouth and then just smiled. "i can't see new york" had the echoes during the chorus again, and she seemed pretty into this song tonight with arm movements.
she came out for the encore and did "taxi ride." then she started playing something, and i wasn't sure was it was going to be. she put her mouth to the microphone to begin singing and just started laughing! then she explained to us that she always thinks of something they said while sitting around the dinner table, and she didn't want to tell us cause we would think of it during the song, but she told us anyway that they used to say "pass the chicken." so then she began "past the mission" and smiled a little bit when she sang the chorus.
WELL, the second encore was fabulous. she played "real men" which is my favorite off of strange little girls. i was so happy to hear it! when she sang "you can wear the uniform and i can play along" a few people kind of laughed and cheered and she smiled. then she ended the show with "tear in your hand."
over all, she seemed like she was in a really good moood. she was smiling and doing a lot of hand gestures, she laughed a few times, and she talked more during this show than she has at other shows during this tour. and for the most part, the audience behaved themselves. only a few cat calls, but not like it has been before.
she was wearing her jeans, and killer red high heels, with a red and yellow dress that i can't describe with long sheer sleeves in each color. she had something written on her hand, but i couldn't tell what.
this show, i thought, was very war related. especially with "imagine" and the references to war in "real men." i think there may have been another war reference, but off the top of my head i can't remember now. i thought it was a wonderful thing for her to do. i'm going to have to say that this is my favorite show, even though i was in the balcony, the set list was great and the mood for the night was just right.
From
Lindsay
:
I thought overall she was just in great spirits and visibly and audibly rested. She went for the higher notes on songs where before I'd often heard her go for the lower (safer) version. She was almost downright giddy at some points. And was it just me, or during "playing that organ.." in Little Amsterdam did it look like she was getting rather intimate with the microphone (anyone else catch that)?
One thing that I was happy about was the fact that she didn't play all that too much off of Scarlet's Walk, because there were so many songs I wanted to hear on this tour. Siren, Talula, and Riot Proof were more than pleasant surprises. My friend Brad and I couldn't believe how great Talula translated live. Bells For Her, Northern Lad and Liquid Diamonds (yay for you!) were nice to hear as well, since I haven't heard any of those since Plugged, I believe. Oh, one thing: people, please don't wander around like cattle during the concerts! Having to get up and let people out of your aisle fifteen thousand (no exaggeration, I counted. promise!) times is really distracting. I mean, I thought we learned when we were kids to go potty before any major car trip or before you know you'll be sitting for long periods of time! sheesh!
Okay, anyway... If I had to pick my favorite songs of the night, I'd be really hard pressed to choose between Imagine and Real Men. I was DYING to hear Real Men last tour and it just didn't happen. It was just so moving to hear the audience's reaction to her obvious anti-war message. Honestly though, if not for Imagine, I would've been rather disappointed with Secret Time, mostly because I got my hopes up during her improv before it when she said something about having "songs from her past that want to come out and play." So of course, here I am thinking "whoa! She's going to play something crazy like Ode to the Banana King or Flying Dutchman or something!" and it turned out to be China and Upside Down, two songs that I've heard plenty of times before. But oh well, I digress. I shouldn't complain!
I don't think I've ever posted a review before, but being able to go to this concert was a big last-minute surprise and I really, really needed it. It was a much-needed chance for me to get out of my own head for a few hours. All I know now is, everytime I hear Past the Mission I'm going to be singing "pass the chicken.." (hehe).
Can't wait till Cincy. Ten minutes travel time for a concert is never a bad thing!
From
HuisClos000
:
I was at both the Louisville and Indianapolis shows this past week and I couldn't believe how different they were. I have now seen her 6 times, over the course of 4 tours since an absolutely amazing solo show in 1996, the last time she came to the Louisville Palace.
After weaseling my way into the soundcheck (I'm a Palace employee), where she played Scarlet's Walk, Sweet Sangria, and a cool version of Horses with the band, we got to stand around for about an hour while her security and Epic rep. (not the kindest people on this particular evening) argued like 2 year-olds over who were radio winners and who were not. The drama made over this simple process was so petty it was unbelievable. I've been working in venues for a long time, and if anyone is ever considering being as nasty as certain people were to the PR/ Marketing person for the venue, you should reconsider. They have a harder job than you would believe.
The show was a powerhouse. The setlist was predictable, but every version of songs like God, Waitress, Cornflake Girl, Talula, etc. etc. were phenomenal. Her voice was maybe the best I've ever seen it tonight. I disagree that it was stronger in Indy. As a matter of fact, her voice sounded much stronger to me at the Louisville show. At the Palace, there was an emphasis on the familiar torch-songs that made her live shows legendary. Cornflake Girl. The Waitress. God. Iieee. And a revamped version of Take to the Sky that blew me away. The "I feel the earth move under my feet" addition makes it even better. I agree that she really tore this part up in Indy, but it wasn't bad in the 'ville either. The tone of the Indy show was MUCH different. It wasn't there for fun, like the Louisville show had been. We got a much more contemplative, versatile set than before. Real Men was so appropriate it was scary. Bells for Her was urgent. So was Pancake. China and Upside Down just radiated... China especially. And Imagine. Wow. The crowd reaction and the standing ovation at the end was one of the most powerful moments from any sahow I've ever seen. What was so great about the Indy show was that the setlist was so coherent, and obviously reflected the current state of the world. We were supposed to go to war on March 18, and Tori felt like dealing with it. Even Bells for Her was less personal tonight, more wide-reaching, especially with the lines "Can't stop whaat's coming" ringing true for so much more than just the relationship described in the song. Real Men was a biting, relevant critique also. It was on her mind, and she said it. Thank you, Tori. By the way, I mentioned her voice before. She actually kept things lower at the Indy show... when she spoke, she sounded a little horse. Somehow though, she really saved it for the solo set, which were all pristinely sung, high notes and all. Like I said, China was heartbreaking that night. She did a lot more piano play at the Indy show though, especially noticable during Take to the Sky and Iieee, where she played around on it a lot more than she had during those songs at the Palace a few nights before. Overall, two VERY great shows with 2 totally different feels.
Final thoughts:
The band almost ruins Past the Mission. Siren is better faster. She needs to tour solo again.
From
Chris Garber
:
well, this was only my second (and last) show this tour but it was pretty incredible. i went to the m&g with some friends and got to speak with tori a little and got an autograph. she was in a really good mood and wrote a lot of requests on her hands. i remember people requesting talula, real men, northern lad, and imagine all which got worked into the show which I think is just wonderful. i requested 'icicle' but she ran out of hand and I didn't get to hear it...some day..
rhett miller...he was nice but a lot of the stuff sounded the same to me. i think its great that he was going to meet people by the souvie stand after his performance though. anyway on to the show --
i was thrilled to hear little amsterdam, she was very animated during it and was slapping her piano pretty hard and doing a lot of hand movements.
at the beginning of siren, i admit i had no idea what she was playing, but it had a lengthy intro with a lot of complex piano work, lots of reach overs and such. the version was much slower than the album version, and was quite beautiful. she was bouncing around quite a lot towards the end and really started to get into it.
liquid diamonds was beautiful as well, sounded a lot like the album in my opinion.
talula was reworked quite a lot with some new verses that had the word fuck in it, and it really jammed. it was my first time to hear this live and was fantastic. during the anne boleyn part she did a motion with her hands like she was cutting her head off. very cute.
upside down was simply amazing and was the first big tearjerker of the evening. it sounded a lot like the version on the bliss single except she played it a bit more conservatively and beautifully but did start to go off on the last verse or so.
imagine was great. there were moments throughout that got rounds of applause which was kind of annoying and she got a standing ovation at the end of it. it was really interesting hearing that song back to back with bells for her.
at the beginning of concertina jon and matt played for a couple of minutes and tori sat and humped the bench and applied some lip gloss then drank some tea(?) with a spoon. she just watched them and seem to have a good time doing it. the song is much better live in my opinion than that studio version.
northern lad was a complete shock and was probably the highlight of the evening for me. her voice completely soared and was many times more beautiful than the album version. the band wasn't too loud which was great and really seemed to back her up just enough. some parts they didn't play at all. gorgeous.
riot poof was also completely reworked and was sort of funky -- but fun. not quite as fun as 5 1/2 weeks version.
take to the sky has an incredible ending where she was just gyrating on the piano bench.
just as a note, for take to the sky, new york, and iieee, i thought the lighting was done very well and added a very visual element to the show that wasn't distracting at all. i know that there was some criticism by other people and just wanted to say that I disagree, from my vantage point anyway.
tori began to play at the beginning of past the mission, but stopped completely and laughed pretty loud in the mic. she carried on for a couple of minutes which was great and told a story about how her and the band used to sit at the kitchen and call the song pass the chicken.
real men - jon played an upright bass which was pretty and the song just sounds great live and tori played a very emotional version of it.
tear in your hand was the perfect ending and during the slow part about 3/4 of the way through, some guy screamed "i love you tori" and she whispered into the microphone "i love you back" which I thought was precious and priceless.†
hands down the best concert I've been to ever.
From
Molly Angst
:
This was the best show I have seen in my life.
The lights and everything were amazing. Tori was of
course a GODDESS. In light of what is happening in the
world, this show was a long awaited breath of fresh
air. That is my opinion.
From
Thom
:
Tori's show in Indianapolis, at the Murat Theater, was one of her best! Three wonderful debuts - Imagine, Upside Down, and Real Men, all added to the already wonderful setlist.
The first part of the concert seemed like most others, except that I felt and many others thought, Tori's voice was stronger and more focused. Pancake was certainly a case in point. Things got really interesting when the band left the first time. Upside Down (!!!!!) and Imagine pretty much led to there not being a dry eye in the house. The standing ovation after Imagine was simply spectacular. I had not witnessed anything like that before at a Tori show.
Bells for Her, which immediately followed Imagine, was very intense tonight. "Can't stop what's coming, can't stop what's on its way," seemed to suggest the war looming all of our shoulders.†
There were more light parts to the show. Although Northern Lad had me in tears, I did manage to break a smile when Tori said "whoops" to a missed note during the song. It was adorable!
Take to the Sky was also a highlight, with the new part at the end being extended for QUITE a long time.
I Can't See New York seemed a bit slower, and definitely more intense. The real shocker had to be Real Men. It was simply beautiful. Right after the "Don't call me a fa**ot, not unless you are a friend" line, Tori paused for a second or two, seeming to want a reaction from the audience. I had wanted to scream "Damn Skippy!" but I held back.
Tear in Your Hand was a wonderful way to end a magnificent show. It was touching when she waved bye to everyone and put her hand to her heart.
This was my favorite show of both legs so far! I am definitely glad to have experienced such a wonderful and magical night.
From
Jenn
:
I've seen a show from every tour she's done since Little Earthquakes and it's always so amazing to see how much stronger she gets with every tour. I always think that she can't top herself, and then she does. It's amazing. This show was incredible! I'd been hoping for Siren, Little Amsterdam and Bells for Her and wasn't let down. Real Men, Riot Poof and Tear in Your Hand were completely unexpected. How cool was Tear in Your Hand for the last song? She waved as she sang "maybe it's time to say goodbye now..." It was an incredible setlist and†her mood was absolutely delightful! She was gyrating very sexually throughout the show and even stopped to apply lip gloss while Matt and John jammed. (Plus, she looked fabulous. Did you check out those shoes? Red heels are such a guilty pleasure of mine!) But I think the true highlight of the evening and from any show I've ever seen was Imagine. Her interpretation of this wonderful song was incredible and I was completely blown away. It was truely a special moment and every person in the Murat felt it. Her standing ovation was well deserved. And it's strange how so many of these songs seemed appropriate given recent world events (Pancake, Imagine, Bells for Her, Real Men). Perhaps that's just my interpretation of the matter.
Overall, this is the best show I've ever seen. I feel so lucky to have been there!
From
Toxic Witch
:
This was my fifth Tori concert, and the first time I'd heard her with the band. (I have one boot from a previous tour with the band, but unfortunately, it won't play on any of the six CD players I've tried it in.)
I've been a Tori fan since Little Earthquakes, which has remained my favorite album -- and one of my top three albums by anyone of all time. When Little Earthquakes came out, I was in my senior year of college. At that time in my life, I was going through the beginning stages of feeling my first love die -- of realizing just how human and flawed he and I both were -- so Little Earthquakes easily spoke to my soul. I saw her twice that year, in Kalamazoo and Grand Rapids, Michigan (the Grand Rapids show was a free concert); both shows were amazing. I miss those days -- when the audience was so enamored and respectful that you could literally hear a pin drop during songs and there was no applause until the last sound of the last note was played.
Over the years, each of Tori's albums has meant a great deal to me. It seems I've gone through things that each of her albums been like a soundtrack to ... and I can go back to any of her albums and find new meanings in the songs that help me through whatever I may be going through now. You know how some people say they can open the Bible to a random page and find a line or a passage that gives them the guidance they are looking for at a particular moment? Tori's music is like that for me. (I suppose part of the reason is that she is pagan, like me.)
I saw her again on the Under the Pink tour in New Jersey and then recently on the Strange Little Girls tour in St. Louis. This St. Louis show will forever be a favorite -- my grandmother had just passed away the week before and the set list for that show fit so well with what I was going through that Tori could have chosen every song especially for me. It was an incredibly personal, cathartic, spiritual, healing experience -- something Tori does often and well for many people.
The Indianapolis show was different.
I was sitting closer to the stage than I ever have before -- about eight rows back. But I was on the right side of the theater, directly in front of the right speaker. Maybe I was just in the wrong place, but the sound at the beginning of the show was just *awful*. The drums and bass were far louder than Tori's piano playing or singing, literally drowning her out. There was one song during which I could not hear Tori or the piano *at all*, so I could not identify it; this later turned out to be Siren according to the set list posted on The Dent, and I'm sorry I missed that because it's a favorite of mine. Wampum Prayer sounded *okay*, but from A Sorta Fairytale through Talula, it was almost unbearable. I saw several people in front of me cringing and covering their ears. Things cleared up a little bit during Wednesday, Tori sounded fine during the three solo songs, and fortunately the problem seemed to have been cleared up by the time the band returned for Bells for Her -- but by then I had quite a headache. There was one thing I picked up very clearly during this early part of the show, though -- Tori was expressing a lot of anger, even in songs that aren't typically her "angry songs."
The light show was a major interference, too. The effects on stage behind Tori and the band looked really cool, but those of us sitting where we were were blinded by lights directly in our eyes at least five times per song. My husband quit watching all together and just closed his eyes for the show. I noticed several other people doing the same thing. There was no way I was going to close my eyes when I had a better view of Tori than I ever have before, but the light show didn't help my headache any.
The audience -- those I could see without turning around who were in front of us on the right and in the center -- was *very* restless. At least three times per song, an entire row would have to stand up for someone leaving to go to the bathroom (I assume). IMO, alcohol should never be served at a sit-down show of any kind (play, concert, etc.) because that is the kind of disruption it inevitably causes. Tori has an uncanny ability to create what amounts to a pagan ritual circle during her concerts -- and once the circle is closed, no one can leave and no one new can enter. The audience around me constantly moving and leaving disrupted this circle immensely, and this left me feeling very disconnected from Tori's circle. Maybe I never had the chance to be inside the circle that night.
The set list was amazing -- and unexpected. And Tori's performance was ... explosive. It was a perfect set list for the eve of war, and nuances in Tori's expression of each sung word and in her piano playing made her thoughts on it very clear. Covering John Lennon's Imagine was an obvious choice, but Tori made it her own, as she so often does.
I haven't decided yet if I liked the band exactly ... Once I could hear them *and* Tori, I liked the rhythm and sound ... but what the band played all sounded pretty much the same, no matter which song Tori played. Maybe I'd learn to notice the differences if I heard the songs over and over again, but that's how I perceived it on a first listen.
I relish the fact that Tori now has a such a large base of songs from which to play. The variety this offers is exciting, and offers the opportunity that every concert is a completely new experience. I love hearing how each of her songs -- her "girls" -- grow right along with her, and with me. I heard a lot of this at the Strange Little Girls show in St. Louis, and I heard more of it here. One of the best things about Tori's ability to let her songs evolve in this way is that songs I didn't particularly care for all that much originally can become favorites in their new incarnations. Knowing that, I didn't mind at all that many of my album favorites weren't in the set list -- each song from China on was wonderful in its own way. I suspect that each of the preceding songs was just as wonderful, and I hope that whatever tapers may have been there had better seats so that someday I'll be able to hear the early part of the show as it was meant to be heard. My personal favorite from this show was Take to the Sky, but I've always liked that song. Bells for Her was incredible -- and that's a song I didn't like when it was first released.
Overall, I was somewhat disappointed. The problems I've already mentioned aside, this was my husband's first experience at a Tori concert, and he's not very familiar with her music either, so I sort of wish the show had been different. I've gone through a lot of heartache in the last year, including losing both of my parents the night before my wedding, so I needed something different, too. But I think disappointment was perhaps something Tori wanted her audience that night to feel and deal with; it's certainly something she was dealing with herself. I came away from the show feeling that it wasn't the personal experience the previous shows I've attended have been ... and yet, it was no less powerful an experience. Maybe one of the reasons I felt so disconnected was because that may have been part of Tori's message, too -- that things going on in the world right now fell so out of our hands.
It will be very interesting to see where Tori goes with her set lists in the coming weeks, and I look forward to hearing what those who have the chance to experience those shows think.
Read a review of this show from The Indianapolis Star
From
A.J. Mosier
:
This is the 5th time I have seen Tori perform and I was just amazed at how special this show was. I was kind of afraid that the set list wouldn't drift too far from the show I saw in Ohio last fall..... What a terrific surprise! I won't get into listing the entire set list... I think that everyone else did a good job of that. But I will say that I was very happy that Tori included Siren (one of my very favourite songs) and Upside Down and Liquid Diamonds ( my favourite off of Choir Girl). Tori definitely was getting positive vibes from the Indy audience. Being an Indy native, I was really happy that she seemed to enjoy our fair city. It really is a cool place to visit for those who open up to the experience.
During her Roadside Cafe improv.... She sang that she'd like to perform some old songs that need a candle in Indiana... I think someone was searching for that line. I hope Tori knows that we fans carry those little candles everywhere we go, from the gems from Little Earthquakes (and Y Kant Tori read for many) up to the happier melodies from Scarlet's Walk. (Personally, I have my second copy of Boys for Pele... in rotation everyday..... my favourite of the bunch... for now.)
This probably isn't a great review. I just wanted to let everyone know how terrific the show was and how honored I felt to be a part of it.
From
Dana
:
This was my very first Tori show, and it was absolutely amazing. Four friends and i skipped school for the meet and greet. We arrived at 12:00, but because of some shoving by late arrivers, we were towards the middle. My friend and I stood for five hours before seeing Tori, but that was okay; we met some very cool people and kept eachother company. When Tori came out to sign autographs, we were all trampled for about 45 min, but I got my Little Earthquakes signed, and she spoke to me. It was a very intense moment, and nearly every one was either almost to tears, or already there. She was so nice to everyone. After that, we walked around Mass Ave and ate before the show. I didn't really enjoy the first guy, I was too anxious for Tori to come out. When she did, her voice was absolutely beautiful. The songs she played were great. There were also requests from the meet and greet. When she played Concertina (my absolute favorite song) I totally started crying. She played two encores, with another one of my favorite songs, Real Men, and my friend and I just stood in the isle (everyone was standing during the encores) and holding each other. It's by far the best concert I've ever been to. I can't wait for the next tour.
Read a review of this concert from IndianapolisMusic.net


From Amanda Morris:

I was so excited for this show. From the moment I heard that Tori would be in Indianapolis at the Murat, I just had some kind of special feeling that it would be an amazing show. I had no idea just how right on I would be though.

We had seats on the left isle in row H. In front of us was only one person all by himself in the whole row. He didn't really look like he wanted to be there all that much. Throughout the show, he kept writing things down and looking incredibly bored and about halfway through, he left and never returned and the whole row in front of us remained empty. I think he could have been a critic.

As much as I knew this show was going to be incredible, I was worried that I would think too much of it beforehand and be disappointed. But just the opposite happened. Despite having really really high hopes for this show, I was even more impressed than I ever thought I could be. Right way during a sorta fairytale and Little Amsterdam, I could tell the sound was great in the theatre and that Tori's voice was sounding really really crisp, and that her mood and attitude were top notch.

My first bit surprises started when I heard Siren being played. I was so happy to hear this. This was my first time hearing Siren with the band, and I really loved it, and Tori was really dancing around during this one.

Right after, the very familiar notes of Liquid Diamonds started. My eyes got really big and I looked over at Michael. His eyes were really big as well as he stared in disbelief at the stage. I began writing Liquid Diamonds down in my notebook I was using to record the set during the show. Michael's pen was simply poised over his paper, he was too afraid if he wrote it down, it would somehow change. But when Tori sang the first lines, there was not doubting what this song was. Michael was finally getting to hear his Liquid Diamonds on this tour. It was actually my first time hearing Liquid Diamonds ever and I found it to be so powerful, and my appreciation for this song grew as a result of hearing it live.

When the Roadside Cafe sign came down and Tori began her secret time without 'the guys' she started with an improv about her sign then it changed into talking about playing "a song to come out to play.I might not know the words to.imagine that.give it a go. I'm sure the boy in the second row knows if I don't know.a few songs from (?).the need to go home with you to find the candle." (those are pretty choppy and were all I could get written down). She then sang China, which based on the improv, I was kind of surprised about as I thought it would be a new song or something pretty rare.

She then debuted Upside Down for us. I found this rather odd honestly. I thought I would hear this one in a couple days in Cincinnati, not Indianapolis. But this is one of my favorite b-sides and I really enjoyed hearing it again.

Then came the biggest surprise of the night for me. Imagine. I never ever ever thought I would get to see Tori perform this one. And it could not have been at a more perfect time. The upcoming war was really looming over the heads of everyone and I could just feel the chills go all throughout the theatre resonating from everyone when Tori began playing Imagine. Listening to the words and feeling the emotions of our world through the music that night was really really intense. The audience really knew what this song was for and the importance of it being played then. During lines like, "nothing to kill or die for" and "living life in peace" the audience cheered their respectful cheers of agreement with the words. It was a rare time when the cheering during the song did not upset me, as I felt is pretty appropriate given all circumstances of the night. At the end of the song, everyone stood up and clapped. They sat back down again for the next song. That standing ovation was so appropriate and so worthy, and was one of the most beautiful moments I have experienced at a Tori show.

The guys came back out and appropriately followed Imagine up with Bells for Her. I am not sure why Bells for Her fit so perfectly here, but it really seemed to just flow with the atmosphere and the move of the show.

Tori then put on her lip-gloss very exaggeratingly while the band just played. She seemed to really enjoy just having the band play for and she just propped her foot up on the bench and leaned back a bit and watched them for a little while. She even picked up her cup and stirred whatever was in it and sipped a few spoonfuls before joining Matt and Jon with Concertina.

I loved Riot Poof. It is not one of my favorites on Venus and I had never heard it live before but it was really fun. Tori was on the Rhodes/Whurly set up, so she was facing our direction and we could see her smiles. She was also doing a lot of dancing and moving her hips around during this one as well.

Take to the Sky, this new "I feel the earth move under my feet" version has become one of my favorites to hear live. I just love this ending to this song. She really really got into it shaking her head almost violently and screaming out the words like I had not seen her do before. I loved it.

Later during the encores, she began Past the Mission, and quickly stopped and laughed a bit and looked over at Matt to ask him if he remembered what they used to call this song. She said she could not tell us because then we would just laugh throughout the song. But she quickly said she would tell us anyway. She said that when they would used to sit down to dinner they would say, "pass the chicken."

The start of the second encore was my next big surprise. I finally got to hear Real Men. Jon came out with Tori (not Matt) and he was on the upright bass, though I could not really hear it at all and Tori may as well have been solo on the piano for all I could actually hear, which would be my preference anyway. This song was also in the theme of flow as Imagine. "Man makes a gun, man goes to war." All in all, this really added an emotional touch to the end of the show and reminded us all of the extra specialness that show held.

A standard Tear in Your Hand tied up the loose ends of the show and sent us off on a good-bye.

I knew this show would be good. I came out more impressed than I ever dreamed. This show had it all for me: an amazing set list, a really energetic Tori, and lots of emotion.