Teen Magazine
July 2001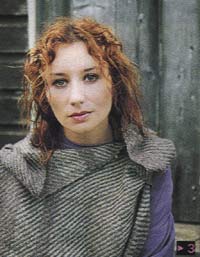 Alexandra (TalulaNewton) tells me that Tori is in the July 2001 issue of Teen Magazine in the U.S. There is a small article in a section entitled "Where Are They Now?", and an interesting photo of Tori that is from 1999. (Thanks Alexandra for scanning it!) The photo appears to be from the same shoot as the photos you can see from the October 1999 issue of Marie Claire magazine in the U.K. You can see the photo to the right. Click on the photo to see it larger.
Here is the article they had on Tori:
Hit Album: Little Earthquakes, sold more than 2 million copies
What she's up to? Since her latest album, To Venus and Back, Tori gave birth to a baby girl on September 5, 2000. She's released five albums, all totalling 20 million sales. She promises a new project this September titled Strange Little Girls.


The Sunday Telegraph (Australia)
July 8, 2001


The July 8, 2001 edition of The Sunday Telegraph in Australia includes a small article about Strange Little Girls and 3 photos of Tori portraying characters from the album.
Read the Telegraph article and see the photos here.


"Strange Little Girls" press release from Atlantic Records
July 2, 2001


Read the official press release for "Strange Little Girls" from Atlantic Records. Many articles were later published using this press release as a source.


Time Magazine
July 9, 2001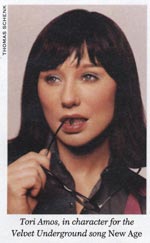 Added July 2, 2001 - Toriphile Megan sent me a small article and photo of Tori that appears in the July 9, 2001 issue of Time Magazine. (Thanks also to Edmir2 who also emailed me about this.) The article reveals more details about Tori's new album. The photo you see to the right was published with the article. (Click the photo to see it larger. The photo is credited to Thomas Schenk. Special thanks to Richard Handal who sent me a really nice new scan of this photo.) The caption under the photo reads, "Tori Amos, in character for the Velvet Underground song New Age." Here is the complete article:
Is This the Real Slim Shady?
Can the same words be both offensive and progressive? "The view changes depending on where you're standing," says Tori Amos. For her album "Strange Little Girls", due in September, Amos reveals that she has covered 12 famous male penned songs-including Eminem's "' 97 Bonnie & Clyde"-without changing the lyrics. The point? To expose what she sees as music's pervasive misogyny by animating men's songs from a woman's perspective. Amos says she invented and "befriended" a dozen different women (she has taken publicity photos dressed as all of them), through whom she sings tracks by the Velvet Underground, Neil Young, the Beatles, the Boomtown Rats and more. But it's the Eminem track that will get people talking. "Eminem represents so much right now to a whole group of people. And he's a great poet. But when you kill your wife, you don't get to control whom she becomes friends with when she's dead."


Los Angeles Times
July 1, 2001


The Los Angeles Times reported on Tori's "Strange Little Girls" album in their July 1, 2001 edition.
Read the L.A. Times article and see the Tori photo that was published with it.


Launch.com
July 3, 2001


Lauch.com posted a news item about Tori's "Strange Little Girls" album on July 3, 2001.


RollingStone.com
July 3, 2001


RollingStone.com posted a news item about Tori's "Strange Little Girls" album on July 3, 2001.