Stats for the 2001 StrangeLittle Tour!
Updated November 22, 2001
Now that Tori has completed the North American leg of her StrangeLittleTour, Sped Erstad, who maintains the incredible Tori Amos Setlist Database, has calculated statistics for the tour to show what kind of songs Tori played and how often she varied the set list. So far, Tori has played 102 (!) different songs in 39 shows. Click here for details and many fascinating stats!

Check out the Tori Setlist Database web site!
The Tori Setlist Database web site is an extremely well done site that tracks statistics of which Tori songs Tori has performed on this tour and previous tours as well. Well worth your time!

Ben Christophers: Tori's opening act for the European leg of her Strange Little Tour
Go to benchristophers.com to find out more about him!


Vital Mailing Lists For This Tour
You need to make sure you are a member of the toriamos.com mailing list because they are promising early info on dates, venues, and ticket information. Also be sure to join the ToriTour mailing list. (Folks can get info on how to subscribe to ToriTour by sending a blank message to tour@torithoughts.org.) I myself help provide info for this list and it has been very useful in giving Toriphiles solid information on upcoming concerts.
Another good mailing list is Exit 75!

Yahoo clubs created for the StrangeLittleTour
Minneapolis Yahoo Club
New Orleans Yahoo Club
Denver Yahoo Club
Dallas Yahoo Club
Houston Yahoo Club
Seattle Yahoo Club
Cleveland Yahoo Club
Florida Yahoo! Group
Ticket Exchange Yahoo! Club

Tori performed small, private concerts in Toronto at the Now Lounge and in Hamburg, Germany at a WWII bunker prior to the release of SLG!
I reported on the Toronto appearance earlier. We found out about the gig in Germany when Tori mentioned it on the Amy Lamé radio show. These two small shows appear to have been private record company sort of performances and not really open to the public. That explains why they were not widely reported when they took place. I have tried to gather what information I could about these two performances on this page.

Tori says she will tour "in a different way than I've toured in a long, long, time"
On April 13, 2001, RollingStone.com broke the story about Tori's new album for 2001 and part of the article said:
Amos, who plans on touring for Strange Little Girls "in a different way than I've toured in a long, long, time," says the core of the album -- which features King Crimson guitarist Adrian Belew and longtime collaborator Matt Chamberlain -- will deal with the dilemma of opposites.
We NOW know of course that Tori meant she plans to tour solo, which she has not done since 1994! (At least on a large scale. She did do a few, relatively short, concert dates at the end of 1999 all be herself...)


All the concert reviews from The Dent Forum are now on the Dent
Added January 7, 2002
Thanks for the help of Amanda (Novinha), all the reviews that were posted to the Dent forum during Tori's Strange Little Tour are now on the Dent itself for you to read. If there were too many off posts or you did not feel like weeding through all the nonsense to find the good reviews, you can now do so in the Dent's review pages for each show!

See some behind the scenes video footage from the recently completed Strange Little Tour!
Added December 29, 2001
Issue #14 (December 21, 2001) of the official Tori Amos newsletter from toriamos.com includes a link to a two minute RealVideo clip showing various behind the scenes footage from the recently completed Strange Little Tour. (Click here to see the newsletter.)

Tori ends her Strange Little Tour in Milan, Italy!
Updated December 18, 2001
This was the final show of Tori's Strange Little Tour! The set list included Real Men, Caught A Lite Sneeze, Suede, New Age, Mary, and Have Yourself A Merry Little Christmas . If you were at this final show, please send me a review so I can have as many as possible! Click here to see the full set list and read the reviews.
I am sad to see that this tour has ended. As I stated before, this has been my favorite Tori tour of all time for many reasons. The level of Tori's playing, the diversity of the set list, the intimacy of the shows, and the happiness that Tori exuded on stage all combined to make this tour for me really special. There is a cosensus that Tori will likely go on tour sometime next year. But I will always have a place in my heart for the 2001 Strange Little Tour.
Click here to find the set lists and reviews for all previous shows on Tori's European StrangeLittleTour.

Tori visited Poland for the first time ever on December 16, 2001 and did a mini-concert for Polish Radio 3
Updated December 18, 2001
Click here for all the details!

Tour Photos Online
Updated February 25, 2002

Photos from Tori's October 24, 2001 meet and greet in Cleveland, OH

Photos from Tori's October 14, 2001 meet and greet in Wallingford, CT

Photos from New York City on October 11, 2001 at the Beacon Theatre

Photos from Tori's November 28, 2001 Amsterdam concert in Heineken Music Hall!

More photos of Tori from her soundcheck on Halloween in Houston!

Some really cool photos of Tori in a mask during her soundcheck in New Orleans!

Fantastic live photo of Tori from her recent New York show at Getmusic.com

Photos froom orangeclouds.org

Photos from Scans and Stills

Photos from the Wallingford, CT meet & greet this year from Marla Antigone

Good Tori photos from Nashville and New Orleans at HueyRocks.com

Photos from the October 7th meet and greet in Washington D.C. at mentalyoga.com

Tori concert photos at Pollstar.com
If you go through the many pages of tour pictures in the Photo archives at Pollstar.com, you will find entries for Tori in many cities, including Atlanta and Detroit. (Thanks Melody Jenkins.)

Incredible portraits of Tori at the j. langlois Photography web site
They were taken September 29, 2001 in Clearwater, FL. Please remember that these photos are not to be used without permission!

Pre-show meet and greets will no longer be held during the remainder of the European Tour due to cold weather
Added November 29, 2001
The following message comes from an official source touring with Tori. "Due to the cold weather and concerns for the health of Tori and her fans, pre-show meet and greets will no longer be held. The ONLY exception to this will be on the day of the London show, December 7, 2001."

Tori Completes the North American Leg of The StrangeLittle Tour With Two Shows In San Diego!
Updated November 22, 2001
Tori did two shows in one night in San Diego, CA, the first time she has done this since her Dew Drop Inn tour in 1996!
We have information about the 7:00PM show on November 21, 2001 in San Diego, CA. Click for details about the first San Diego concert.
We have information about the 10:00PM show on November 21, 2001 in San Diego, CA. Click for details about the second San Diego concert.

Some beautiful concert photos from West Palm Beach from Paul Smith!
Updated October 5, 2001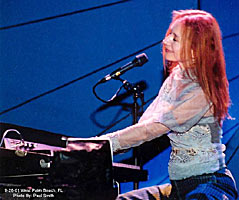 This is a correction to my earlier update. The beautiful photos taken by Paul Smith are indeed from West Palm Beach on September 28, 2001, but they were NOT taken during the actual show. They were taken during a private press event before the show where Tori performed Hey Jupiter. Tori actually wore different pants during the show itself. The photos still give you an excellent idea of how she looks on stage during this tour! Click here to see them.

Introducing the Exit 75 mailing list, for discussion of Tori's StrangeLittleTour!
Added September 21, 2001
Go here for details about this new mailing list.

See the set list and read reviews of Tori's August 30th concert in London!
Updated August 31, 2001
The wait is over. We were all wondering what Tori's first solo tour in 7 years would be like and now we know! Click to see the set list and any reviews that have come in!
The show included Raining Blood, Lust, Beulah Land, Merman, Rattlesnakes, Me and a Gun, Time, Cooling and more. The reports from the people there indicate that while the concert was short, it was very intimate and special, and Tori said quite a few interesting things. If you attended the London show, it is not too late for you to email me with a review. I realize some people need to time to think about what they experienced before writing.
Click here to see the London set list and reviews on the Dent!. Keep checking because I am adding to the page each time I receive a new review!

Rufus Wainwright will be the opening act for most of the shows
Updated August 25, 2001
Rufus Wainwright is opening for Tori on almost all the dates of her StrangeLittleTour. You can see Rufus' tour schedule at www.rufuswainwright.com. He appears to be opening for Tori during all her shows except Cleveland and Indianapolis.

Places online reporting on Tori's tour
Updated August 21, 2001
With the release of the official tour dates from Atlantic, news about Tori's tour is popping up all over the net. Here are some of the web sites reporting about it:
Live Daily
MNE.com
Jam! Showbiz
VH1
CDNOW Allstar News
Pollstar
Billboard.com
Rolling Stone
Clear Channel Entertainment
SonicNet.com


Advertisement for the London show in Time Out London
Added August 15, 2001
Special thanks to Kathy Barton, who sent me this scan of an advertisement that you can find in the August 15 - 22, 2001 issue (#1617) of Time Out: London Magazine. Click it to see it larger and see the text of the advertisement.

The Internet Pre-Sale on August 15 went well for some, badly for others
Added August 15, 2001
Several people have reported to me about their experiences with the internet pre-sale. Several people had technical problems with Ticketmaster that prevented them from getting tickets or delayed them. Others did very well. I myself was pleased with the tickets I got for all the Florida shows, but the process was far from smooth at times. One tip to keep in mind is that if something does not work, go back and try it a second and third time. You can also try to simply shut down your browser, start it back up, and try again. That often fixes problems. Good luck to those trying for tickets in the future.

Tori Amos Tour Dates Liberated by Fan Site Hackers as Anticipation Builds for "STRANGE LITTLE GIRLS''
Added August 14, 2001
This is the headline of a new press release just sent out by Atlantic Records. It basically gives the official tour dates and talks about Tori's album. I am not sure the term hackers is correct since the dates were simply sitting out on the internet for anyone to stumble upon, but the press release is a lot of fun! You can read the press release at the Yahoo! web site. Some points:
One part reads, "In keeping with the unique nature of "STRANGE LITTLE GIRLS,'' at each of the upcoming shows, the essence of one of the women will surely be present on stage with Tori." Do they mean spiritually or will Tori actually dress as a character at each show?
The tour schedule has the notice, "Additional dates to be announced". So the schedule, while nearly complete, could still be expanded.

Another excellent source of info about the tour
Added July 30, 2001
Shaman's web site is another excellent place to get information about Tori's 2001 tour.

Atlantic Press Release reveals that the U.S. tour will begin in Florida September 28 and end in California!
Updated July 2, 2001
Atlantic Records has posted a press release reveals that Tori will be touring solo, meaning that she will be totally alone at the keyboards. This is the first time since 1994 that Tori had done a major tour in this fashion! The tour will start September 28 in Miami, FL and end on November in California. The press release says nothing about a tour in Europe, but my personal guess is that this could happen after the U.S. tour. I wonder if Tori will call this her "Strange Little Tour."

You can read the full press release at the Atlantic web site or here on the Dent.

Tori will tour in 2001!
Updated April 24, 2001
BikiBear13 made me aware of a press release from Atlantic Records that can be found on the Entertainment Wire for April 23, 2001, The press release has the title "Atlantic Group Heats Up Summer Concert Season as Artists Get Set to Head Out On the Highway" and it includes a list of all acts at Atlantic Records that plan a tour this year. They say the following about Tori, "The Atlantic recording artist is tentatively slated to embark on a series of North American and European concert dates late this summer. The tour will coincide with the release of her forthcoming sixth Atlantic solo release." You can read this press release in full at the Yahoo! Finance web site. The latest details we have about the tour only mention U.S. dates, but I am hopeful a European tour will follow after the U.S. one.