Many thanks to Richard Handal, who first told me about this album.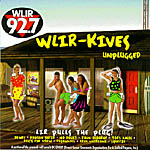 There is a new compilation CD created by radio station WLIR

in Long Island, New York called WLIR-KIVES Pulls the Plug! (Restaurant Records 1003-2), and part of the proceeds are going to a breast cancer organization, Breast Cancer Grassroots Organizations for a Unified Purpose

. The photo you see here is the album cover. Tori's contribution is a live version of Hey Jupiter that she first performed on a promotional visit to WLIR (which was called WDRE then) back on February 5, 1996. This was also the radio visit where Tori made up the song Gary's Girl. Read more about that radio appearance here.

There is a bit of confusion about this radio appearance. The New York Area Music Radio Guide

says that 92.7 WLIR is an Adult Contemporary format station out of Garden City, Long Island (New York), and that they are carried in simulcast on 98.5 WDRE, which is out of Westhampton, New York. Woj posted to Precious Things that:
"wlir was a good radio station on long island -- they were one of the first stations to get into what eventually turned into the "modern rock" format. eventually, they got slick and, sometime along the way, turned into wdre. more recently, in what was probably a marketing move, they changed their call letters back to wlir. the wdre call letters were retained for a translator station farther out on the island."
Some of the other artists on the CD include Jewel, Joan Osborne, Leah Andreone, Duncan Sheik, and Squeeze. I am not sure how widely this CD is being distributed or how easy it will be to get. There have been several reports that the CD is available at a Tower Records and Sam Goody's. The web page says you can order it by calling 1-888-927-WLIR.
You can hear Tori's Hey Jupiter live and other complete songs from the album in Real Audio, and find out more about the release, at the WLIR web page

.