Saturday Night Live Parody
December 4, 1999

I have obtained a video MPEG clip of this parody from Joey Koppes, and thanks to John Gadbois, who has donated server space, you can now download a 3 Meg, 30 second MPEG video clip and watch it for yourself! (I would also like to thank Ian Mullins (Spark) who was also willing to help!)
Download The SNL Tori Parody Video Clip

(3 Meg MPEG video clip)
"aah ahhhh
Excuse me but can I be a Jew for a while
You get to celebrate Hanukkah which last 8 nights
You get a lot more presents than you do for Christmas
but then again,
You can't eat pork, aahhh
And its been years,
Kosher all these...
Years go by , I still feel Jewish, aahhhhh...."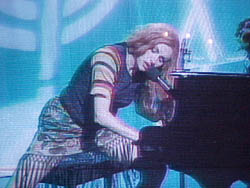 On Saturday night, December 4, 1999, Tori was parodied on Saturday Night Live. It happened 20 minutes into the broadcast, as part of a satire of an ad for a Hanukkah TV special. Molly Shannon was playing Tori and was humping the piano bench and eating (and licking) the microphone. Richard Handal first alerted me to this, and said that despite the fact that many will be offended, he felt it was hilarious but his jaw was on the floor. If anyone can send me a quicktime video clip of this, I would be grateful. To the right you can see a photo of the parody sent to me by Dor, who took a picture of the TV screen using her digital camera. Click on the photo to see it larger. Below you can find some comments from people who saw it and additional photos and a transcript sent to me by Heather G..
The skit where this parody appeared was part of a Hanukkah skit that has since caused controversy. In this skit, several impersonated musical artists were in a mock network promotion for an imaginary Hanukkah TV special. A Jewish group, Anti-Defamation League, has complained that the parody was offensive. They were especially disturbed by the part of the skit that featured the guest host that week, Christina Ricci, playing the part of Britney Spears. During that part, Britney says that Christians have forgiven Jews for "killing our Lord." NBC is under pressure to never rerun that skit again, and at least one NBC executive has stated that NBC will not air it again. However, SNL executive producer Lorne Michaels stated "as far as I'm concerned, it's still under discussion." An NBC spokeswoman says, "NBC's intention was to not air the sketch again. However, we currently have it under review." You can read stories about this incident at the CNN web site. When I saw it, like a friend of mine, I saw it as an obvious attempt to make fun of people who were anti-jewish, but obviously not everyone agrees....
UPDATE ON DECEMBER 21, 1999: Richard Handal and Nancy Arbic made me aware of the latest on the Saturday Night Live Hanukkah controversy. According to a story printed in the Washington Post today, NBC has decided that the sketch will be included in reruns in the future. Here is part of the article from the Post:
NBC has reversed its decision to not rebroadcast a recent "Saturday Night Live" sketch titled "And So This Is Hanukah," saying now that it "will air again unedited."

The sketch, a parody of the CBS special "And So This Is Christmas," featured "Saturday Night Live" cast members pretending to be pop stars and saying Jews "own all the movie studios and banks" and Christians have forgiven them "for killing our Lord."

NBC's reversal comes 10 days after Rosalyn Weinman, NBC's head of broadcast content policy, wrote to the Anti-Defamation League of B'nai B'rith promising that the network would not re-air the sketch, which was broadcast Dec. 4. "We have decided that a portion of the sketch . . . was problematic and therefore will be excised from all future broadcasts," Weinman wrote.

Yesterday, NBC released a statement saying: "We have reviewed the viewer response to the SNL sketch and have decided that it will air again unedited. Today's environment makes our judgment calls in these situations increasingly difficult because we must find a balance between being politically correct and being funny in a nonhurtful way."
UPDATE ON APRIL 4, 2000: The parody was indeed shown again on April 1, 2000 on a rerun of Saturday Night Live! It was shown once again on August 19, 2000.
UPDATE ON AUGUST 27, 2000: The parody was shown again on August 26, 2000.
UPDATE ON December 24, 2000: The parody was shown again on December 23, 2000.

People are asking me what I thought of the parody as it concerns Tori. I think it was really funny and lighthearted. I was not offended at all and I think Tori herself would find it hilarious. This was NOT like the Meatloaf thing where he publicly accused her of something that was very wrong and then mentioned slapping her. This was a parody that no one should take seriously. As for the Jewish issue, the skit was obviously making fun of people who are anti-semitic.
Brad Ryan says:
On tonight's Saturday Night Live, they were doing a fake promotion of a Hanukkah CD, and they had impersonators of Ricky Martin, Celine Dion, and others. All of a sudden they said Tori Amos. Molly Shannon sang a parody of "Silent All these Years" but it was about being Jewish. She had a red wig, and a Tori-like outfit, and she just kept humping the piano bench the whole time. It was so funny! I hope you can get pictures!
Sarah Waffle says:
I'd like to report that they just did an awful Tori parody on Saturday Night Live. They featured Tori, played by Molly Shannon, as part of a special called "And So This Is Hannukah." She was singing to Silent All These Years and it went something like, "Excuse me but can I be a Jew for awhile...", then something about a dredle and then she ended with being "kosher all these years." The whole time, she was making out with the microphone and wearing a strange outfit. It was very crude.
Heather G. says:
The parody was called "And So This Is Chanukah" and it mocked lots of musical stars.. the important part is transcribed below.. "It's the greatest Chanukah music special ever with appearances by: Dr. Dre, Andrea Bochelli, Korn, 98 Degrees, Amy Grant, Master P, Whalon Jennings and Blink 182. Featuring an original Chanukah ballad sung by Tori Amos (parody of Silent All These Years by cast member Molly Shannon who was standing at the piano over the bench.. grinding the bench, moaning and licking the microphone..) "Excuse me but can I be a jew for a while, you get to celebrate Chanuka which last for eight nights. You get more presents than you do for Christmas, but then again you can't eat pork. And it's been years.. kosher all these years. Years go by and I still feel jewish..."
Below you can find a series of screenshots sent to me by Heather G. and taken by Robert Schwartz:

Click on any thumbnail to see a larger image.


Please give me feedback, comments, or suggestions about my site. Email me (Michael Whitehead) at mikewhy@iglou.com