This page includes various promotional items for the "Strange Little Girls" album. These items are not normally for sale, but are used by Atlantic Records to promote the album. They often become collector's items and are sometimes spotted on eBay.

Independent Retailers will give away a laminated card with a web site code that gives you access to exclusive video footage and an audio preview of SLG

Updated August 29, 2001 - One of the more interesting promotional items for Strange Little Girls is a wallet sized laminated card (pictures to the right). The plan is that various "Independent Retailers" will give these cards to customers who pre-order "Strange Little Girls" from their store. The cards will include a special code or pin # that will allow you to access a special web site that will allow you to preview the entire SLG album by either streaming it or downloading the songs in WMA or Liquid Audio format. You will also be able to view exclusive video footage of Tori's photo shoot for the album.
There are 4 different cards that you can see to the right, for the Raining Blood, New Age, Time, and Happiness Is A Warm Gun characters. The exact look of the special web site and the video footage made available will vary depending on which card you have. For example, if you have the card with the "Happiness is a Warm Gun" character, you will see parts of the photo shoot where Tori is posing as that character. (See below for examples.)
There are many stores taking part in this promotion, too many for me to list here. Many of the stores doing it have posters or flyers in the store that announce this. You can always call or drop by a store as ask them if they are taking part in this.
Toriphile Don was kind enough to send a photo of what the web site looks like, along with a few screen shots from the exclusive video footage:

Above: The special web site that the card gives you access to. Click to see larger.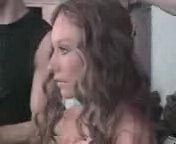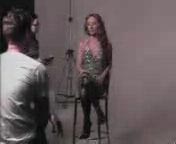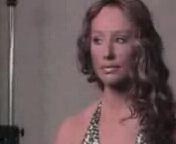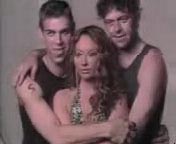 Above: Screen shots from the exclusive video of Tori's photo shoot for her "Happiness" character. In the one photo, the guy on the left is
Kevyn Aucoin
, who did all of Tori's makeup for this album (and does makeup for Tori all the time.)

Special thanks to MysT, Don Twine, VenusFetish, Woj, Addison and Marla Tiara for first making me aware of this.

More promotional items: A window cling/poster and a color flyer
Added August 25, 2001 - Thanks to Addison Beauvais, VenusFetish and Marla Tiara for making me aware of these items. The item below on the left is a 14" X 11" window cling/poster and the item on the right is a 8 3/4" X 11 3/4" flyer. These were recently seen on eBay!

Second 3-track radio promo CD for "Strange Little Girls"
Added August 16, 2001 - Virtual Kyle works for a group of radio stations and tells me that there is a new radio promo CD with the label "TORI AMOS Special Radio Sampler for Hot and Modern AC." (Atlantic PRCD300623). There is no cover art on this promo. It is the standard generic Atlantic promo sleeve with no insert. Here is the track listing:
Strange Little Girl (Single Edit)
I Don't Like Mondays (Album Version)
I'm Not In Love (Album Version)

2 promotional posters and a post card with the album covers
Updated August 8, 2001 - Little Bird and elizabeth have scanned various promotional items that they received from WEA for the "Strange Little Girls" album. The first item is a promotional, 2-sided 18 X 24 inch poster. You can see the photos that are used for both sides of the poster below. They are photos we have seen before, but they show more of Tori!
The poster on the left above is Tori's "Real Men" character and the one on the right (the Thinker) is reportedly Tori's character for "Time".
They also sent me scan of a 6" X 4" post card that seems to feature what will be the 4 album covers used for the project. The postcard is pictured below: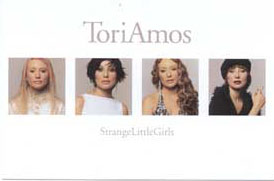 Both of the people who sent me these items said that the characters portrayed on this postcard are, from left to right, Time, Strange Little Girl, Happiness Is A Warm Gun, and Raining Blood.

The first 3-track promo radio CD for Strange Little Girls
Updated July 30, 2001 - This promo CD includes Strange Little Girl, '97 Bonnie & Clyde and Heart Of Gold.
This 3-track promo has been spotted on eBay! (Thanks to Manuel Chacon, Yoni and Marc Silva for telling me.) One description on eBay called the item a 'special 3 track radio sampler' from the forthcoming "Strange Little Girls". The CD has 3 tracks and you can see a photo of it below.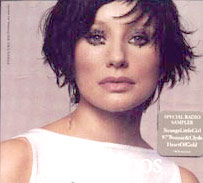 Strange Little Girl (single edit)
'97 Bonnie & Clyde (single edit)
Heart of Gold (single edit)
I have another source that claims to have seen a one song promo with just "'97 Bonnie & Clyde" on it. The existence of this promo CD has not been confirmed however.