Q Magazine
November 1999

Added October 7, 1999

A 4-star review of "to venus and back" appeared in the November 1999 issue of Q Magazine in the U.K. You can read the review below or at the Q Magazine Web Site. Thanks to Eliza for informing me about it. Stéphane sent me the photo that was printed with the review, and you can see that below.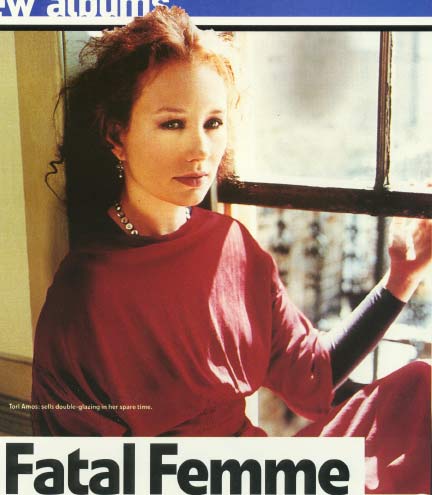 Tori Amos To Venus & Back
She's getting better. And yet somehow worse
In 1992, after an earlier attempt at ridiculous rock chickery, Tori Amos decided to immerse herself in highbrow, singer-songwriter-style eccentricity; Kate Bush times infinity, if you will. The results worked wonders. Seven years and five albums on, Amos remains the perennial New Kook On The Block, with an often unhinged dramatic edge to her songs that some of her peers can only dream of emulating. While '92's re-start, Little Earthquakes, revealed a natural talent for effortless melody, subsequent releases have proved increasingly idiosyncratic and wayward.
To Venus & Back is her most involving album to date. It's a rigorous listen, uneasy on the ears, and malevolently murky enough to suggest that Nine Inch Nails were loitering somewhere within the bowels of the studio making suggestions on how to make it sound darker still. Eight tracks in - tracks which are by turns predatory and demonic - and Amos shreds her vocals through the mincer to deliver something called Riot Poof (sic). Consequently, nothing here resembles Silent All These Years.
But, as a consequence of such daring, she only emerges as even more singular a talent, practically unique, give or take a babbling Alanis Morissette here, a hyperventilating Paula Cole there. On Juarez, a plunging neckline of a song, Amos sounds vixen-like and under-dressed; throughout the electronic Glory Of The 80s, she sounds like a ghost haunting herself, and given her penchant for shock-tactic lyrics, it takes at least three listens to the prosaic Concertina to realise that she's not, in fact, singing 'you are the faeces' but 'you are the fiercest'. 1,000 Oceans then makes for an incongruous finale, given that it's her simplest and prettiest song since Little Earthquakes's China, and therefore completely unlike any of the 10 that precede it; imagine snowflakes falling on hot coals.
Attached to all this comes a 13-track live album (available to all puchasers of the studio record) consisting largely of rarely played numbers which, in typical Amos blather, she describes as her 'best friends' who occasionally tell her to 'fuck off'. But this is hardly surprising in itself. The songs of Tori Amos are nothing if not brave.


Please give me feedback, comments, or suggestions about my site. Email me (Michael Whitehead) at mikewhy@iglou.com