"Baltimore/Walking With You" single


This rare 45 single was released in 1980 under the name Ellen Amos. The writers are Ellen and Michael Amos. (Michael is Tori's brother.) There are reportedly only 10 of these in circulation. The single was pressed by Tori's father on MEA Records. (That stands for Myra Ellen Amos.) The song Baltimore was written as part of a theme song contest for the city.


Distant Storm from the movie China O'Brien


The following is from the Tori Amos Collectibles book. In 1988, a song called "Distant Storm" was used in a martial arts film named China O.Brien. This was released direct to video except in Hong Kong where it was released at the movies first. "Distant Storm" is credited to Tess Makes Good in the movie credits, but Tori is unmistakeningly the vocalist. (Ellen Amos is listed however as contributing 'additional vocals'.) Tori did not write this song, she simply sang it. When Tori was asked about it years later, she remembered recording it for $150 dollars, but did not realize that it had been used for something. The song was recorded around the same time as Y Kant Tori Read. The song is used during the first few minutes of the film while China drives across the desert. Fortunately, that part of the movie is relatively free of dialogue.

The film China O'Brien is by Enter The Dragon director Robert Clouse and stars Cynthia Rothrock as China. You might be able to find this film for rental somewhere, and it is sometime shown on TV. There was a sequel to this film called China O'Brien 2, which had no Tori involvement.


Stan Ridgway


Tori performed backup vocals on 3 tracks that were on Stan Ridgway's 1989 Geffen album called Mosquitos. The songs are Dogs, Peg And Pete And Me, and The Last Honest Man.





There was a later 1992 album from Stan Ridgeway called Songs That Made This Country Great. It also includes the song "Peg And Pete And Me" with background vocals from Tori.


Ruby Trax ("Ring My Bell")


In 1992, a compilation package called Ruby Trax: The NME's Roaring Forty was released in the U.K. It was a 3-CD set featuring many alternative artists performing their favorite number one hits from the previous 40 years. This compilation celebrated the 40 year anniversary of New Musical Express (NME) magazine. Proceeds from the album went to the fight against Cerebral Palsy. Tori's contribution to the project was her cover of "Ring My Bell," which was originally a disco hit from Anita Ward in 1979. Other artists on the compilation included Sinead O'Connor, Curve, Boy George, Bob Geldof, Jesus & Mary Chain, Blur, Billy Bragg, Jesus Jones, Suede, St. Etienne and more.


Sandra Bernhard and Tori


In 1989, Sandra Bernhard had an album called "Without You I'm Nothing". Tori sings background on the track "Little Red Corvette" from that album.


Ferron: Phantom Center


Tori sang backup vocals on Canadian singer Ferron's album called Phantom Center, which originally came out in 1990. According to the Tori Amos Collectibles book, the album was reissued in 1995 and was "remixed to highlight Tori's vocals with the exception of the first track, Stand Up, which mysteriously has been re-recorded, leaving Tori completely off the track." The album also features appearances by Nancy Shanks, who is also called Bennie and is a good friend of Tori's. The photo you see here is from the re-issue. The original version of the album had a different cover.


Toys Soundtrack


The Toys soundtrack came out in November 1992 and includes a song by Tori called The Happy Worker. According to the Tori Amos Collectibles book, Tori was very "extremely unhappy with the final mix of this track, written and produced by Trevor Horn, and refused to allow a planned CD single to be released."


Under The Pink and More Pink (Australia)


A special version of Tori's Under The Pink album was released in Australia and New Zealand on EastWest in 1994. It was a special Limited Edition double CD version. (The label on the CD called it a 2CD Tour Edition in honor of Tori's Under The Pink tour.) The extra disc was called "More Pink The B-Sides" and included 11 b-sides, including Little Drummer Boy, which was live and hard to find at that time. The More Pink b-sides were:
A Case Of You
Honey
Daisy Dead Petals
Sister Janet
Sugar
Take To The Sky
Upside Down
Flying Dutchman
Here, In My Head (live)
Black Swan
Little Drummer Boy


Tower Of Song: Songs Of Leonard Cohen


In 1995, a tribute album called Tower Of Song: Songs Of Leonard Cohen was released. Tori performs Cohen's "Famous Blue Raincoat" on the album. It became one of Tori's most popular covers, and one she does frequently in concert.


Higher Learning Soundtrack


The Higher Learning soundtrack came out in January 1995. Tori covers REM's Losing My Religion and she can also be heard on a song she wrote called Butterfly, which was released to the public for the first time on this soundtrack. Read more about this CD at CDNOW.


Virtuosity Soundtrack


This soundtrack, which came out in August 1995, includes a track called Party Man, which was written by Tori and Peter Gabriel. Tori does not appear on the track however.


Encomium: A Tribute To Led Zeppelin


In April 1995, the album Encomium: A Tribute To Led Zeppelin was released on Atlantic Records. Tori duets with Robert Plant on the song Down By The Seaside. This song originally appeared on Led Zeppelin's 1975 Physical Graffiti album. You could also buy a 50 minute video for this release called "Encomium: A Tribute to Led Zeppelin" and it includes brief footage of Tori talking about her contribution and Led Zeppelin in general.


Escape From L.A. Soundtrack


On July 16, 1996, The Escape From LA Soundtrack appeared in US stores with the album version of Professional Widow on the disc. Other artists on the album include Gravity Kills, White Zombie, Ministry, Tool, Stabbing Westward, and the Butthole Surfers.


Whomp, There It Is


It has been reported that Tori did a version of Whomp There It Is in concert. In The RDT mailing list there was a little controversy over this, since this song has been mentioned as being sung by some guys as they attacked women in public places. A Toriphile named Roxanne has posted to that mailing list lyrics that Tori used when singing this song on the radio to demonstrate the point that Tori's version is nothing like the original and is really an improvised jazz piece that she played once on the Kevin and Bean radio show in Los Angeles (I am not sure of the date of this particular appearance.) The lyrics go something like this (Sam Shamburger helped me clarify these lyrics):

Whomp there it is
there she goes again
in the bathroom with her shoes on
whoomp there it is
with a kevin and bean
a cookie in the oven
and a shimmy in my sceen..
i said
whoomp there it is
i tell ya what she knows
i'm coming back
to L.A. in the mornin'
it's a bit shaking
these days ya know
but they always knew how
to rock 'n' roll
i said
whoomp there it is
i gotta end this song
i don't know what's coming
with my lyrics...go on
i said
it's over now
uh-huh




Toriphile Kevyn informs me that Tori did yet another song called Whoomp there it is during the encore of her concert in Pittsburgh, PA on May 30,1996. The lyrics were different from when she sang it on the Kevin & Bean radio show. Here are those lyrics:

Whoomp there it is I say I go again,
Someone's (things?) back in my kitchen and,
Whoomp sugarland they say he's flyin' in,
And she's a young and she's big and I
Said a Whoomp There It Is, yes, come on
She says she knows it all girls how ya get
When you're 18 and (?? snarl--smart??)
You gotta know everything there is to know and
Sometimes ya diss your friends you thank them (think that???)
Hmmmmm Whoomp There It Is I say you know girl
You can't hide nothin' a when you're on the down-low (???)
Tell me about I say a sure she goes again
She slides very chic and I slide a right again (??)
Whoomp There It Is I say there she goes again,
Tell me sometimes when the (soup??) goes around the bend,
Thought that we had somethin' to begin,
But I'll tell you right now it's closing in...
Forgive and forget that bitch is it
Yes I'm sure we can go on and on but sometimes it's just
Whoomp There It Is...


Twister Soundtrack


The Tornado Remix of Talula is on the Soundtrack to the movie Twister, a hot film during the summer of 1996. BT was the guy who remixed this song with Tori. Tori's album Boys For Pele was eventually re-released with this new remix of Talula instead of the original one. One verse or so of Talula appears sometime during the first 10 minutes of the movie.


Talula Single: The US and UK Releases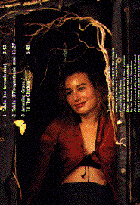 The U.S. Release

Tori's second BFP single was released in the United States considerably later than it was in the UK. The track listing was:

Talula (Tornado Album Version) 3:43
Samurai (Previously Unavailable) 3:03
Frog On My Toe (Previously Unavailable) 3:40
London Girls (Previously Unavailable) 3:20
Talula (BT's Synethasia Mix) 11:27

Of course, the previously unavailable does not apply if you were like many US fans and already had the UK Talula single. In that case there were no new songs here. The first song says Tornado Album version because BOYS FOR PELE from now on will contain the Tornado remix of Talula and not the original version. Here is the story behind this new version. In introducing Tori to the World Wide Web, remixer BT mentioned to Tori that there are sites dedicated to chasing tornados. This gave Tori the idea of the Tornado remix and they recorded it. It was only later, as they claim, that Warner Brothers A&R director Kevin Laffey heard about the remix and then decided to use it for the TWISTER soundtrack. One verse or so of this song appears sometime during the first 10 minutes of the movie.




The UK Release

This single release does not involve a limited edition single, but two CD releases in normal CD cases. I received mine via mail order on Friday, March 15, 1996. The first CD contains:

Talula (the tornado mix) 3:43
Talula (BT's synethasia mix) 11:27
Amazing Grace/Til The Chicken 6:48

The second CD holds:

Talula (the tornado mix) 3:43
Frog On My Toe 3:40
Sister Named Desire 5:29
Alamo 5:11

Both CDs have pictures of Tori in a carriage, the same from from inside the BFP CD booklet. There are also photos of Tori lying in a field. The remixes add strong percussion to the single and are very interesting. There are extra lyrics at the beginning and end of Talula that mention tornados. The four extra songs are amazing. Frog On My Toe appears to be a poignant tribute to her grandfather. Amazing Grace is extremely haunting. She is playing with a guy named George Porter Jr, and they are heard talking at the beginning of the song. Halfway through the track, they transition from Amazing Grace to Til The Chicken, an infectious and groovy blues tune. Tori is heard saying at this point, "This is OUR church George..."