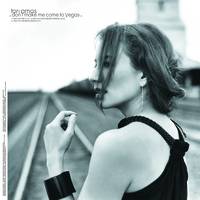 We know that there are Timo Maas remixes of "Don't Make Me Come To Vegas" that you can now buy commerically on 12" vinyl. (You can see the cover of the commerical release to the right.) However, I now have information as well on two different promo versions on 12" vinyl that contain different tracks than the commercial one. These promo versions include different remixes by Gene LeFosse as well as Timo Maas! Read details about the commercial 12" vinyl (including where to buy it), as well as the two different promo vinyls we know about.

More Details
Commerical 12" Vinyl release of "Don't Make Me Come To Vegas"
This 12" vinyl release came out on
May 27 2003
and is on the Epic label. The release is meant for dance clubs and such and will not be a regular radio single. There are several places online where you can order this vinyl single, including
sonymusicstore.com
(Thanks
bjackson
and
marc silva
),
TowerRecords.com
(Thanks
Ami
) and
ArtistDirect.com
. (Thanks
Benjamin A.
).
The track listing for the commercial 12" vinyl is:
Side 1
1. Timo on Tori (7:45)
2. Timo on Tori Alternate Version (6:45)

Side 2
3. Timo on Tori Breaks Remix (8:57)
(Thanks to
Benjamin Bryan
for the track timings.)
Here are details about the 12" Vinyl release sent to me on
May 27, 2003
from
Marc Silva
:
The front cover sleeve says the name of the mixes are:

A1. TIMO ON TORI 7.45 (there is no mention of it being the house mix)
A2. TIMO ON TORI ALTERNATE VERSION 6.45
B1. TIMO ON TORI BREAKS REMIX 8.57

Other info: Produced by Tori Amos; Recorded by Mark Hawley and Marcel Van Limbeek at Martian Engineering, Cornwall, England; Written by Tori Amos; Published by Sword and Stone Publishing Inc (ASCAP). Remix and additional production by Timo Maas/Martian Buttrich for Hope Managment LTD. Piano and vocals by Tori Amos, original bass by Jon Evans, original drums by Matt Chamberlain, all other instruments by Martin Buttrich. SIDE A: additional bass by M. Gontarski/guitar by M. Hagmeister; SIDE B: Rhodes by S. Kaiser.

On the back of the sleeve is states:
Mastered by Vic Anesini at Sony Studios, NYC. Managment: Arthur Spivac and John Witherspoon for Spivak Sobol Entertainment. Album version appears on the Epic Records release "Scarlet's Walk" 86412. www.toriamos.com

the mixes aren't bad at all. they mostly just say "don't make me come to vegas", "slip thru your hand" "don't make-don't make me come..."

the BREAKS version has a little more lyrics... "don't make me pull him out of your hair"
Promo Versions on 12" Vinyl
From what I can gather from various sources, there appears to be at least 2 different promo versions of "Don't Make Me Come To Vegas" remixes on vinyl that differ in content from the commercial release detailed above. Information about the first promo version of the remixes comes from
NoBoySoSweet
and can be found at
wattsmusic.com
where it says:
TORI AMOS - Dont Make Me Come To Vegas

Promo edition of this hottie from Tori with 3 mixes from Timo Maas and one from Brooklyn s Gene LeFosse. Timo goes for the hard, heavy club orientated floor rumler on one mix, a more breaks orientated version on another and and something a bit quirky on the different version. On the other hand Gene, known for his work on Convulute and Coccoon hits hard with a heavy tribal influenced techno workout. Mixes:Gene LeFosse Main Mix/ Timo Maas Main Mix/ Timo Mass Different Version/ Timo Maas Breaks Mix.

Watts #175731 - Label: SONY - Format: 12I - Country: GMN - Catalog #: SAMPMS12959 - Style: Straight Up House - May 24, 2003
Information about the second promo version of the remixes comes from
Matt
, who read about it on the
forum at djricomixshow.com
which reveals that the second promo version has a HOUSE MIX done by Timo Maas, a Gene Lefosse mix and Lefosse acapella. Another trusted source gives me this track listing for this promo vinyl:
A: Don't Make Me Come To Vegas (Timo On Tori Alternate Version) 6:45
B: Don't Make Me Come To Vegas (Lefosse Mix) 8:20
B: Don't Make Me Come To Vegas (Lefosse Acapella) 8:20
The catalog number for this promo is
EAS 54752 / XSS 54752
. It comes in a plain white sleeve, while the disc has a green label side (Side B) and a Silver label side (Side A). (Thanks
Mike Gray
.)
Commentary on the Timo Maas Remixes
Here are comments on the
Timo Maas
remixed from
Russ Marshalek from Jive Magazine
:

just a little note for anyone concerned or interested about german tech-house producer/remixer/dj timo maas's work on the remixes of "don't make me come to vegas": at least two of them are done. at his recent gig here in atlanta he played two of them...missed most of the first, but the breaks version (for those not in the know with dance music, i'm talking about breakbeats) is actually quite nifty, as the beats themselves are taken from the drums used in the beginning of the original song....with "don't make me come" looped serveral times before you actually get "don't make me come to vegas"..there's other bits of vocals, as well, but i couldn't make them out. hope to hear more on this soon.;)

Russ Marshalek
also mentioned one of the Timo Maas remixes twice in an online article from
Jive Magazine
about Timo's show at the Riviera club, Friday, March 14, 2003 in Atlanta, GA (Thanks
Brandon
):
I made my way to the dance floor just in time to hear exactly what I'd been hoping for: Timo's as-yet-unreleased remix of Tori Amos' 'Don't Make Me Come to Vegas". He'd posted on his website forum that there were three mixes he'd be working on, and the one that I'd walked in on the middle of was obviously the Housier one of the bunch. Unfortunately, Timo was mixing out of it already, and so the track pretty much passed me by.
Then later in the article:
I was probably the most appreciative person in the world when, from nowhere, his organic Breakbeat remix of Tori's "Don't Make Me Come To Vegas" surfaced. The track is, I can officially say, completely amazing. You've got to be a true Toriphile to appreciate the way Timo has blended the instrumentation from the original track into his remix, but it's damn good, and the dance floor echoed approval.
Toriphile
Michele
emailed me after hearing one of the Timo Maas remixes at
Ruby Skye
in
San Francisco, CA
on Sat, April 26, 2003. She says:

"I'm not qualified to describe which mix version he played, but there was the 'aahhh' vocal at the end of the track, and also 'slip through your hand' over and over. It was maybe six minutes long." She also found the song listed at perfecto-fc.com, where they list "Timo's Top 15 for April 2003".