Marco Alberto Concepcion and Warren Go told me about this article, which appears in the January/February 2003 issue of PULP Magazine in the Philippines. They also sent me scans of the cover, which features Tori.
More Details
The Scarlet Letter
By Pearlsha Abubakar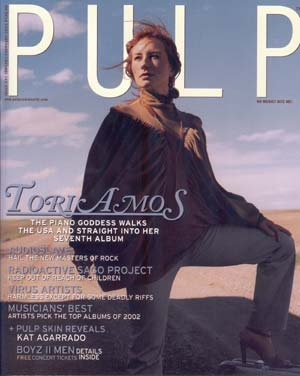 Scarlet's Walk is unlike any album Tori Amos has done before. The 39-year old singer-songwriter, friend to the likes of Bjork and PJ Harvey, inspiration for Neil Gaiman, famous for her confessional intensity and stirring piano work, embarked on a 50-state US Tour right after the September 11 terrorist attacks in 2001. The result: a spectacular concept album that shows Tori at her most accessible. In the provocative track "I can't see New York", her spin on the Twin Towers tragedy, she knows her side: the side of things/the side of what things? Her complex lyrics drip with history and myth as she weaves for us a tale of Scarlet, who can be anyone from Scarlet O' Hara to Hester Prynne in Hawthorne's novel, who can be very well be the flame-haired Tori herself traveling in and out of the strange lands she nevertheless calls home.
Her music is as much a pilgrim as she is. It defies categories. Not classical, not jazz, not pop, not rock, at least, not really. Having played the piano since age 2, the classically-trained Leonine pressed her first recording "Baltimore" on vinyl when she was only in grade school in North Carolina. After playing in many hotels and bars for over ten years, Tori, then Myra Ellen Amos, struck out on her own with her first shot at stardom called Y Kant Tori Read under Atlantic Records. It bombed; but seven albums and millions of sold copies later, she is at the height of her game with her latest single "a sorta fairytale" already breezing its way through the local radio charts. Its Neil Gaiman-inspired music video features Tori singing with the rest of her body parts missing except for her head, which slowly grows into her full bodya fitting visual description of her delirious creative process.
"My character Scarlet gets a call from Amber, Amber Waves, and it's clear there's something going on with her that makes me wanna go be with her. I think there are certain people in your life that when they call, you go. They don't call often and they don't ask a lot. I don't even even know if she asked for very much. But there was something in her voice that said to me that it was time to put everything aside and go be with her," Amos says of the first track on the album, "Amber Waves" in an interview CD provided by Sony (Music) Philippines to PULP.
The songwriter-storyteller weaves many other such vignettes all throughout the eighteen tracks in the album. On the track "Wednesday", a mix of good old country music and whimsical waltz, she notes: "Wednesday is a mixture of many things, mainly because she's in a place now where she realizes that love is a bit complicated because it's not a cut and dried sort of idea. It's not I don't like this person, it's not that simple. I think you might be really very taken with somebody and they might be very much in your life but there are things that they do that are quite disrespectful or cross a line in a way that is very passive-aggressive so you can-t really talk about it. Manipulation makes her cry, especially with people you're supposed to be close with."
Now a mother to 3-year old Natashya Lorien, Tori contemplates the idea of an ancient maternity as embodied by the southwest. "The southwest has this effect on her (Scarlet) where she looks deeper into things and she's able to hear the ancestors more clearly and she's been to a place where a long time ago, there was a massacre that happened to the Apache, to mostly women and children and there's a voice that she begins to hear, of an old woman sitting by the fire. She's hearing it more and more with everyday and she starts to follow the trail, the voice, the story that she's picking up historically."
And Tori has heeded that voice in her own way. Having been affected by the repercussions of 9/11, she says: "Being a caretaker along with many, many, many other people that are being called at this time to light the torch within themselves. To know what to do now in these troubled times. It will affect the next generation in such a complete way. It doesn't mean there's no time for giggles or anything else, but it is something that takes her right through her skin, her organs, her bones, and grabs her and shakes her and holds her ands says: do you know where you stand as you walk?"