Update: I now have scans of the photos that were included with this excellent article, which appears in the June 2003 issue of Self Magazine. Click to read the article and see the photos.
More Details
Many thanks to Lisa McAllister for sending the text of the article to me and the scans of the photos you see below. The article is 2 full pages and is in the Rock Bodies section of the magazine on page 58 and entitled, "What Tori Amos Eats for Dinner." It also includes (what they call) her favorite recipe of Baked Wrapped Tilapia. The photos below were printed with the article: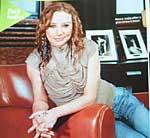 Click to see the photo above larger.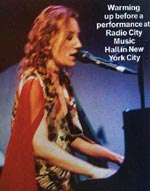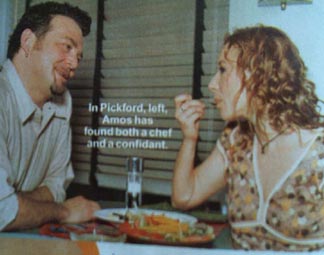 "What Tori Amos Eats for Dinner"
by Dimitri Ehrlich
Amos is more energetic than ever, thanks to food that replaces deprivation with taste.
Some rock starts travel with personal trainers. Others take a yoga mat, a Pilates machine or a portable gym on tour. Singer-songwriter Tori Amos, 39, brings no workout gear on the road, unless you count her baby grand piano. She gets most of her exercise playing it for at least two and a half hours every day. For those familiar with her mode of key banging - a full-body, arm-pumping, head-bobbing affair - it's no surprise that Amos burns quite a few calories making music. "I just can't get my workout in an aerobics class, " she says. "I don't know how to separate exercise from life."
But for Amos, who often takes her 2-year-old daughter, Natashya, with her on tour, the trick to staying in peak condition isn't exercise but three square meals a day. "I've had to evolve from a vital young girl on the go to a mother who can still be sensual in cute heels," she says. "The key for me is food. Anything you put in is going to have an effect. I mean, think about how much we invest in fashion, in what we put outside the body: The money! The energy! But we tend to ignore what's going in."
Amos's secret weapon is a fellow she calls the food wizard, her personal chef, Duncan Pickford. Pickford, who previously worked with Whitney Houston and The Cranberries, has been with Amos since 1999, both while she tours and at her homes in Cornwall, England, and West Palm Beach, Florida. As her career began to escalate more than a decade ago, having a private chef became one of Amos's essential perks. "In my early 30s, I was spinning out of control," she recalls. "I'd party with the band. But I had to get out of the fantasy. I was always trying to avoid burnout. I realized that, year after year, the freshness goes. Like so many people, I was trying to beat energy loss as I got older." Food was the answer. These days, her tour contract stipulates that Pickford gets a dressing room next to hers with a sink and power to run his portable kitchen. They often dine together. "Now, I feed my throat like a violin, like an instrument," Amos says.
For starters, Amos rarely eats eggs and avoids most dairy products because she finds they cause too much phlegm. And like so many celebs, she almost never has rice, bread, pasta or potatoes. A few years ago, Pickford began to take more of a whole foods approach; now everything is organic and freshly baked, with as few hormones as possible. Breakfast is usually a nondairy fresh fruit smoothie. Staple meals are baked, roasted or grilled fish or chicken, with an occasional filet mignon. "A lot of our vegetables are either steamed and dressed with olive oil or just tossed in olive oil," says Pickford. "Olive oil's a huge favorite. It keeps her skin healthy and her throat lubricated as well."
Amos's throat is not Pickford's only concern: The Newton, North Carolina-born singer occasionally has bouts of colitis (a disease that causes inflammation in the lining of the large intestine). Pickford gives her tea made with essential oils, a mix that includes fennel and peppermint with a little bit of honey. He travels with a James Bond-like suitcase containing about 80 bottles and also uses oils for massage and aromatherapy, catering to Amos's post performance muscle strains by rubbing on warming oils such as black pepper or eucalyptus. Before shows, Pickford applies an original potion of oils to Amos's face, her piano and around the stage, so every performance has a different scent, depending on the mood she's trying to evoke. For Amos's latest album, Scarlet's Walk, Pickford even blended unique scents for each track, so the studio smelled different every time she went in to record a song.
Pickford's ministerings have smoothed Amos's transition to her late 30s and helped give her the discipline she needs to stay on the healthy track. Yet she doesn't feel at all deprived. "I didn't sacrifice anything," she says. That includes her ice cream fix. "She's not rigid about food," Pickford observes. "She will have ice cream two or three times a week quite happily, and just look at the results: She feels great, so she can enjoy some little pleasures now and then."
After all, as Amos says, "this is not a diet - it's a lifestyle."
Fresh Dish
Tori Amos's favorite recipe
Chef Duncan Pickford shares his recipe for his client's preferred healthy dinner:
Baked Wrapped Tilapia (serves 4)
Four 4-oz fillets of fresh tilapia (or other firm-fleshed whitefish)
4 large banana leaves (or unbleached parchment paper)
For the topping:
1-inch cube fresh gingerroot, finely chopped or grated
2 cloves garlic, finely chopped or grated
2 scallions (green part only), finely chopped Fresh chile to taste (approximately two bird's eye chiles)
1 cup finely chopped cilantro
2 Tbsp grapeseed or safflower oil
Dash toasted sesame oil
Dash soy sauce
Dash fish sauce
4 tsp dark maple syrup
Salt and pepper to taste
Preheat oven to 400 degrees. Combine the topping ingredients in a bowl. Place a fillet on each of the banana leaves and divide the topping evenly among them, spreading it over the top. Fold the banana leaves over to form a packet around each fillet and seal the edge of each packet with a small piece of aluminum foil, crimping it tightly. Place on a baking sheet and bake 25 to 30 minutes.