I just added the beautiful photo that was printed next to this article to The Dent Article Archives.
More Details
Torsten was the first to tell me about a positive review of Tori's January 21, 2003 Oberhausen, Germany concert that appeared in the January 22, 2003 edition of the FAZ, or Frankfurter Allgemeine Zeitung, a German newspaper. The article is online, but you can read an English translation of it below. The online version included a beautiful live photo of Tori which I also post below. (Thanks DocSnyder.)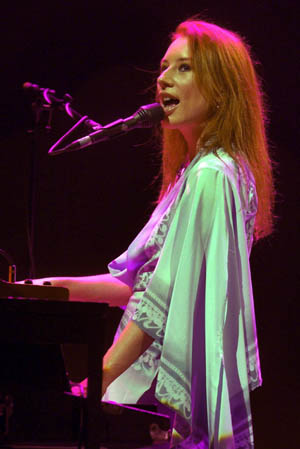 Article Text
Special thanks to Jennifer Chakrabarti and Rebecca Rose for translating the concert review from German into English:
Tori Amos
Fairy on the Piano
22. January 2003 Meek in person - so sits Tori Amos at the piano. On Tuesday evening, in front of about 2.500 onlookers in the Oberhausen Arena the pianist and singer began her German tour.
Her voice breathy, the 39 year old American only rarely sang with real force, which for Tori Amos is typical; pronounced breaths between the passages - everything known and beloved. Even during her only announcement of the night, in which she introduced her band members, she carried herself softly around the stage. Tori Amos doesn't need a lot of accompaniment: only a drummer and a bassist stand on the stage with the pianist. Enough for a full, complete sound, that merely flowed over many seats beneath the volume the drums. However, Tori Amos' voice always rested over the whole Mix. Musical evening of theater
The pieces from "Scarlet's Walk" make up the center of the show. The Album, which was released in October, is put together as a type of musical Road-Movie experiences and encounters during a trip through the United States in October 2001. Tori Amos also performed older Material from the albums "Little Earthquakes" or :Strange Little Girls". Halfway through the concert, after both musicians eventually left the stage, the Arena then heard the singer and her piano all alone -- which changed neither the voice nor the musical intensity.
"I never listen to music, I don't even have my own stereo", said Tori Amos once in an interview. In order to develop one's own style, music-lovers should be inspired by other artists, instead of listening to colleagues and totally copying them. The singer presumably also doesn't' attend any concerts. Her performance in Oberhausen was accordingly also no usual Rock concert, but rather more of a musical evening of theater. But Tori Amos' music also invites one less to celebrate than to listen.