Updated: On Wednesday, March 9, 2005, Tori performed an exclusive mini-concert for Polish Radio 3 in Warsaw, Poland. Tori performed 5 songs live, which Polish Radio 3 plans to broadcast sometime around Easter. Click for details, the set list and a link to some photos from the event!
More Details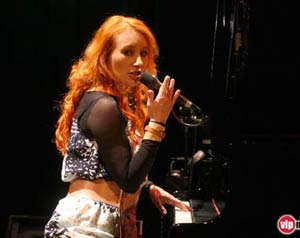 During this short performance, which lasted about 25 minutes, Tori played:

Parasol
Seaside
The Power of Orange Knickers
Sleeps With Butterflies
Mother Revolution

You can see photos from the event at the web site vipnews.pl. The photo you see on this page is a smaller version of one of them!

Here are some accounts by fans who were there:

From Polek:

Tori appeared today at Polish Radio 3 in Warsaw for a short mini concert. About 100 fans waited at radio hall where she arrived at around 5 p.m. The main event started about one hour later. Set included only five songs, and will be broadcasted during Easter. The songs were:

Parasol
Seaside
The Power of Orange Knickers
Sleeps with Butterflies
and as an encore: Mother Revolution.

Just when we get in the mood the show was over. I especially enjoyed Sleeps with Butterflies, in a different version, more intimate and quieter, great for an ending.

We've also recently celebrated five years of our polish web forum for Tori fans. It's still not much in a popularity here so I would like to ask you to include its web address somewhere in the news: http://forum.fanatorium.info
From
marcin janocha (jezyk)
:
I'm back from Tori performance at Polish Radio 3 (in Agnieszka Osiecka's Studio) in Warsaw.

Tori had played five songs:
Parasol
Seaside
The Power of Orange Knickers
Sleeps With Butterflies
and for encore: Mother Revolution!

the show was during about 25 minutes, and begins at 18 - there was an one hour delay.

but it was a very magicaly evening!
From
Karina
:

There are some pics from the event on vipnews.pl (Internet portal devoted to show business and celebities) along with this short article:

Only several people had a chance to hear Tori Amos live. The performance of the superb singer and piano player- which was closed to the public - took place yesterday in the Polish Radio Program 3`s music studio. The minishow will be broadcast on March 27th (Easter Sunday) at 9:05 PM.

The caption under the pics says: Tori Amos mesmerized the audience with her voice and body. There aren`t many performers who can play and sign in such a sexy way as she does.

Oh, and here`a a transcript of a review that appeared today in Gazeta Wyborcza, Poland`s biggest daily news: serwisy.gazeta.pl

"Tori Amos played in Warsaw better than on the album"

Tori Amos played a mini show yestarday in Polish Radio Program 3`s music studio. The American singer`s visit to Poland was a part of the European promotion of her new album, `The Beekeeper`. During her one-day long stay in Warsaw she met with some journalists and gave some interviews. She also found some time to play a mini show for a very small group of her fans, as well as the guests and journalists invited by her record company. The set consisted of only 5 songs, most of them from the new album. She started exactly the same way as on the album - with `Parasol`, probably one of the best tracks form `The Beekeper`. The audience also heard `The Power of Orange Knickers`. While on the album the song features Damien Rice on back vocals, here - in the concert studio - it sounded so much better and more appealing. And not only this one. Amos still performs with such a great passion and energy as she did on her first albums, and which she didn`t on `The Beekeper`. Polish listeners will have a chance to hear her exclusive performance in several days, as the show wasn`t a live broadcast. It is schedulled to be broadcast at Easter evening.