The February 2005 issue of MORE Magazine in the U.S. includes an interview with Tori, along with a nice photo of her and her upcoming book Piece By Piece. Click to read the article and see the photo!
More Details
Thanks to Roel Ramos for the text of the article and the photo scan you see here. I also want to thank Nichole who first told me about this article/interview. You can find this interview in the magazine in the 'more now: who, what, when, where and wow' section on pages 17-18.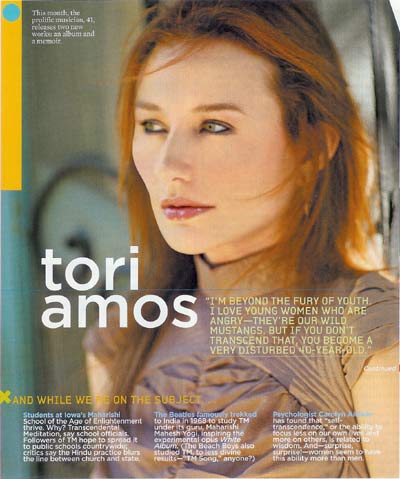 This Led Zeppelin-loving piano prodigy has seriously stretched popular music's boundaries with confessional songs on albums from 1992's Little Earthquakes to her latest, The Beekeeper. Amos and Ann Powers, who cowrote Tori Amos Piece by Piece: A Portrait of the Artist, got together recently to reflect on Amos' life as a musician, wife and mother to Natashya, four.
AP: How has being a mother changed your attitude about your work?
TA: People say I seem more chilled-out now. But I've had to be much clearer about the lines in the sand, especially on the road, when fans or someone on my crew may interrupt me. I'm not okay if people take my Mommy time away. That's something they can't give back.
AP: You turned 40 while writing this book. How did you feel about the milestone?
TA: I loved it, because those stupid, self-depreciating comments that drone on in my head don't have the relentless impact they did when I was 30. Let's face it: Nobody expects us to look that great at 40. So it's all up from here!
"Woman are at their sexiest when they are relaxed, over 35 and in love - according to my husband, anyway. Which takes the pressure off me."
AP: Your husband, Mark Hawley, is your chief recording and touring manager. Do plates fly sometimes?
TA: Of course they bloody well do. He's British. I'm American. There is no passion without broken crockery.
AP: This book shows you in several modes, from touring musician to mom to businesswoman. How do you manage to shift among these roles?
TA: Think of it as allowing yourself to step into different paintings. Life is a three-dimensional collection of endless paintings. I'm drawn to stepping into different situations and realities.
AP: You've turned to female mentors, such as your mother, to guide you. What have you learned?
TA: They've created in me a deep respect for being where I am at the moment. Anyone can attend yoga, kabbalah classes, church, lectures by the Dalai Lama, yada, yada, yada - but can you be present for your life, and live with they way you treat other people?