Andy reports that the Winter 2004 edition of the U.S. magazine People Extra includes Tori's recipe for glazed turnips. This issue features stories from celebrities about their favorite holiday memories and recipes. Click to see the recipe and the photo that was published with it.
More Details
The recipe appears on page 36. You can read the recipe below and see a scan of the photo that was published with the recipe. Thanks to Andy for sending me the photo and the recipe!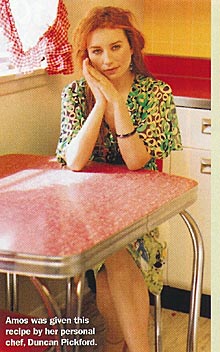 Tori Amos's Glazed Turnips

Makes 4 to 6 servings


2 lbs. young turnips, peeled, then halved, quartered or cut in finger-size sticks, depending on the size of the turnips

4 TBSP butter

Sea or Kosher salt

Freshley ground black pepper

2 TBSP honey

1/2 to 3/4 cup water

Chopped fresh basil
1. Place turnips in a large heavy pan and add butter, salt and pepper to taste, honey and water.
2. Cut a round of baking parchment to fit exactly over the turnips - or place a lid on slightly askew
3. Bring liquid to a boil over medium heat and then turn down to medium-low. Cook for about 20 minutes or until the water has reduced to a thick, shiny glaze in the bottom of the pan and the turnips are tender.
4. Place the turnips in a serving dish and spoon the glaze over them.
5. Garnish with a little fresh, chopped basil and serve.