Tori was briefly featured on an entertainment news segment that airs on The WB TV Network in the U.S. called The Daily Mixx. Read a transcript of the segment and see a screen shot.
More Details
Thanks to Michele for sending me the transcript and the scan you see below. In addition to the interview clip, they also showed clips from her music vids, as well as TOAL DVD footage.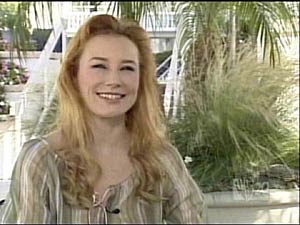 Transcript
Chris Labrum: She's been nominated for 8 Grammies, and she ushered in a whole new generation of confessional, sexually charged female musical artists. Hi, this is the WB20 Daily Mixx. But Tori Amos hasn't released a greatest hits collection until now.
Chris: If Tori Amos had her way, female librarians would wear stiletto heels.
Tori: Feeling books, smelling them, touching them, and wearing a cute shoe. I mean it's just so exciting to me.
Chris: The envelope pushing singer/songwriter continues her literary obsession with her first ever compilation, Tales of a Librarian, featuring songs organized by the dewey decimal system.
Tori: We had a real librarian who was on the project, being a voice. [laughs] "Hey, no, don't do it this way."
Chris: Marriage, miscariage, spirituality, and sexuality. At 40, Amos has questioned and chronicled them all, in the musical auto-biography that is Tales of a Librarian.
Chris: Tales of a Librarian is in stores now. We're all out of time, have a good night.