Tori has been seen on a TV show on VH1 in the U.K. called the Top 100 Dancefloor Fillers. I think it has been shown many times since late 2003, with one time being specifically on December 31, 2003. I have some photos of Tori from the program and a transcript of the interesting things she said on the show!
More Details
Thanks to Lucy for sending me the transcript you see below and the photos. Tori was shown several times on the program making the comments you see below: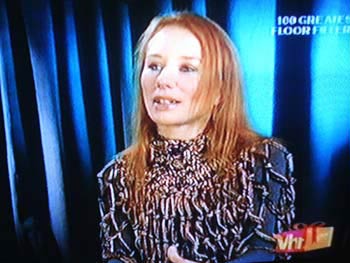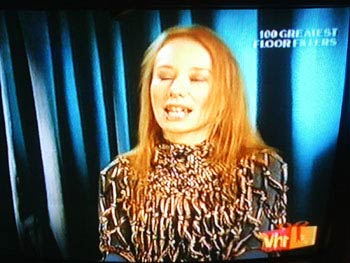 Intro section- about dancing
"I have no illusions about the fact that I really can't dance".
Number 30 - Soft Cell - Tainted Love
"It's a heartbreaker too and a little bitchy and it has all these elments in it, so it's a win".
Number 11 - Bee Gees - Tragedy
"When you think of the Bee Gees..dancing is there, disco is there...they started a whole movement".
Number 8 - Michael Jackson - Billie Jean
"It was a marraige, it was this collaboration where one plus one equals one".
Number 3 - Gloria Gaynor - I Will Survive "I remember playing these piano bars and of course everybody would stand around and have to take the mike and sing" [clip of first few lines of song].