Montgomery College is a community college system in Montgomery County, MD, with a campus in Rockville, MD, where Tori Amos took some classes in the past. The Fall 2003 edition of their Alumni mailing "Insights" has Tori on the cover and includes a feature article on her. The Dent now has the text of this article and a scan of the cover.
More Details
There are a couple more photos printed with the article, all from the Scarlet's Walk era. Thanks to Ilya Khazanov for sending me the article and to Richard Handal for further assistance and the scan of the cover you see below. The cover has says "Tori Amos '83", although there is no evidence that Tori was a graduate of Montgomery College.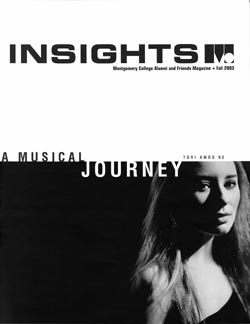 Tori Amos: A Musical Journey
By Richard Richina

Rock vocalist and pianist Tori Amos loves allegory, but not exclamatory punctuation. "I have one request, please, don't use any exclamation points," Amos pleads without further explanation at a recent interview, where she talks about her life, her music, and her experience as a student at Montgomery College.

Figuring out the significance of the musical and lyrical metaphors fashioned by this petite 40-year-old with high cheek bones, a creamy complexion, and straight flaming hair has been a fascination of fans since she broke into the popular music scene more than a decade ago.

As an artist, Amos is a conjurer and medicine woman. She has created a percussive, ethereal sound that is both critically and popularly acclaimed. In an industry that often sacrifices integrity for a bottom line, she adheres firmly to her own artistic vision. "[This industry] is not for the faint of heart," she quips, noting that talent is not sufficient to ensure survival. "There is another skill you have to have--you have to be able to play a mean game of chicken."

In conversation, Amos, who is married and has a two-year old daughter, Natashya Lorien, is without affectation, despite her celebrity status. When she is not touring, the family spends time in Cornwall, England, where she and her sound-engineer husband Mark Hawley have produced several of her albums, including, Scarlet's Walk, in an old barn converted into a recording studio.

Amos describes herself as a "...librarian who plays the piano with a shoe, mixed in with an octopus somewhere in there," a reference to her performance style, which frequently involves straddling the piano bench, playing two pianos at once, and pounding on the keys. The "librarian" allegory she explains: "I am fascinated by the art of chronicling things. I think I try to chronicle the world as I see it, and how it has affected me personally, but with a song." Her latest album, Tales of a Librarian, was released November 18. The album that she describes as her musical autobiography features 20 songs that span her musical career of more than a decade.

Listening to her music or watching her perform, one cannot walk away without the sense that she is using ritual and music to conjure and exercise some mystical power. At a recent performance at Merriweather Post Pavilion, legions of adoring fans spontaneously jumped to their feet, rhythmically rocking and rolling to the music as if experiencing a kind of spiritual awakening. Unlike chaotic frenzy, this experience seemed to stem from a higher order.

Amos' formal musical journey began at Baltimore's Peabody Conservatory, where she was enrolled in the preparatory program at age five. At 11, she started playing piano bars in Washington, D.C., accompanied by her Methodist minister father as chaperon. During her senior year at Richard Montgomery High School in Rockville, Amos attended advanced music classes at Montgomery College.

"There was, I think, adjustment to my style, which was not traditional," she says of her experience at the College. Among the professors she recalls were her piano teacher Don Miller and composition teacher Dr. James Badolato.

"She was always bursting with ideas," recalls Badolato, when asked about his former student. While Amos would not always turn in her assignments on time because of gigs as a lounge singer, Badolato says that she was talented and clearly knew what she wanted to get out of her experience at the College.

"What I was really hungry to learn was how to be a composer," Amos explains. "I think that what Dr. Badolato taught me was there were ways of composing on the spot, if you had to."

Amos credits her training at Peabody and the classes she took at Montgomery College with giving her a solid foundation of technical skills in music and voice. "Both experiences have shaped me," she says. "These are my two, my only, scholastic experiences. And though they were extreme in a way, they both were central."

Amos' musical development has also been strongly influenced by Native American traditions and by her mother's grandparents, who were members of an Eastern Cherokee tribe. Scarlet's Walk is a testament to those traditions, particularly a belief in respecting the land and giving back, rather than just being a "taker."

She herself sought help from Native American healers after an emotionally wounding rape she suffered while living in Los Angeles, where she was struggling to develop her own musical voice during the 1980s.

After taking several detours in her musical journey, including a stint as lead singer of a soft metal band, Amos returned to the sources of her creativity in late 1980s: her life's experiences and the piano.

It was then she began shaping the sound and style that produced her first solo album, Little Earthquakes, which was released in 1992 and immediately catapulted her into the realm of celebrity. Since then, Amos has sold nearly 12 million records worldwide, been nominated for several Grammys, and has created a body of work that, some critics argue, has rescued the female singer/song writer genre from oblivion.

According to Amos, she knew from early childhood that music and the piano, specifically, were going to shape her destiny. However, she claims, clearly with tongue in cheek, that always knowing has created a burning curiosity about the other paths not taken. "What if I wanted to be a spy? That would be so exciting," she jokes, noting she never would make such a whimsical decision. And her fans are happy she has been true to her calling.