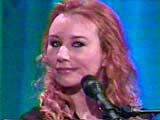 Update: I just added several photos of Tori taken by Dyanne Cano outside the gates of NBC studios in Burbank, CA right after the taping of Leno on December 1, 2003. Take a look!

On Monday night, December 1, 2003, Tori was a guest on The Tonight Show With Jay Leno on NBC TV in the U.S. Tori performed Winter solo at the piano. She was on at the very end of the program and there was no chance for her to talk with Jay. I really enjoyed her performance! You can now see screen shots from this TV appearance and some Toriphile reports.

More Details
Screen Shots
My TV reception was not perfect at the time I taped this, so the screen shots are not perfect...
Below are some photos taken by Dyanne Cano outside the gates of NBC studios in Burbank, CA right after the taping of Leno!
Commentary
From sarah newman:
Well of course she looked absolutely beautiful, wearing this black mesh kind of top with this netted looking skirt that flowed and with a courset looking top that tied around her neck along with her ever so famous high heels. She played Winter did a fabulous job I was upset they cut it so short, they did that on regis too i guess they need the airtime or something. oh well. No interview. Jay just said "say hi to natashya for me" and that was about all. Hopefully her next appearances won't be so short lived. All in All it was a delight to see her.
From Lily:
When Tori was on Jay Leno, I was very surprised to find that Jay did not have an interview or a talk with her. He promoted her CD, Tales of a Librarian, and then it went right into "Winter." She played it beautifully. Sometimes, the camera would go in for a close up, and she knew when they were, because she would smile, or do that little thing with her eyes, where she's looking right at you. It was a very good performance. The only downside I saw to it was that she didn't do an interview.
From Hoteldracula:
First time meet and greeter here...I almost puked. The Tonight show with Jay Leno: Tori shook my hand and gave me a hug and posed for a picture. She looked very Beautiful and was the nicest and sweetest to everyone there. I was bummed that I missed the show because of work and that my girl Mandy couldn't be there(the reason I love Tori in the first place), but pretty much died when I finally got to meet her tonight. I couldn't even talk when she asked my name. This was the coolest night ever, even if it only lasted 5 minutes. Thank You Tori.
From Kristy:
I watched Tori's appearance of the Tonight Show with Jay Leno last night and I thought she did a fabulous job! She played Winter and essentially got to play the entire song which was really nice. Tori looked very comfortable in front on the camera and was very charming! She gave a lot of cute looks to the camera and moved around on the piano bench a lot as well. Tori also looked fabulous, her skin is so beautiful! There was no interview at the end, but there never is with musical guests anyway. Jay did lean over and say "say hi to Natashya" which was sweet. Anyway, I really enjoyed this tv appearance and Tori's performance was just gorgeous!
From Chad Dexter:
I have this video I got at a CD show a long time ago with all these TV interviews/performances from the early part of Tori's solo career.... anyhow, it includes a '92 'Tonight Show' appearance where Tori performs Winter, in front of an atmospheric backdrop of twilight-hued lighting, and bare trees which seemed to have a glittery frost on them.  Monday night, I *immediately* recognized that very same set up, the trees, lighting, etc. (not to mention the same song selection, duh :)   They did it virtually the same way twice.  I thought it was cool!
From Brian K Tanaka:
The sun was just coming up as I got on the 101 heading for Burbank. I found an all day parking place on Bob Hope Drive and, bundled up against the cold, I made my way around the building to the ticket window.
There were about thirty people ahead of me in line. The first few had been there at 1:00 AM, and since I was waltzing in after something approximating a full night's sleep plus breakfast and a shower I was psychologically prepared to not get a ticket should that misfortune come to pass. Luck was on my side though. At 8:00, when they opened the box office, I got a ticket and all was well.
I walked back around the building, got in line at the front entrance, plunked myself down on the cement planter everyone uses as a bench, and waited the seven hours or so in the cold until the Leno staff began ushering people in.
I won't go into detail about Tori's performance of Winter because it was, of course, broadcast on television and you've all no doubt seen it and have drawn your own conclusions. I will say though that it was, as always, a pleasure to see her play even if for so short and rushed a performance.
Afterward, there was an impromptu meet & greet and Tori talked briefly with everyone. It was nice.
The young girl who had been my neighbor in line all day got to meet Tori for the very first time and Tori signed her TOAL booklet. Judging by the look on her face, it was a magical experience.