A compilation album called Oh! From the Girls from Nettwerk America will be released on January 13, 2004. This album is a 15 track compilation featuring some unreleased live tracks including Tori's Cornflake Girl. The album also includes music from Macy Gray, Sarah McLachlan, Avril Lavigne and Dido. A portion of proceeds from the album will go to benefit Oxygen Media's "Oh! Get the Money" program, which helps provide women with funding and equipment to start their own businesses. The live tracks from Gray and Tori were recorded during their respective Oxygen Custom Concert specials. You can order this album now from Amazon.com. More information about this album and sound clips can be found at ohfromthegirls.com. There is also a special page about this album at oxygen.com which includes some video footage of Tori from her Oxygen custom concert interview. (Thanks Tori Mazur and Courtney (julietsleeps).)
More Details
Rollingstone.com first posted about this compilation album in their News & Features section back on October 24, 2003. Information about this compilation has also appeared at Billboard.com and MTV.com.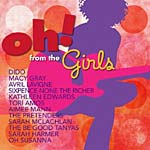 Here is the track listing for Oh! From the Girls as well as the cover art:

Dido, "Thank You"
Macy Gray, "Come Together"
Stacie Orrico, "Stuck"
Sixpence None the Richer, "Don't Dream It's Over"
Avril Lavigne, "I'm With You"
Kathleen Edwards, "Six O'Clock News"
Tori Amos, "Cornflake Girl" (Live)
Aimee Mann, "Calling It Quits"
The Pretenders, "I'll Stand by You"
Sarah McLachlan, "Angel"
The Be Good Tanyas, "It's Not Happening"
Sarah Harmer, "Basement Apt"
Erin McKeown, "Slung-Lo"
Oh Susanna, "Right By Your Side"
Martina Sorbara, "Withered on the Vine"