A review of Tori's August 10th Chicago, IL concert at the Auditorium Theatre appeared in the August 12, 2003 edition of the Chicago Sun-Times.
More Details
Thanks to Melissa King for letting me know about this press review. You can read it online at suntimes.com or below. Thanks also to shawn.the.little.masochist for sending me a scan of the photo they published with the review.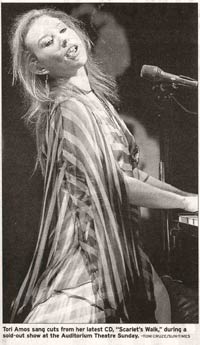 Amos, Folds key 'Lottapianos' tour stop

BY BOBBY REED

Sunday night at the Auditorium Theatre, fans were treated to nearly three and a half hours of rock 'n' roll. Headliner Tori Amos and her opening act, Ben Folds, played a total of 38 songs. Not a single one of them included that most basic of rock tools: the six-string electric guitar.

Amos and Folds are on the road in a package dubbed "the Lottapianos Tour." At Sunday's sold-out show, these two artists' stage personas were as different as the colors black and white on a piano keyboard.

In a long, cohesive set, Amos' singing was spiked with art-rock wailing, and her lyrics were peppered with religious imagery. She unleashed a furious version of her 1994 hit song that expresses disappointment with the title character, "God."

Backed by bassist Jon Evans and drummer Matt Chamberlain, the enigmatic songwriter also delivered scorching versions of "Past the Mission" and "Father Lucifer," as well as a creative, propulsive arrangement of "Crucify."

Amos engaged in almost no stage patter. She briefly praised the bravery of those willing to sit in the venue's highest balcony, and during an anecdote about her young daughter, Amos played a snippet of "My Kind of Town."

When Amos was a child studying piano at Baltimore's Peabody Conservatory, she undoubtedly took delight in playing her own renditions of other artists' compositions. At age 39, she still delights in this.

During a three-song segment, Amos performed without accompaniment from Evans and Chamberlain. The most effective of these tunes was a mesmerizing version of Don McLean's "Vincent." Amos slowed the tempo (compared to the original version) and sang slightly behind the beat to enhance the emotional thrust of the narrative. The venue's pristine acoustics helped make this a truly transcendent moment.

Amos even got a little funky at one point, dropping in several bars of Carole King's "I Feel the Earth Move" at the end of "Take to the Sky."

While Amos' theatricality and vocals owe much to the British art-rocker Kate Bush, it would be unfair to label her as a merely derivative artist. At her best, Amos presented a unique trio sound that had the undeniable power to engulf and seduce the listener, particularly on the six songs she offered from her latest album, "Scarlet's Walk."

Much of the evening's material sounded similar, however, and tunes like "Bliss" and "Hotel" devolved into just a sonic din with many indecipherable lyrics.

Folds, who performed solo for an hour, undertook a mission to convert some of Amos' fans. He succeeded on the strength of his energetic piano-pounding, self-deprecating humor, audience-participation orchestration and wildly appealing showmanship.

At the conclusion of "Steven's Last Night in Town," roadies assembled a drum kit piece-by-piece as Folds simultaneously played a blistering drum solo. After it was over, Folds quipped, "Something a little different."

Bobby Reed is a local free-lance writer.