Tonight's show included Doughtnut Song (with band), Honey, Don't Make Me Come To Vegas and Not The Red Baron (solo). If you were at the Sioux City, IA show, please email me with your reviews and/or set list or post your review or comments in the Dent's Concert Reviews forum. (You can post under any name without registering, so it is quick!)
More Details
Tori performed in Sioux City, IA on Saturday, March 29, 2003 at the Orpheum Theatre. The opening act was Rhett Miller.


Set List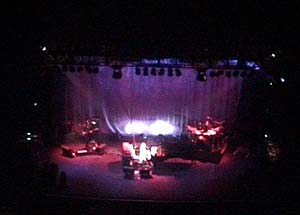 Many thanks to
Matt Page
and
Sarah Parker
who phoned me with the set list after the show. You can also see to the right a web cam shot of the show that I managed to get from the
Sioux City Orpheum Theater Webcam
.
Wampum Prayer
a sorta fairytale
Little Earthquakes
Pancake
Cornflake Girl
Honey
Sweet Sangria
Caught A Lite Sneeze
Wednesday
Band Leaves
Not The Red Baron
Somewhere Over The Rainbow
Cooling
Band returns
Mrs. Jesus
God
Girl
Don't Make Me Come To Vegas
Precious Things
I Can't See New York
Iieee
1st Encore
Talula
Doughnut Song
2nd Encore
Space Dog
Horses
Reviews
The latest reviews are at the bottom of this page. For more reviews, please check out the
Dent's Tour Reviews Forum
. Please post your own review if you were at this show!
From
Matt Page
and
Sarah Parker
:
Matt and Sarah said it was a good show, and once again Tori's voice sounded really excellent. The theatre was really beautiful as well. Tori told the audience a little story about how she got lost in the skywalk that they have in that city and that she pretended she was Princess Leia in her Skywalk, or something like that. Tori also made a mistake while performing Space Dog and left out a significant portion of the song.
From
Will
:
Just thought I'd send along a quickSioux City show review. Tonight's show was very strange!
Rhett and Tori's performances sounded off tonight -- just did not leave a good vibe. This was Tori's first concert in Sioux City (Rhett stated that it was his first time being there also).
Rhett's Performance: Rhett performed songs from his solo record, and songs from his band 'Old 97's'. He seemed 'woozy' during the performance; his voice held strong but broke during the high parts. The energy level was lower than previous shows, but the audience was still receptive.
Tori's Performance: Tori seemed to have been distracted tonight. This was really noticeable after 'Cornflake Girl'. Her voice was strong -- but it really looked like she would have loved to have been elsewhere. Tired? perhaps.
The show started off with high energy, opened with 'Wampum Prayer', went into 'a sorta fairytale' per usual. Next came a nice performance of 'Little Earthquakes and a powerful 'Pancake'.
Tori then told the story of how she was walking along the 'Sioux City Skywalks' that day, and gotten lost (the Skywalks connect the Downtown buildings to one another in town -- it can be a maze at times.). She stated that she was alone when she had gotten lost and that she felt just like "Princess Leia" from Star Wars. Tori then introduced John & Matt.
'Cornflake Girl' was next -- nice to hear it again. 'Honey' and 'Sweet Sangria' followed, but brought the mood down a little (lights were still amazing). The energy was brought up again with 'Caught A Lite Sneeze', but tapered off again with a flat performance of Wednesday.
Roadside Caf began: No 'Little Sign' improv, Tori went right in with 'Not The Red Baron', followed by 'Somewhere Over The Rainbow', and then a very rushed 'Cooling'. 'Mrs. Jesus followed without the 'So You Know' improv. Roadside Caf ends.
'God', 'Girl', 'Don't Make Me Come To Vegas' followed, but just did not seem to fit the flow of the show from this point. Tori picked things up again with 'Precious Things' and a good performance of 'I Can't See New York'. 'iieee' began with slight problems during the first vocals. Tori also made a mistake during the first chorus of the song.
The first encore featured was 'Talula' & 'Doughnut Song'. 'Talula' rocked; Tori added the following: "what you want is in the blood George, what you want is in the blood George, what you want is in the blood senators". Then the mood was once again brought down with 'Doughnut Song' (w/ band).
The second encore was very rushed and featured 'Space Dog' and 'Horses'. Unlike previous shows, Tori jumped right in with 'Space Dog'. The song went fine until 'deck the halls', when Tori began 'so sure we were on something' again. She finished the song and ended the night with a recovery performance of 'Horses'.
Tonight, it was like the show didn't know the impact it wanted to leave. The mood would jump from serious to fun to sad to fun to sad to serious to sad. Usually, Tori's shows do keep an even keel. From all the Tori shows I have seen, this one is by far the weakest on the list.
From
Heather A.
:
I have seen Tori in Kansas City and back in November in Minneapolis, and those shows were just simply awesome. I would have to say that Tori didn't seem connected to the audience in some way. I thought some of her songs, like LE, Conflake Girl and Precious Things had a connection. But something was lost between us for most of the other songs. I also got the official set list and Tori followed it almost to the t, but she substituted Horses for Hey Jupiter on the 2nd encore. I think maybe she was tired, and the M&G was cancelled, it was somewhat chilly and windy out. So, I wonder if maybe that allows for a certain lack of connection with fans at a show.
Even though it seemed off, I always love seeing Tori live. No matter what she does, I would have to say as long as she is performing, I am happy! :)
From
Stacia
:
Let me start off by saying Tori played like it was old school! It has been quite a while since she stepped into the state of Iowa for a gig and watching her that night was like regressing to 1994 at the Paramount in Cedar Rapids. She played so many amazing old songs that if felt like a time warp. I know some believe it was an off show, but let's not forget we were in Iowa...in a small ghost town with religious freaks everywhere, hence Precious Things and God. How appropriate that she oozed with sexuality and simulated sex in an unusually older audience (many 50+) thinking this was going be their big night out in a long time! I think she put it on and out there and I loved every second of it. So she didn't debut any songs....I didn't care! Her voice was extraordinary, her hands were fast, her smiles were vibrant, and the audience was respectful (perhaps one of the most important ingredients for a good show).
If I had to pick a highlight of the night it was probably watching her sing/play Cooling and being able to put elbows to the stage for a candidly close watch at her play Spacedog!
I have the set list and the only difference was that the final song was suppose to be Hey Jupiter, rather than Horses.
I just thought that a different perspective would be appreciated.