Sorry for my delay in posting the Tulsa set list. We stayed in a Super 8 motel outside of Tulsa and for some reason I was unable to connect my laptop to the Internet there. I am now home in Louisville!

Tori debuted Yes, Anastasia and Let It Be tonight (both solo). She also did Strange Little Girl, Honey, TomBigBee, Here. In My Head (solo), Riot Poof, Scarlet's Walk and Spark. If you were at the Tulsa show, please email me with your reviews and/or set list or post your review or comments in the Dent's Concert Reviews forum. (You can post under any name without registering, so it is quick!)
More Details
Tori performed in Tulsa, OK on Sunday, March 23, 2003 at the Brady Theatre. The opening act was Rhett Miller.


Set List
I,
Mikewhy
attended this show and was able to write down the set list.
Wampum Prayer
a sorta fairytale
Little Earthquakes
Strange Little Girl
Cornflake Girl
Honey
TomBigBee
Black-Dove (January)
Wednesday
Band Leaves
Here. In My Head
Let It Be
Yes, Anastasia
Band returns
Bells For Her
Riot Poof
Scarlet's Walk
Take To The Sky
Bliss
I Can't See New York
Iieee
1st Encore
Taxi Ride
Spark
2nd Encore
In The Springtime Of His Voodoo
Tear In Your Hand
Reviews
The latest reviews are at the bottom of this page. For more reviews, please check out the
Dent's Tour Reviews Forum
. Please post your own review if you were at this show!
From
Mikewhy
: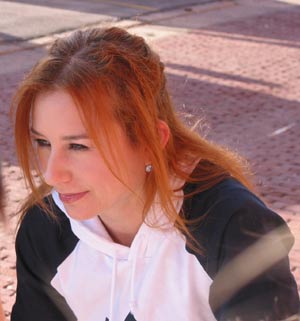 This was a surprising and superb show. There were some people in Tulsa tonight who have seen many shows and who thought that Tulsa was the best Tori show ever. While I am not prepared to go that far, it was definitely one of my top 3 shows this tour.
I attended the meet and greet and was able to both say goodbye to Tori (since this was my last show on the current leg of her tour) and get the photo you can see to the right.
Tori first spoke to the crowd after Strange Little Girl. She thanked Tulsa for the welcome they gave her and then introduced the band. Then after Wednesday Tori told us a long story. The sad thing about it was the fact that she was interrupted several times by people shrieking how much they loved Tori. At first Tori kissed into the microphone and said 'Love you back." But after being interrupted several times, it was obvious that she was annoyed that people would not let her tell her story at first. This is perhaps the reason that she does not tell these kinds of long stories anymore. Some people in the crowd simply will not shut up and let her talk.
Once she did tell the story, it was so cute. She said that they came from Kansas City and had been travelling all day. "My two and half year old thinks she's the mommy." When Tash heard they were traveling through Kansas, she asked Tori, "Where's Toto? Where's the tin man? " Tori replied, "They're not here." Tash then said, "You lied." Then when they arrived in Oklahoma, Tash asked Tori in her British accent, "What's this called mummy?" Tori told her "Oklahoma". Tash decided to call the place "Okie-Dokie Smokie" instead. There was more to it than that, but that is all Amanda and I was able to write down. It was an adorable story.
The solo songs during the Roadside Cafe were nothing short of spectacular! She started with "Here. In My Head", a gorgeous song that always sets such an incredible mood. She then touched everyone in the audience with a really moving version of "Let It Be", which was a debut cover for the Scarlet's Walk tour. This caused some people to sob and many to get out their lighters and hold them up lit in the audience. At the end of "Let It Be", Tori blew a kiss to the audience. She then performed another debut for the Scarlet's Walk tour, "Yes, Anastasia". This was honestly one of the strongest "secret times" I have seen Tori do.
Riot Poof was powerful and driving, and Scarlet's Walk simply breathtaking. She then did her new and incredible version of Take To The Sky with the now standard "I feel the earth move under my feet" ending.
This seemed to be a rather serious show. Tori rarely smiled like she has at previous shows this week (although she did smile more as the show progressed.) She did not seem to do as many hand motions as well. But there was a lot of passion and fire (some of her stares out into the audience were intense), and it seemed to increase as the show went on. Some people found this show to be the best. Based on the set list, I would say that is certainly valid. But I felt that Indianapolis was more emotional and filled with a little more energy. But Tulsa was likely my second or maybe third favorite concert of this leg of the tour.
There was an interesting moment during the first encore. Between songs Tori ran to the front of the stage and talked with a guy near the front. We later found out that this person was looking like he was going to faint or something and Tori went to ask if he was alright. Another interesting thing was the fact that the audience in the front seemed very hesitant to remain standing during the encores. In fact, during the first encore they sat down and that caused everyone else to sit during the first encore. Some people had already filled the aisles, and they actually sat or kneeled as well during the entire second encore. It was rather odd since people normally sit during the main set but stand during the encores. People did stand during the entire second encore.
Tori followed her written set list very closely. She was supposed to perform Putting The Damage On at the end, but did Tear In Your Hand instead.
It was a touching and amazing show with an excellent set list. It was also a very nice way for Amanda and I to end this leg of Tori's tour. We saw 7 shows in a row, and they were all incredibly wonderful. The set lists were all varied and Tori's performances well above average. It was a good run of shows for us. We are extremely sad to be leaving the tour, and we will miss the many people we see from city to city. Thanks to all the people who came up to us and said hello. It was an amazing week. I will miss the tour and Tori's live performances very much.
From
Jonathan Lee
:
She also told a story after the guys left and before she did Here In My Head. I'll do my best to explain it, but I may not be remembering it exactly, and I missed a crucial couple of words (grrr) at one point. There were the obligatory "I Love You"'s and the kisses from Tori, and at one point she said, "I don't tell many stories anymore and I'm trying to tell my April Fool's story." So she started talking about how they were in Kansas City the other night and Tash and Tash wanted to know,
"where's Toto?"
"well, he's not here"
"where's Dorothy?"
"not here either"
"where's Tin Man?"
"this is Kansas City, *Missouri*"
"you lied!"
So then they are driving in the bus down the highway and Tash wants to know what this place is called. Tori says, O-kla-ho-ma. Then Tash said she didn't want to call it that (Tori mentioned here that Tash speaks in a British accent). Tash decided that she would call it "Okie Dokie Smokie," so henceforth Oklahoma will be known as OkieDokieSmokie. That's the best of my recollection :)
I think the highlight of the show for me was Take To The Sky segued with the Carole King cover. I'm not sure if you've heard it, but she's reworked it so that it has more of a bounce rather than the usual pulse. Awesome!!
From
Jeannette Oravec
:
All in all it was a good concert. I could tell she was a little tired, but she still gave us everything she could - which is just downright amazing and it provided a good show. She danced a little, made faces at the crowd, she even hung off her piano with her feet up in the air! So cute! *:)* I loved how she went from Take to the Sky to I Feel the Earth Move and back again seemlessly. The band was great they looked like they were having a great time jamming - although I thought they were a little overpowering.
The set list was the most *rocking* concert I have ever been to, very energizing. There were a few surprises like Strange Little Girl and Tombigbee (which is actually the first time I was able to hear it in its entirety). She played a song from every album - another surprise, but she played several from the Under the Pink era - yet another surprise. I loved the set list, at the beginning of the show I was in the mood to listen to quieter songs, but she just kept the *groove on* and soon I was right there with her. I loved her hip swaying and the story about Tash.
Anyone know what was going on with the guy up front? At the beginning of Take to The Sky (?) she walked over to a member of the audience and said something and of course Joel rushed right over. Then during the song she waved her hand as if to tell him to stop or brush him off. Any ideas?
I would have liked to have heard Gold Dust after Spark - I thought that would have been cool, but oh well. I did leave satisfied, with a huge grin on my face, my husband at my side, a beauitfully done program and another great t-shirt :)
From
erin e anderson
:
well, i was at the tulsa show-amazing! i just thought i would email you with a sort-of review (though i think you had most of that covered!)
What happened with the clock story was....Tash had asked if they had a BIG BEN- you know, the big tower clock in London?- in Oklahoma...and this is when Tori said, "No, but they have CLOCKS."
Believe me, I thought she said cocks, too, and when everyone burst out laughing, I didn't want to think that was the reason why! :p
FYI, I went to the meet and greet, but I was by myself, and I was too shy to try to find you to say hello! I was #76 (though that system didn't work very well) and unfortunately, I didn't get to meet Tori :( But, I did get my CD to her (I gave it to Joel) and he said he would give it to her.
Anyways, all in all a great show. Too bad the audience might have been a bit unruly. My favorites were "Little Earthquakes" and "Yes, Anastasia"- oh so beautiful!!!! And Voodoo! Ahhhh! a treat! Tori, you brought tears to my eyes once again.
From
Ashley Franks
:
What an amazing show! Seeing her in Tulsa was only my third time to see her and I was absolutely blown away. Seeing Tori makes me want to bring more beauty in to my life and others' as well. I took my boyfriend along and he too was amazed by the show. This was his first time to see her and I have a feeling it won't be his last!
From
Catherine (CruelSkye)
:
Okay, I am going to try and make this short ans sweet. In the beginning of the tour, I was afraid Tori was not going to come out to the mid-west because those dates werent announced untill the mid leg of the european tour. Attending this show was very special for me, I had 5th row seats (thats as close as I have ever been before.) This was my only my 4th Tori show, but it was amazing. Some of the highlights for me included:
Little Earthquakes (ahhhhhh......intense. I dont really even have words for it. only a Tori fan would know how I feel.)
Cornflake Girl (surprisingly ive never heard this before on tour, but now that I have, I can die a very happy woman!)
Honey (I was bawling during this song. Honey is one of not only my favorite Tori songs, but one of my favorite songs period, and it has been that way since I was a pre-teen. It sounded so smooth and beautiful.)
TomBigBee (at first I had no Idea what this song was, but then I realized it was the song I TRIED to download but i only got half of it done since Kazaa sucks. She was really into it. Rockin.)
Here in my head (Im sure I do not really need to comment about how great it was to hear this song.-I think everyone understands.)
Let it be (hell yeah! I was so excited to hear this! It was beautiful and intense. Classic concert moment for me.)
Yes Annastasia (I never even knew she played this song live! It was great to already hear 3 songs off of Pink.)
Bells For her (woo hoo, 4 songs off of pink. I like the live version better than the album version. It sounds so spooky and erie this way.)
Take to the Sky (Ive never rocked out so hard to a Tori song before!)
IIeee (This one was special to me because not only is it one of my fav.s off of Choirgirl, she has also played it at all four of the shows I have attended. This is the only song that has been played all four times.)
Tear in your Hand (Good song to end with. This is my fav. off of LE. and it sounded awesome. The energy was great.)
In conclusion, I had a great time, I Had a beautiful view of Tori. She looked wonderful in her little outfit that I cant even describe because it was so complicated looking. She made some great facial expressions. I think I might have enjoyed this show the most because it is one of the most intimate venues that I have been too. Well I am going to end this now. I cant wait for the next tour.
From
Randi
:
Me, my husband and best friend were front row. I thought the concert was amazing and Let It Be made me weep openly. It did anger me that some Tori fans were shouting during her stories, tho. I wanted to tell them to shut the hell up but I try and be kind. Also, you mentioned that we were hesitant to remain standing during encores. My husband is 6'4'' and he thought it was rude of him to potentially block people's view so he graciously sat down and this for some reason prompted others to sit down. Being so huge, it is common that people follow his lead. Looking like sore thumbs, Craig and I sat too.
The guy she ran up to-DRUNK!! Yeah he was all mumbly with his woman and when he began to topple Tori tried to help then smelled his foul breath and was like 'Oh, OK you're fine.' †
From
Luckyfreakin13
:
i was at both the Kansas City and Tulsa shows. †I had balcany seats at KC, but the set list was one of my favorites. †Caught a Lite Sneeze and Doughnut Song both. †Also, the cover of Daniel was better than I have heard previously. †Well, she looked great too. †I †think she was feeling a little on the sexy side, a lot of leg showing, but it was great.
Read a review of this show from the newspaper Tulsa World