I made a mistake when I posted the Kansas City set list. (You get REALLY tired on the road.) I forgot to list God after Your Cloud. I have made the correction and wanted to let you know about it.

Tori's set included Daniel (solo), Doughtnut Song (with the band!), Mary, Glory Of The 80s and 1000 Oceans. If you were at the Kansas City show, please email me with your reviews and/or set list or post your review or comments in the Dent's Concert Reviews forum. (You can post under any name without registering, so it is quick!)
More Details
Tori performed in Kansas City, MO on Saturday, March 22, 2003 at the Midland Theater. The opening act was Rhett Miller.


Set List
I,
Mikewhy
attended this show and was able to write down the set list.
Wampum Prayer
a sorta fairytale
Sugar
Sweet Sangria
Caught A Lite Sneeze
Your Cloud
God
Father Lucifer
Wednesday
Band Leaves
Baker Baker
Daniel
China
Band returns
Doughnut Song
Amber Waves
Cornflake Girl
Mary
Precious Things
I Can't See New York
Iieee
1st Encore
Taxi Ride
Glory Of The 80's
2nd Encore
Spring Haze
1000 Oceans
Reviews
The latest reviews are at the bottom of this page. For more reviews, please check out the
Dent's Tour Reviews Forum
. Please post your own review if you were at this show!
From
Mikewhy
: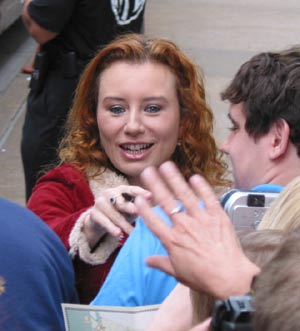 This was an excellent show with the highlights for me being Doughnut Song with the band, and Glory Of The 80s. Earlier that day, I took photos at the meet and greet. You can see one of them to the right.
After Sweet Sangria, Tori spoke to us. She thanked Kansas City, saying that on her day off she took her little girl on a go cart for the first time. Tori said that Tash was upset when Tori could not give her Dorothy and Toto from the wizard of oz. She then said something the effect that the crew was willing to help by dressing up as Dorothy.
Tori used the line, "How's your sweet Jesus" during Father Lucifer.
At the start of the solo Roadside Cafe songs, Tori did her "I have a little sign" improv. It included the lyrics, "I sing some songs that come along.... some go back a few years... Those songs, they're still close to my heart. The names they change... but these girls, they're never far."
Someone's cell phone went off during Baker Baker. That prompted Tori to add some lyrics to Baker Baker which cleverly fit right in the song, They included the lyrics, "phone is ringing, who's on the line. Now I must get back to the second verse." Later in the song Tori whispered, "I love this line" in the area of the song with the lyrics "He says that beihnd my eyes I'm hiding".
Doughnut Song is my favorite song from Boys For Pele, and this was the first time on the Scarlet's Walk tour that Tori played this song with the band. It sounded really amazing. I was also happy to hear Glory Of The 80s. Tori had the lyrics with her for that song at her piano. Tori was smiling a lot during Glory Of The 80s.
The final song was 1000 Oceans. Tori played part of it on the Bosey and part on the Rhodes. I always thought this was a great closer.
Only one thing would have made this good show even better. Tori had Gold Dust listed on the written set list, but she replaced it with China during the show. That song seems to mean a lot to Tori, and it takes a lot for her to be able to perform it.
This was another solid show, and the set lists continue to vary significantly. We are now off to our final show on this leg, Tulsa.
From
screamincathedrals
(Posted to the Precious Things mailing list):
Ok, this is my first of four concerts, and I have to say Saturday night was one of the most amazing experiences in my life. I haven't really slept since then, so I don't know how articulate I'll be, but I'll try to cut to the main points...
1. The lights were awesome, course we were on the side by the front, and didn't have to deal with them in our eyes
2. The sound was incredible
3. The theatre was incredibly gorgeous and stylized with amazing acoustics
4. I think I prefer her without Caton, the boys backed her up so perfectly
5. She has never, ever, looked so beautiful to me. Nor has she ever looked this happy.
I will admit, I, and three girlfriends of mine, were on some pretty strong ecstacy... now what your personal opinions about drugs may be is not germane to the story. Just imagine four girls holding each other and caressing each other totally enveloped in being with Tori. She was wearing this incredible dress, which some of you may have seen -- it was a wispy green thing, and she had a green stone necklace on, with a lime green undershirt and a believe jeans underneath, although you wouldn't know it. I don't know that I could recreate the set list, but I have to tell you, it sounded like an Eric night to me... she played A Sorta Fairytale, Your Cloud, Baker Baker, Daniel, Caught a Lite Sneeze, and Doughnut Song, almost entirely in succession, then brought us out with an incredible version of Amber Waves... this song rocked my world!! I have never seen her smile so much as when she played it, during both choruses of "She gave it up..." you can tell she adores it. Oh and let's not forget her rousing rendition of Wednesday... heaven! Sugar was amazing... I know a lot of you have been complaining about the sound quality, but her voice and piano filled that room perfectly. And "Mary"!!!! Not one of my favorites, but I think it soon will be, she actually grabbed her boobs in the middle of the song, and my friend, who just got done breast feeding, says mothers do that all the time. And Precious Things with only white hot strobes. Spring Haze and 1000 Oceans ended the set.. unreal.
She mentioned how she took Tash to play go carts and bowling in KC, and how liberating it was to just spend the day in the go cart. Then she did this amazing improv about the girls, and how they come and go, but they are always there, even if they change... and I swear it all became clear, because she was so confident and inside herself, and she said in the middle of the improv something about how a lot of the old girls reflect some own fears, and then she looked at us and smiled almost triumphantly, saying something like "a lot of which I got rid of." She has grown so much, and I feel myself growing with her -- I don't know if I can explain this, but she is WHOLE now, and I think the music is helping me become WHOLE too... I relate to a lot of the trauma she's been through, and yet I want to be strong and complete, I don't want to be broken anymore. She started the show with A Sorta Fairytale, and i was blown away, because I realized the song isn't really about loss at all, it's about moving on... taking the experience, how beautiful it is, taking the pain too, and not letting it break you, being filled up with yourself regardless of someone loses you in the rearview. Your Cloud deals with the same message I think... you're connected as two becoming one, then you separate, but part of you are always connected, maybe through the land, and even if you lose each other, you haven't lost yourself, and you haven't changed your essence. I cannot express to you how powerful that message is for me... I'm dealing with a really painful breakup, not my frist, and I'm sure not my last, but perhaps the most significant one for me... and I've been trying to figure out how you recover when who you thought was your other self decides to move on. As much as it kills me, it's also been very liberating, because I have learned to just be filled up with myself, and on my best days, I feel like a beacon to others, full of love, and understanding, wisdom, and pain, but pain that strengthens, if that makes any sense. I think that's what Scarlet's Walk is all about, and I think that's what Tori herself has been attempting to achive. My friend couldn't help but notice she's more in the Crone phase of the Goddess now, you can see the lines in her face - they only add to her beauty. She quite simply... glows. Motherhood has definitely done her well. I think that's wht she's playing the longer shows, I kept getting the sensation from her that she's totally embracing being a musician and just enjoying every minute of doing what she loves, backed up by her partner, and just a few steps away from her new love, her daughter. What a wonderful time for Tori!
Her performance style has been steadily changing from the BfP days... when I listen to my old boots from that era, the piano is so interrupted, her singing wavers from being hauntingly chilling to as if she can't breathe, like the emotion is choking her. Now, everything is extremely steady and she actually breathes through things, rather than letting them choke her, even on songs like Precious Things and Doughnut Song, which to me are all about feeling contained, like a vessel with all this passion and emotion that can't be released because those around you don't appreciate it, and on some level unvalidate who and what you are. But the new girls... they're all about making it through, and healing it and accepting who and what you are and what your path is, even if it doesn't seem clear at first. And she goes back to the old girls and injects them with that message, so instead of being broken and interrupted, they're almost being soothed by her continuous piano, long drawn out vocal notes, and by the boys backing her up with a steady rhythm.
I can't wait for the Texas shows... I'm actually seeing her alone for the first time, due to logistics, but I think it will be good for me. Two years, I realized, was way too long to go without her physical presence, even though the songs are always with me!!
From
Clint Giles
:
It was great that she played Father Lucifer then God and then Mary later on.
Themes galore.
She also said that she took Tash go karting and bowling in KC on Friday, She said, "In such crazy times in this world, it's nice to take your daughter Go-Karting in Kansas City."
Read a review of this concert from the Kansas City Star newspaper.