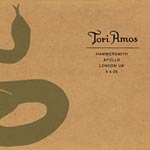 Updated: If you check out Toribootlegs.com, you can now find a listing for the 5th official bootleg, which is from the June 4, 2005 concert in London, U.K. at the at Hammersmith Apollo. This is the amazing show where Tori had The Gospel Singers join her onstage for some songs, and should be amazing to hear! You can pre-order this double CD now from Toribootlegs.com, and it will be released on November 15, 2005. (You can see the cover of this new boot to the right.) You can order any two of Tori Amos' double-CD Bootlegs for $25. Each additional double-CD bootleg is only $12.50

The sixth and final double CD boot (The August 21, 2005 show in Boston, MA) will be available December 6, 2005, but you can get your copy FREE if you order the first five double-CD sets from Toribootlegs.com by November 22, 2005. In fact, you will get the following for FREE:

a) The 6th double-CD bootleg
b) A Box Set Case to put the 6 bootlegs in
c) 6 hexagon stickers with the artwork for each Bootleg

If you have already ordered some of the albums through ToriAmosBootlegs.com, make sure to use the same e-mail address for all of your orders to qualify for the free bonus gifts. The free bonus items will ship to arrive on or around December 6, 2005.
More Details