Tonight's show included the cover Nights In White Satin (solo), Carbon (solo), Scarlet's Walk, Black-Dove (January), Juarez, Liquid Diamonds and Virginia. If you were at the Cincinnati show, please email me with your reviews and/or set list or post your review or comments in the Dent's Concert Reviews forum. (You can post under any name without registering, so it is quick!)
More Details
Tori performed in Cincinnati, OH on Thursday, March 20, 2003 at Taft Theatre. The opening act was Rhett Miller.


Set List
I,
Mikewhy
saw this show and recorded the set list.
Wampum Prayer
a sorta fairytale
Little Amsterdam
Bliss
Cornflake Girl
Scarlet's Walk
Black-Dove (January)
Wednesday
Band Leaves
Carbon
Cooling
Nights In White Satin
Band returns
Putting The Damage On
Juarez
Liquid Diamonds
Father Lucifer
God
I Can't See New York
Iieee
1st Encore
Precious Things
Virginia
2nd Encore
Taxi Ride
Hey Jupiter
Reviews
The latest reviews are at the bottom of this page. For more reviews, please check out the
Dent's Tour Reviews Forum
. Please post your own review if you were at this show!
From
Mikewhy
: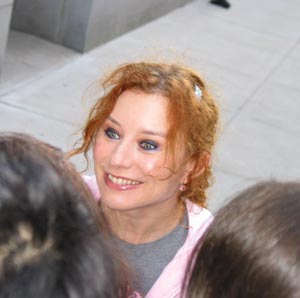 Earlier in the day I attended the meet and greet and was able to take a few photos. I include one of them to the right.
Tonight's show was hot!
I mean that physically. I was in the front row of the balcony, and for some reason it felt like it was 103 degrees. That did not prevent me from completely enjoying this show however. Once again, Tori had some interesting surprises for us!
During Wampum Prayer, the lights shining on the stage curtain went out for a few seconds, leaving the stage in darkness for a little while. They got it fixed fairly soon however.
After Bliss, Tori said hello and then remarked, "What a crazy world." She then talked about how people came to the show from all over the country and even the world and said, "Thank you for coming." She then introduced the band and played Cornflake Girl.
I was very pleased to hear Scarlet's Walk next, followed by a very effective Black-Dove. That song had a longer than usual ending with the house lights down, followed by Matt Chamberlain beginning the drum intro to Wednesday. However, Tori was obviously not ready for Wednesday, and did not start playing when she was supposed to. She then laughed and while playing the piano told us that she could not see a damn thing and then sang an improv about not being able to see her set list. She did include the words "I fucked up". If anyone has the exact words to this improv, please email me. Tori is always fun to watch when she makes a mistake. :)
The Roadside Cafe songs alone were worth the trip to see the show. This was my first time hearing Carbon, and it was beautiful. She then did Cooling followed by the cover Nights In White Satin. Tori had the title "Knights In White Satin" on her written set list, but many people tell me it should be "Nights" instead. It sounded very beautiful, but also very dark.
Juarez was really driving and powerful tonight. It was followed by Liquid Diamonds. Given how much I love this song, I did not mind hearing it once again. The sound from the balcony was excellent, so the song sounded even better than when I heard it a few days earlier in Indy.
During the encores, it was surprising to hear Virginia. The show ended with Hey Jupiter, the most intense version of Jupiter I have ever seen.
There were some changes from the official written set list. Tori was supposed to do Precious Things after Scarlet's Walk, but skipped it, making the main set before the Roadside Cafe one song short. Her first encore set was supposed to be Voodoo and Spark, but Tori did Precious Things and Virginia instead.
The show overall was very nice with some surprises. It did not like it as much as Indy (which was extraordinarily special), but it was a solid show with a great set list. My week of Tori shows continues in two days in Kansas City!
From
Amy
:
I attended the Cincinnati concert and it was amazing!! It is the second best Tori concert I have been too. All of the songs were solid and Tori and the band rocked. My favorite part was before Juarez Tori stood with one foot on her bench and put on lip gloss!! She messed up on the timing before Wednesday and did a cute improv about how sometimes they couldn't see and she messes up. For me it was great because she played all of my favorite's from†Scarlets Walk (Virginia, Carbon and Scarlet's Walk) and plenty of songs from Boys for Pele which is my favorite.
My sister's girlfriend came to the concert and she doesn't know a whole lot about Tori and had never been to one of her concerts and she thought it was just amazing. She felt it was different than what she had expected. I think she wasn't expecting Tori to rock out so much.
Two last things - we had amazing seats!!!!! They were pretty close and we had an open aisle in front of us so - hello leg room!!! And she had four keyboards going!!! She is so amazing!!
Read a review of this show from The Cincinnati Enquirer
From
Stroz
:
I was at at Tori's Cincinnati show, it's my third time seeing her live, and as always I could not hold back the tears her voise is so beautiful. Tori is Always†amazeing,†on stage. And I am pleased†no matter what she sings, I was espically pleased with Virgina,†and Carbon thies songs hold a special meing to me as do others. Tori's music has helped me lets just say cope with some rough things in my life. The concert Rocked! and I hope one day she will return to cincy to perform again. Tori could not have performed any better on satge, she always gives it her all, and†I look forward to any new cd's of hers. I'm deffinately a big fan of TORI AMOS!!!!! She Rocks!!!
From
fakeplasticerin
:
my boyfriend has bad music taste, but being around my friend juli and i has changed his ways somewhat. but of course, when he heard tori (and the 87 bajillion times we play her stuff in the car, etc) he had to fall in love with her. i saw her in november in cleveland, and fell in love with her (even though my love affair has lasted since 1995).
my tori concert virginity was lost in the most amazing whirl of keyboards, lyrics, drums, high-heeled shoes and tears. i warned michael (my bf) that he would fall in love with tori when we went to the cincinatti show, and he just didn't understand until the minute she pranced out onto the stage, capri pants, flowy white dress and all.
though the "rocking out" of most of the show was beyond words, the highlight for me was, by far, the "roadside cafe". it took me a while to recognize what she was playing, but when i realized it was "carbon", i jumped out of my seat, grabbed my boyfriend's arm and started sobbing like a child. it is probably my favorite tori song of all time (though i'm careful to designate my favorite song...... it's like me trying to pick my favorite van gogh painting...... no-can-do). it amazed me how it was just tori and her piano, and the live version was JUST AS GOOD as the recorded version with tons of instruments. and then........ and THEN she did NIGHTS IN WHITE SATIN. who does not love the moody blues, huh? the only disappointment was no "tear in your hand". i wanted to hear that so badly, but that's another song for anothertime.
tori concertsaren't musical showcases, they're life-changing experiences not for the weak at heart.