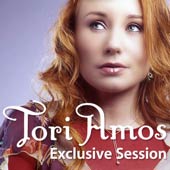 I earlier reported on an EP called "iTunes Sessions" by Tori Amos that appeared in the U.K. and Germany iTunes stores. That same EP is now available in the U.S. iTunes store and is now called Exclusive Session: Tori Amos. You can see the EP cover to the right. The track listing is the same:

Sleeps With Butterflies (live) 4:06
The Power Of Orange Knickers (live) 3:46
Seaside (live) 4:06
Crazy (live) 5:49

This EP is exclusive to the iTunes Music Store. Alex has sent me a detailed and interesting description of the recording session for this EP. Click the details link to read it.

More Details
The following detailed description of the recording session for this EP was sent to me by Alex:

So I was lucky enough to find out early on that Tori was interested in recording a session, to help promote her new album. Of course I was beside myself - I always said if there was one thing that would make my hard work REALLY pay off, it would be to have the opportunity to meet Tori. And my wish came true on February 21st!

I flew to New York with my husband who was also able to attend, which was so special to me. He knows what a big deal this was for me and was so happy we could both experience it. I was very excited but of course being "business" I had to keep calm and not let my excitement distract the situation. We arrived at Sony Studios and met up with the photographer and colleague from work. I went into the room where Tori was to perform to help the photographer do some test shots, before she arrived. There was a piano tuner present who was working diligently to set up a Bosendorfer for her - I'm not sure that this was her piano, but it was a Bosie, no less.

The first to arrive was her manager, John and husband, Mark. Mark walked in and immediately started working with the studio assistants to get her microphones set up properly for recording. Meanwhile John chatted with various folks he was familiar with, and said that "she stopped off at Barney's for a bit," - meaning we should sit tight, that Tori was on a quick shopping stint. I thought that was cute.

We waited for a bit, and before I knew it, Tori came into to the studio and headed toward the back for the dressing room, with Chelsea, and a makeup artist (whose escapes me). She stopped before entering to peek back in the recording area where we were sitting. She spent a few minutes changing, getting ready for us to do a brief photo shoot. When she came out, her presence was absolutely amazing. I mean, more than any concert I've seen, I could just feel her intensity! She just exudes something that is so amazing - she just has a really strong presence! She looked beautiful and tiny as always. Her hair was very red, more so than I remembered from the SW tour, and curled. She wore a little red top with another chiffon floral top over, and cropped jeans. She had fabulous blue espadrilles she laced up over fishnet stockings.

My colleague asked me to come help the photographer with the shots, which was my opportunity to meet Tori! I walked in and everything was quite calm and she was sort of chatting with Chelsea. I very quietly introduced myself and mentioned what I do. She smiled and said "good for you" sort of graciously but not particularly interested. She noticed my shoes--I happened to pick up a pair of green pointed toe shoes while shopping in SoHo a few days prior, and she said "I LOVE your shoes! Where'd you get 'em?" Of course being a trusted source on fabulous shoes, this was the biggest compliment I could imagine. I mentioned the store, and Chelsea said they "went by there yesterday." I returned to the task at hand, but was secretly smiling inside!

The photo shoot was brief, at first some shots for the cover, and then a few at the piano as she warmed up. She jumped right on the bench and immediately started playing some bars, nothing I was familiar with, perhaps something she warms up to or otherwise. What a sight! She is absolutely a professional - she warmed up for only a few minutes and we all started to wrap up what we were doing so that she could get right into the recording. Mark sat at the mixing board and we returned to the room as well. She first did an interview for quite some time, probably a 1/2 hour at least, but unfortunately it was not included on the EP. It mostly centered around her book, and mention of several songs on The Beekeeper. She interviewed quite well, she just talks and talks, and has so much to say! They concluded the interview, she gave the interviewer a hug, and went right into a few vocal warmups (and when I say a few, I mean, like 30 seconds before she was ready to jump into recording!).

She recorded four songs total. Opposed to the final EP, she actually recorded Seaside last. It was the only song she performed twice. Everything else she played once through, flawlessly. Her voice was in top form and she sounded incredible. I sat right up next to the window and enjoyed my own private little concert. Tori reviewed some of the lyrics to Crazy while she was recording - which reminded me, for someone who writes potentially hundreds of vocals a year, it must be something to retain all of that information! She wanted to improve the finish on Seaside, so that was the reason for two takes. I was absolutely awestruck in her performance - she just makes it seem effortless. All in a days work.

She finished and allowed us to come in and take a few pictures. I asked if we could snap a couple shots of her shoes, in hopes we could add some extra photos someday. She took a couple of pictures with me and signed my book. She said "you're a sweetheart" and gave me a hug before she returned to her dressing room to change. I returned to the studio area and got the opportunity to speak with Mark for a bit. We talked a bit about iPod and iTunes, and he seemed very keen on it all. We brought Tori a mini iPod which I hope she'll use! I asked Mark how Natashya was doing and he seemed happy I asked and said they had great fun taking her to The Gates (which was exhibited in Central Park at the time) and playing in the snow. I asked if she was interested in the piano yet and he said not so much, but that she sings all the time! Tori returned to the studio area to speak with various label folks. I overheard her mentioning the "Beekeeper" she writes about in her book, and how she hoped to "do something". They all packed up and departed and she gave me one last hug before they all left.

Needless to say, it was all an amazing experience and one that will forever live in my heart.