Tori was interviewed by FBi Radio (94.5FM) in Sydney, Australia on Monday, May 9, 2005 during their lunch program. You can now read a full transcript of the interview and see a photo of the interview!
More Details
Many thanks to Dan (ScaryDan) for the transcript and Renee Hill for the photo: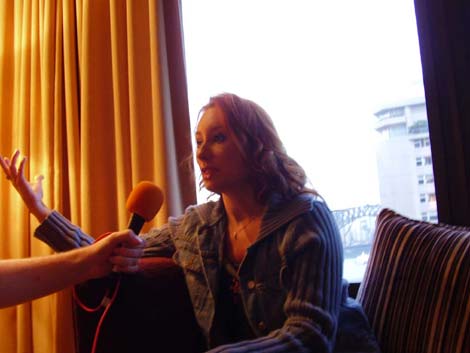 D: So ah tell me how does the album relate to the songs you have in your back catalogue?
T: Well, the songs from 'The Beekeeper' are just getting to know the gals in the back catalogue now that I'm on tour and they hang out backstage together with all those high heels and they begin to share secrets and ideas about men, and ideas about friends and I think that's the way the songs really begin to form their relationships, on the road.
D: So have you been surprised by any when you're working within the Garden of Sinsuality, any of your back catalogue have suddenly pushed themselves forward in the live show and said "I'd like to be this today". Has anything surprised you like that?
T: Yes, songs do surprise me. And now that I'm working within this garden allegory there is quite a famous garden allegory, the one in genesis, and I thought 'well we need one from a female perspective', so our garden is based around the honey bee being our symbol and the idea that she represents sacred sexuality, which is not in the mythology of Christianity, Judaism, or Islam - the big three. Women from around the world, the most troubling statement that I'll get in a letter is always that a woman is divided between her spiritual and her sexual desires and that sometimes the desires are suppressed because she doesn't know how to integrate them into her spiritual life. Because she doesn't want to go back to being dir-tay! And so this question of 'how do I be sexy and not vulgar?', and if you look around you there is a lot of vulgarity, and that's really what's happening in the live show, and a lot of the old songs are saying - oooh, I want to be sexy too!
D: You're touring without the band this time around. Jon and Matt they've had an integral role in the studio sessions, haven't they?
T: Oh yeah, oh yeah. Maybe also because there are so many musical styles, from the afro Cuban in say "Sweet The Sting" to the flat out gospel meets Al Greene on "Witness" jamming together helped develop the different musical choices that were made on 'The Beekeeper' instead of 'Choirgirl' is exploring this 'Pele' was exploring the harpsichord with the piano, this is really about many different rhythms and personalities because each song is a different relationship that this woman is having in her life so we wanted each short story to have it's own rhythm
D: Was it something you had to think consciously about to put two songs that were quite different, like "Ireland" and "Marys of the Sea" - tthey're quite different stylistically. Was it a problem for you working such different styles within the one album?
T: I think that because I've played with Matt and Jon for so long we were able to take on board that the compositions wanted very different interior design - that each was its own sonic structure and because of that we would really have to push each other. And then Mac Aladdin of course came in on the back end. Me playing the B3 Hammond also was I think really pivotal because that gave bass and drums a lot to work off of.
D: So will the Hammond be a somewhat fleeting addition to your repertoire as the harpsichord was with 'Pele' or is it something you can see continuing on with?
T: See I don't know - this is a really good question. I don't know where it's all going next. I mean I don't think that there is a part three to this 'Scarlet's Walk' / 'The Beekeeper' where you're getting a lot of traditional songwriting with all kinds of arrangements. I don't know where we're going next. And that usually means we're doing something quite different. But who knows? I don't know what I'm doing; I might have the harpsichord and the B3 right there with me next time.
D: With the DVD you cut all the curse words from "Professional Widow" from the show. Was that something that you had in mind when writing for 'The Beekeeper'?
T: What I had in mind for the beekeeper was how do you say what you want to say and slip through the net. You must slip through the right wing Christian net, because you have to reach those kids. Which is really essential, you need to be able to reach those masses. And that's why I chose to create another garden. We went to god's mother of course, Sophia. Tori does anyway, and says "look, where do we go from here" and she says "you eat the fruit, that's what you do! Don't listen to my son, you eat the fruit!" You see the women are looking to the men to make them whole or prove of them as sexual sacred beings, and men can't give it to them, they're pulling their hair out. That's why so many men are bald, going "I CAN"T MAKE YOU SACREDLY SEXY! What's wrong with you? Just be dirty anyway, that's cool. What's wrong with that?" Women have to say wait a minute only we can rewire ourselves. Only we can be the mother and the mistress within our own being. We have to do that for ourselves. And that's what 'The Beekeeper' is about.
D: When you come to a town, you investigate the place and see what you can bring?
T: I've got that sauce cooking right now. The Sydney sauce is cooking on my little stove, And I've been trundling about. And you have to be willing to change mid-set and it drives the crew crazy, but at the same time it's part of what makes the live show fascinating. In the last LA show, near the end I had been planning on doing "Hoochie Woman" because how good to do that in L.A? And yet I just, it was in the encores, and the guys were very pensive and it almost felt like if I went into "Hoochie Woman" I was breaking almost a kind of an agreement that we had just made because "Tear In Your Hand" had ripped, for whatever reason, it doesn't always do this, it kind of ripped open the heart. It wasn't usually the happy little song that it is. It became this sort of exposed heart. Why, in that moment in LA, it was that song that did that - I was leaving America also, and I think it was saying goodbye, and people were holding onto each other. I almost wept in that moment, just looking back at them, because it felt like a prayer. And that's when you have to be willing to [snaps fingers] change, you've got to be able to turn on the head of a pin.