Update: I have been told by Andy that the October 29, 2004 weekend edition of USA Today includes this same story as well, as well as a small photo of Tori taken by Loren Haynes, on the front page of the Life section! Click the details link to see this photo!

A "Coming Attractions" article posted to usatoday.com on October 28, 2004 reveals more information about Tori's new album called The Beekeeper. It gives a release date of February 23, 2005, although I think they actually mean February 22, 2005 since that is on a Tuesday. The article then reveals the following, giving three songs titles. They say Tori will be , "incorporating vintage organs, Afro-Cuban percussion and gospel choirs in such tunes as Sweet the Sting, Sleeps With Butterflies and Ribbons Undone". The article also mentions Tori's new book called Tori Amos, Piece by Piece, and confirms its February 8, 2005 release date. So we are learning more and more about this new album!
More Details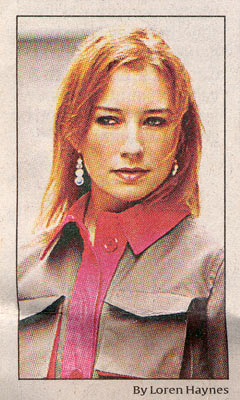 This photo poublished by USA Today is by Loren Haynes. Thanks to Stephie Bracker who scanned it for The Dent. It is a nice photo that I can not recall seeing before!