Update: I first mentioned this book a few days ago. Since then, Jennifer Clarke has pointed out that there is an entry for this book, Star Palate: Celebrity Cookbook For A Cure, at Amazon.com. Amazon says the publisher for this hardcover book is Documentary Media and the release date is October 1, 2004. (For some reason Amazon also says the book is available for shipping within 24 hours, which is possibly a mistake.) The authors or editors are Tami Agassi and Kathy Casey and the book includes 80 celebrity recipes, and includes a recipe from Tori herself! The book is also mentioned at netmusiccountdown.com, who tells us that Tori "provides instructions for glazed turnips".

MTV.com was the first to tell us about this book. Proceeds from the book will benefit the Marsha Rivkin Center for Ovarian Cancer Research in Seattle and the Breast Cancer Research Foundation in New York.
More Details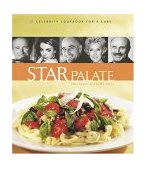 You can see a scan of the cover of Star Palate: Celebrity Cookbook For A Cure to the right.